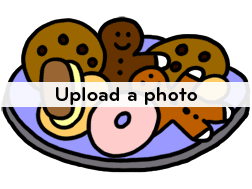 From the kitchen of Meagan
This recipe has been on northpole.com from the beginning… since 1996! We hope you enjoy this classic North Pole recipe. Let us know your opinion by submitting a review!
Recipe Details
Ingredients
3/4 cup (1 1/2 sticks) margarine
2 cups flour
3/4 cup sugar
1 tablespoon milk
1 teaspoon vanilla
3/4 cup finely chopped candied red or green cherries
1/3 cup finely chopped pecans
3/4 cup coconut

Directions
Beat margarine with an electric mixer on medium to high speed for 30 seconds.

Add about half the flour, also add sugar, milk, and vanilla.

Beat till thoroughly combined.

Stir in remaining flour, cherries and pecans.

Shape into 8-inch long rolls.

Roll in coconut.

Wrap in wax paper; chill 2- 24 hours.

When ready to bake, preheat oven to 375 degrees F.

Cut dough into 1/4-inch slices.

Place on an un-greased cookie sheet, for 10-12 minutes or until the edges are golden.

Cool cookies on a wire rack.
Reviews
Log in now to rate this recipe.

cjudd says:
the best food i have tasted!!! :-) by hunter
12/12/2012 11:27:04 PM

mrscrunch722 says:
made these, r they ever sooo goood
12/12/2012 1:21:01 PM

ryan2004 says:
yum yum
11/28/2012 10:19:33 AM

princesskrt says:
i just made them for my daughter to try and then yelled can we make these for santa !?
11/25/2012 7:27:18 PM

stitchywoman says:
YUMMY this is one of my most favorite christmas cookies out there! It's crunchy on the outside, but soft on the inside. I make them a drop cookie instead, eliminated the coconut, and rolling it into a log and chilling it. I mix them up and then drop them on the cookie sheet. I also gave them more color by using 1/2 red cherries and 1/2 green cherries. Walnuts work just as well as the pecans. Can't wait to make a batch or more for this Christmas season. Santa will just have to find another house to eat these cookies. I don't share them with anyone!
11/15/2012 10:10:45 AM

lora says:
I made these last christmas and they were delicious but I could not get the coconut to stick. Any suggestions????? I tried to dampen the outside of log but they didn't stick.... help. I would give them 5 stars if the cococut would stick.
11/11/2012 3:23:01 PM
Other Tasty Treats You Might Enjoy
Cookies
American Cookies
Icebox Cookies