For the Love of Christmas Trees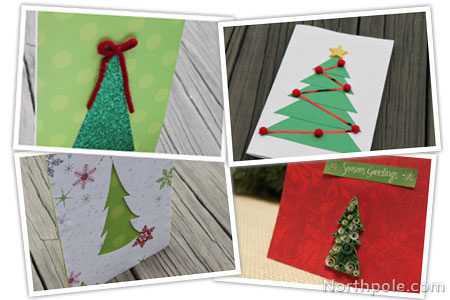 I just love trees. And while I like all trees, but there is something special about Christmas trees. A wintery landscape is simply breathtaking and the sight of tall evergreens freshly coated with snow is beautiful. I love to gaze and to take it all in… the branches gently drooping under the weight of the snow, the sunlight glistening over mounds of snow—the beauty of it amazes me. In regard for these beloved conifers, here are a series of ideas for Christmas cards.
Basic Supplies & Tools:
Scrapbook paper, assorted colors
Cardstock, assorted colors
Ruler
Paper
Scissors
Rubber cement
Mini hot glue gun
Mini hot glue sticks
Sparkly Evergreen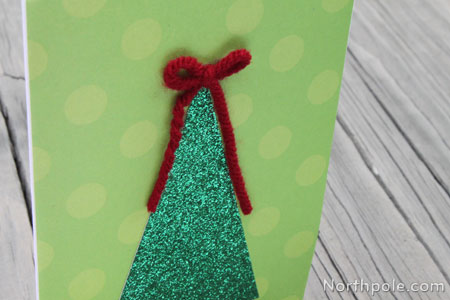 This sparkly Christmas tree has two of the things I love about Christmas—green and glitter. The green polka dot background is fun and whimsy while the triangle tree adds the glitz. The tiny bow on top has just the right about of red to complete the card.
Supplies & Tools:
 Directions:
Print the template and cut out.
Place template piece onto the blank side of glitter cardstock. Trace with a pencil and cut out. Set aside.
Measure and cut a 6″ x 8″ piece of green cardstock.
Fold cardstock in half, forming a 6″ x 4″ card.
Glue glitter tree to the front of card and let dry.
Cut a piece of yarn that is about 7″ long.
Tie yarn in a bow and hot glue to the top of the tree. Trim yarn if desired.
Write whatever you like on the front and inside.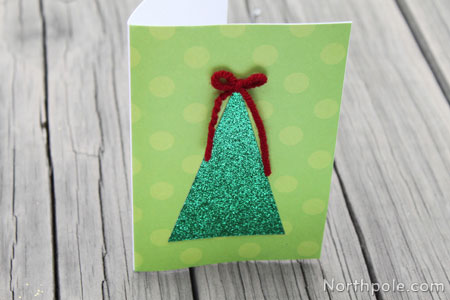 Tannenbaum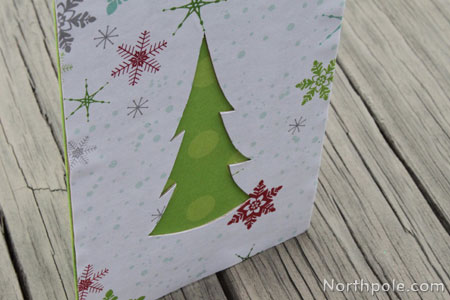 This is a different spin on a three-dimensional card. Instead of building up, I "dug" down. This tree is recessed beneath the front of the card. In order to achieve this effect, I glued scrapbook paper the chipboard and then cut out the tree shape.
Supplies & Tools:
Directions:
Print out the template and cut out. Set aside.
Place cutting mat on flat surface.
Place chipboard on cutting mat.
Measure and cut chipboard so that it is 4″ x 6″.
Measure and cut a 4″ x 6″ piece of scrapbook paper.
Using rubber cement, glue scrapbook paper to chipboard. Let dry.
Note: If you try to cut the paper/chipboard before the glue is dry, you may end up tearing the paper.
Place tree template in the center of scrapbook paper/chipboard. Lightly trace the tree, and then cut out using the X-Acto.
Measure and cut an 8″ x 6″ piece of green cardstock.
Fold in half, forming a 4″ x 6″ card.
On the back of chipboard, apply rubber cement, and then press onto the front of green card.
Allow glue to dry.
Enjoy this recessed tree design and write your Christmas greeting wherever you like!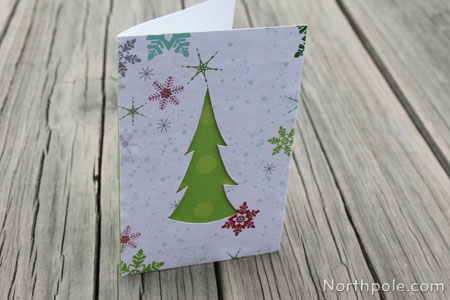 O Christmas Tree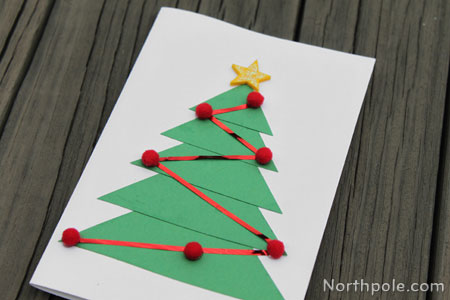 Made of layered triangles, tinsel, and pompoms, I hope you enjoy this card constructed from of ordinary materials.
Supplies & Tools:
Red tinsel
Mini red pompoms
Yellow foam
Toothpick
Directions:
Print the template and stack on top of green construction paper. Cutting through both sheets of paper, cut out triangles. Set triangles aside.
Measure and cut a 6″ x 8″ piece of white cardstock.
Fold cardstock in half, forming a 6″ x 4″ card.
Take green triangles and paste onto front of card using rubber cement. Begin gluing the largest one at the bottom first, and continue gluing each smaller triangle on top.
Add the red tinsel: Take a toothpick and get a little bit of glue from the hot glue gun and immediately glue one end of tinsel near the top of the tree. Continue gluing in a zigzag pattern down the tree. Cut excess tinsel.
Add pompoms: Use hot glue to add a pompom over each "corner" of the tinsel.
Cut out a small star from yellow foam and glue to the top of the tree.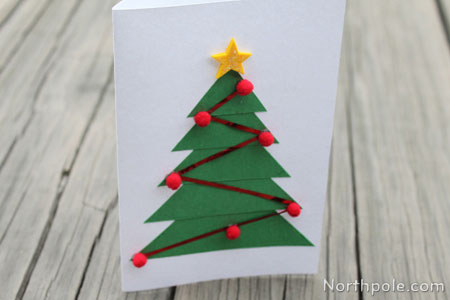 A Quilled Tree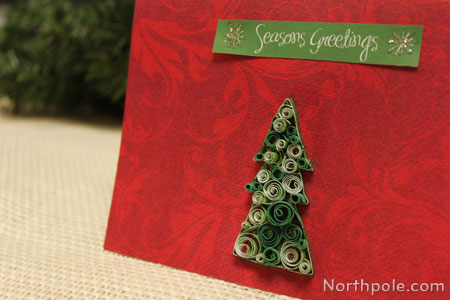 Add dimension to your holiday cards by using this technique! Create unique holiday cards by creating different shapes such as a gift box or candy cane.
Supplies & Tools:
2–3 sheets paper, different shades of green
1 piece paper with Christmas verbiage (scrapbook paper)
White glue
X-Acto
Cutting mat
Quilling tool
Directions:
Measure and cut a piece of red cardstock that is 6″ x 8″.
Fold in half to make a card that is 6″ x 4″. Set aside.
Place cutting mat on a flat surface.
Using your X-Acto and metal ruler, cut a couple strips from each sheet of green paper. The strips should be about 1/8" to 1/4" wide. It is ok to have different widths of paper because it makes the card look more interesting once finished.
Note: You can find pre-cut paper strips for quilling at the craft store.
Take one strip and fold it to make an outline of a tree. Glue ends together.
Place the tree on the card and then lightly draw an outline around the tree.
Using the pencil outline as a guide, apply a thin line of glue over the pencil line.
Place the tree outline on the glue, and let dry.
In the meantime, begin rolling the remaining strips of green paper.
Use quilling tool to roll a strip of paper to desired size and cut off excess paper. Repeat until there are enough rolls to fill the tree. Cut additional strips from paper as necessary.
Begin filling the tree by putting a dab of glue in the tree and adding the rolls. It is best to work in small sections until the tree is full.

While the glue is still wet, sprinkle some glitter over the tree and return excess glitter to container.
Cut a phrase from the Christmas paper. Glue on card and let dry.