Gifts in a Jar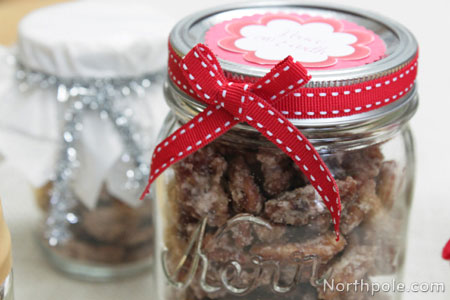 Gifts in a jar are a Christmas classic. They are a great way to share your tasty baked goods (or other homemade goodies) during the holidays. But no one wants to give a plain ol' jar! So today I'm exploring different ways to dress up your jar! Since these jars are fairly small in size (as far as presents are concerned), it doesn't take much to snazz them up! I just dug through my box of recycled wrapping supplies and used what I had.
Ribbons & Knots
Tie a ribbon around the band of the jar. Use any kind of ribbon you'd like. I used a grosgrain ribbon on a jar of Winter Bean Soup Mix. (By the way, this soup is yummy! I made a vegetarian version of it.)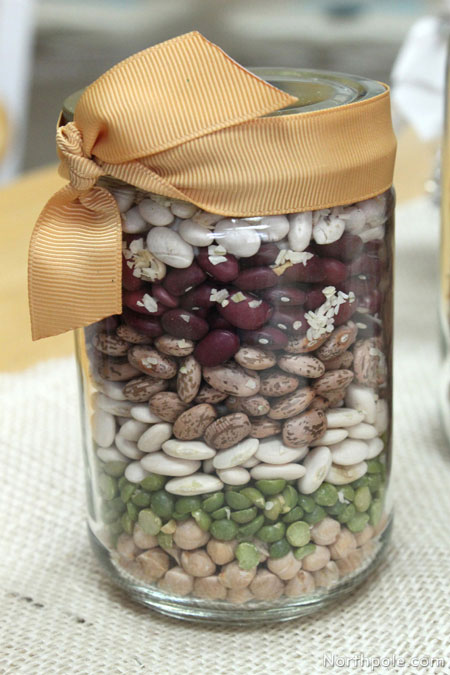 The nice thing about grosgrain is the texture! I love the grain of the ribbon. It's a little stiffer than other fabric ribbon, which allowed me to fold down one of the tails that was sticking up. I think it's pretty either way, so it all depends on your preference.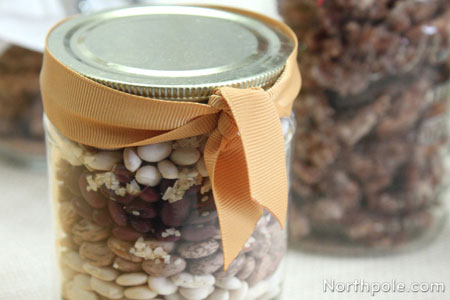 I tied a knot of polyester ribbon around the band of a jar. Inside the jar is a delicious brownie recipe from Mrs. Claus' Cookbook called Sand Art Brownies.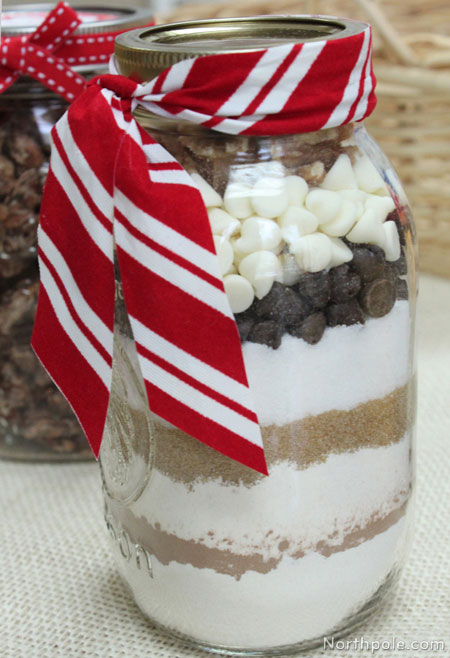 Aren't the layers of ingredients so pretty?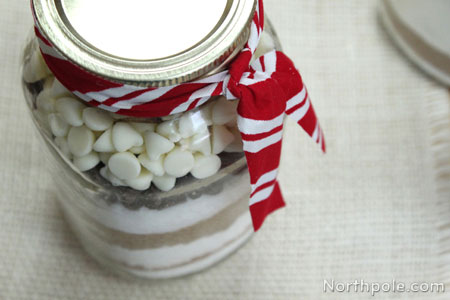 Bows & Paper
On this next jar, the ribbon that I used is actually 2 pieces of ribbon that I "rescued" from the trash. (In other words, I saved it from a gift that I received last Christmas.

)
First I hot glued one piece of ribbon to the band of the jar. Then I tied a bow with the other piece of ribbon and glued the bow on the band.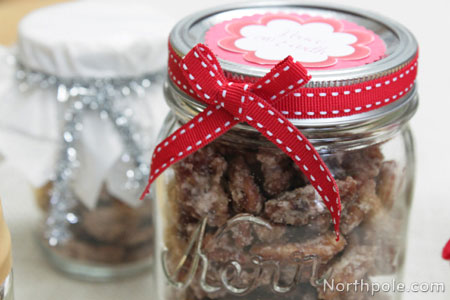 Then I decorated the lid by cutting out a circle with scalloped-edge scissors and a cut-out of scrapbook paper.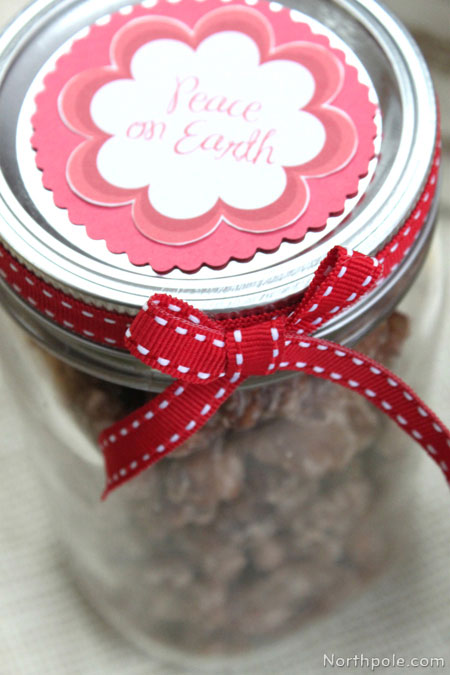 Nativity Shepherds?
Here, I placed a few squares of tissue paper on the jar, and wrapped it with a piece of wired ribbon. The "ribbon" actually looks like mini-garland—I found it at the crafts store.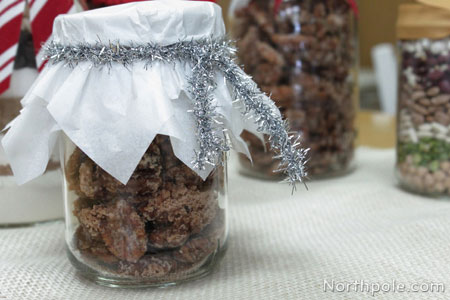 Personally, this tissue and ribbon looks like a shepherd. So you could even take it a step further and make a "nativity set" of jars. Use different colored tissue paper and paint faces on the jars. (It'll make a nice craft for Sunday school.) The jar is filled with Sugared Nuts.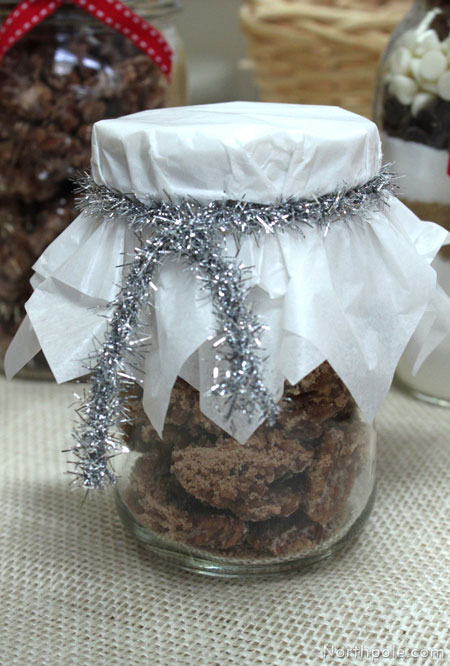 Felt & Fringe
This next one is made from a 6.5″ felt circle. Cut fringes that are about 1″ long around the circle. Use a rubber band to hold the felt to the jar.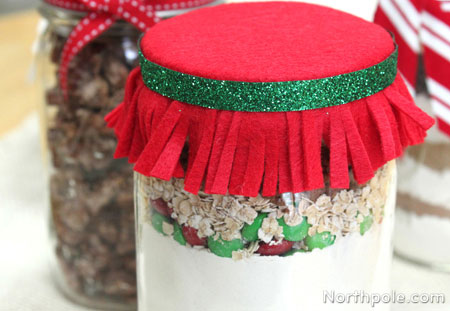 Then use hot glue to attach a piece of ribbon.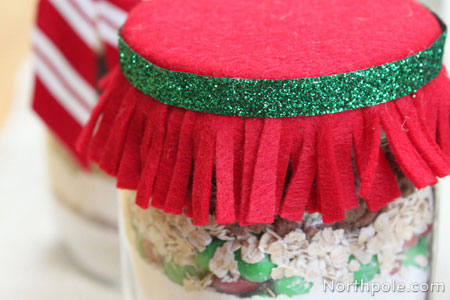 And now you're done! Inside this jar is cookie mix. You can't see it very well in the picture, but there are white chocolate chips, cocoa crisped rice, and M&Ms. Mmmmm…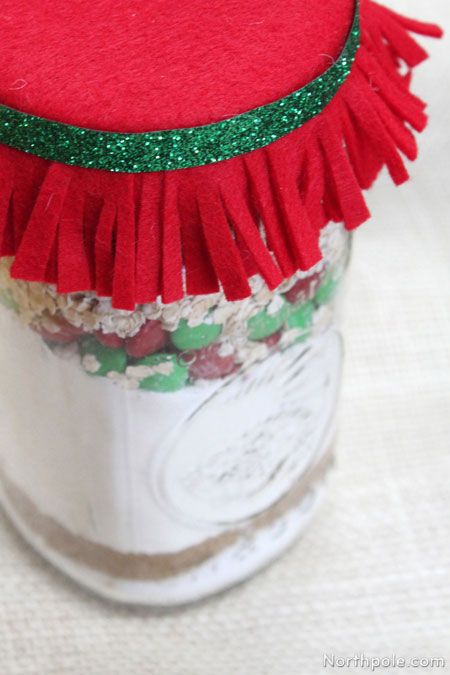 Frosty Wonderland
And lastly, you can paint the designs on the glass. I found this great glass paint at the craft store. I used stencils and pearl white, pearl blue, and glitter blue paints to create this design! To see how I painted this winter wonderland, click here.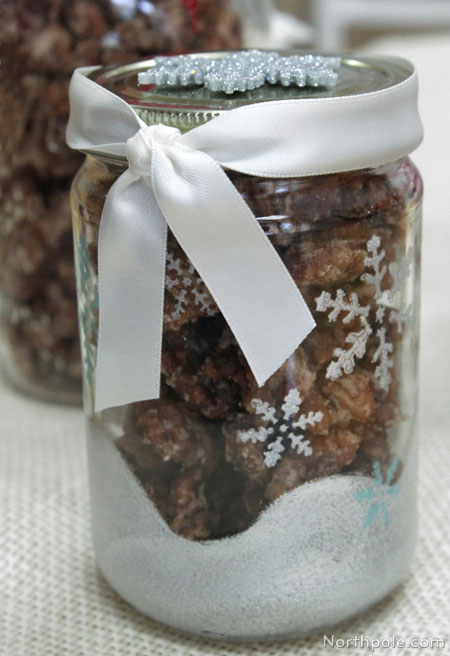 I tied a satin ribbon around the band and glued a mini snowflake ornament on top.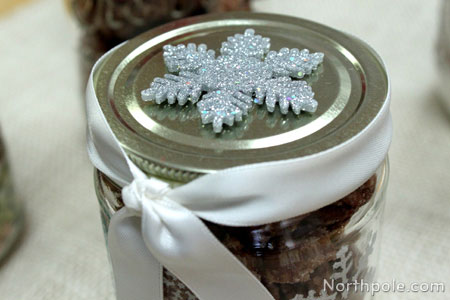 Elfy Hints:
Note: You can repurpose any kitchen jars. I saved jars from spaghetti sauce, nut butters, jams, etc. Usually the labels come right off by soaking the jars in hot soapy water. But for the stubborn labels that don't come off with soap and water, I use Goo Gone.
Have fun decorating and sharing!