Personalized Holiday Napkins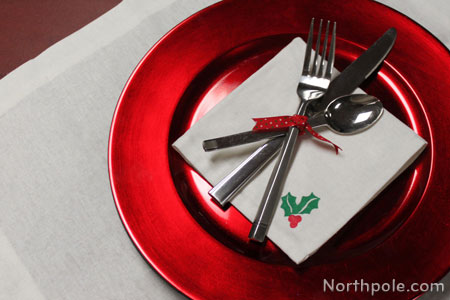 There are so many ways to decorate and personalize napkins. Iron on a hand-made appliqué, embroider, cross stitch, stamping, or stenciling. I enjoy stamping because it's a simple and fast way to personalize objects. Try stamping or stenciling cards, coasters, table linens, table runners, shirts, or anything you like. Personalized napkins are a great gift idea!
When working with stencils, it's best to have a brush specifically for stencils, since you need to apply paint using the stippling technique. When using a stencil brush, you can create texture or a gradient within the design. When using a foam brush with stencils, you will get flat, solid coverage. With foam stamps, a foam brush or paintbrush is sufficient.
Supplies & Tools: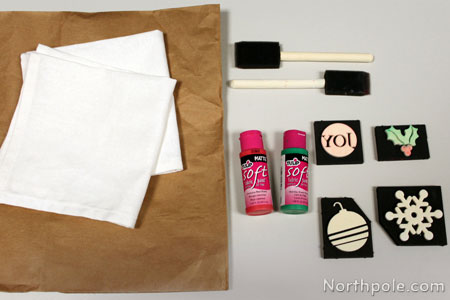 Foam stamps
Stencils*
Fabric paint, any color(s)
Foam brush
Stencil brush
Paper plate
Kraft paper or newspaper
Cloth napkins
Artist tape
Directions:
Lay kraft or newspaper on flat surface.
Lay napkin on kraft paper.
Decide where you want your stamp or stencil design to be.
If using stamps:
Read directions on paint bottle.
Apply a thin layer of paint to stamp using a foam brush.
Press stamp, paint side down onto the napkin. Be careful not to wiggle the stamp; you don't want the design to get muddled.
Pick up stamp and reapply paint and stamp remaining napkins.
Let dry completely.
If using stencils:
Lay stencil on napkin. Use artist tape to hold in place.
Whether using a stencil brush or a foam brush, apply a small amount of paint onto the paper plate, and wet the brush. Next, apply paint by using a stippling motion. Move brush up and down to apply paint. Do NOT drag (sweeping motion) the brush along the fabric/stencil, because you will push paint under the stencil and blur the design.
Pick up stencil, clean back of stencil with paper towel, if necessary.
Repeat steps 7–9 for each napkin.
*Stencils: You can make your own stencils by cutting out an image with an X-Acto. Print the image or shape(s) that you want. (Cardstock or transparency film is best, since regular paper will tear easily when wet with paint.) Lay the cardstock on a cutting mat. Use X-Acto to cut out the inside of shape. Now your stencil is ready to use.