Sparkly Pipe Cleaner Ornaments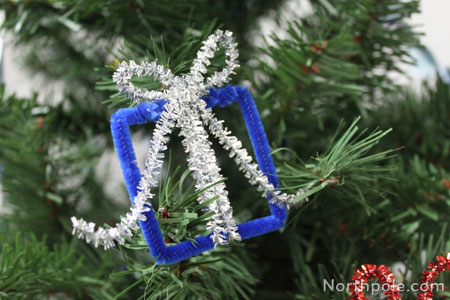 I'm amazed at how simple these were to make! Each ornament only requires 2–3 pipe cleaners. I wanted to make some lightweight 2-dimensional ornaments to hang on my "Christmas in July" paper palm trees, but ran into a creative block after making some unattractive paper ornaments. Then I found metallic red/gold/silver/green chenille stems at the craft store. These ornaments are light enough to tape onto the paper palm trees and are equally suitable for a fragrant evergreen!
Supplies & Tools: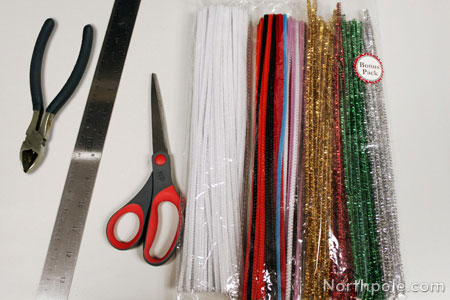 Assorted pipe cleaners: metallic red, green, gold, silver—whatever colors you like
Scissors or wire cutters
Ruler
Pencil, marker, paintbrush, or other similar object to create spirals
Needle-nose pliers (optional)
Directions:
Round Ornaments:
Decide what colors you want your ornament to be. I'm using red & gold stems.
Take the red stem and wrap half of the stem around pen or pencil.

Slide stem off the pencil and set pencil aside.
Stretch stem to separate the coils. Set aside.

Take gold stem and form a circle.
Note: In one hand, hold pipe cleaner against the pencil in the same way that you would hold curling ribbon against a blade of scissors. With your other hand, drag the pipe cleaner against the pencil. The pipe cleaner will have a nice round shape.
Close the circle by twisting the end, but leave 2 inches of slack on the other end.

Pull slack end straight up, forming a right angle.

Bend end over the circle creating a loop.

Wrap the end around the circle, concealing itself.
Lay red coil across the middle of the gold circle.
Trim red stem so that about 0.5″ extends outside each side of circle.

Wrap ends around the circle to secure the red coil in place.
If ends of stem are sticking out, you can use needle-nose pliers to fold them over. You can also trim the stem with wire cutters.
Note: If you are trying to trim the ends, scissors are not the best choice to do so. In my experience, the pipe cleaner tends to slide between the blades of the scissors.
Cut a piece of thread that is 4″ long. Loop it through the ornament and tie a knot. Now you can hang the ornament. Or instead of thread, you can simply use an ornament hanger to hang it on your Christmas tree.

Square Ornament:
Decide what colors you want your ornament to be. I'm using blue and silver stems.
Bend stem to a right angle every 2″. You will need to have five 2″ sections.

Trim excess with wire cutters.
Make a 4-sided box and then wrap the overlapping ends around each other.

Cut two 3″ pieces of silver stems.
Lay silver stems side-by-side across the middle of the box.

Fold ends over the top and bottom of the box.

Take another stem of silver and form a bow. Attach the bow to the box by wrapping one of the "ribbon tails" around the top side of box.

Hang on your Christmas tree with an ornament hanger! You can also tie a piece of thread through the ornament to hang on your tree.