Wrap It Up!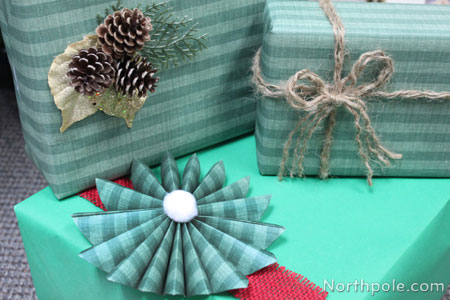 Let's face it, every year when we wrap gifts, we want it to be quick and easy since there are so many to wrap. At the same time we want each present to feel special, or extra-special depending on recipient

Sure, you can buy ready-made bows and curled ribbon, but I'll show you how to make some simple embellishments. You can even make these in advance so your stash is full when it comes time to wrap gifts.
Pinecones & Gold
I hot glued mini pinecones and gold "leaves" onto a wrapped box. The "leaves" are actually petals from a gold poinsettia. (The poinsettia was left over from an artificial floral arrangement that I made.) Likewise, you can use whatever artificial greenery you like. I collected several pinecones from outside, but you can replace with whatever you like. Craft stores carry all kinds of fun knick-knacks for embellishing from miniature presents to little birds.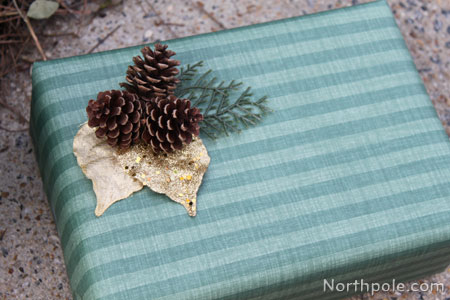 Curly Twine
I really like twine. It's earthy and will complement neutral color wrapping, but you can also use it to break up the color of a really colorful package (for example, bold colors like teal, fuchsia or gold). I can't help but hear Julie Andrews singing "…brown paper packages tied up with strings…" Anyway, while you could wrap a gift with twine straight from the spool, why not mix things up a bit? I separated the strands of a piece of twine and then wrapped tied it around the box. I love the waves and curls of the twine.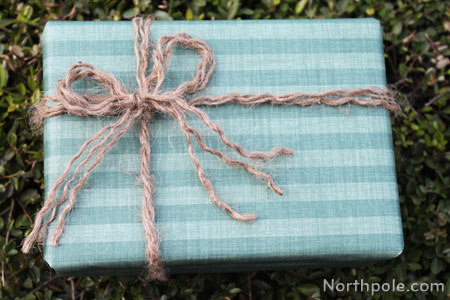 Paper Stars
After wrapping the other presents, I had some odd-shaped pieces of wrapping paper left over. One piece was long and slender, so I decided to fold it accordion style. Well, as craftiness would have it, I ended up making this star!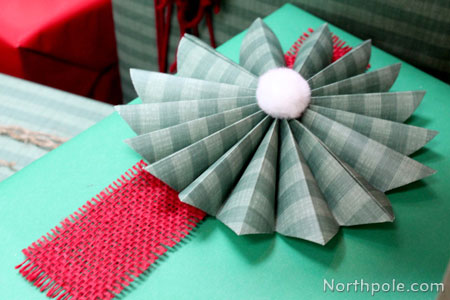 Directions:
Cut a piece of wrapping paper (or any other paper) that is 7″ x 18″. Fold the paper like an accordion in 1″ increments. Tie a string around the center.

Cut the ends on a point.

Use double-sided tape to join the ends, forming a disc shape.

Use hot glue to add a fuzzy pompom or button in the center.
Note: You can trim the fur on one side of the pompom so that it lays flat on the star. Glue onto the top of a box. I also added a piece of red burlap to give it a pop of color.