Wrapping with Red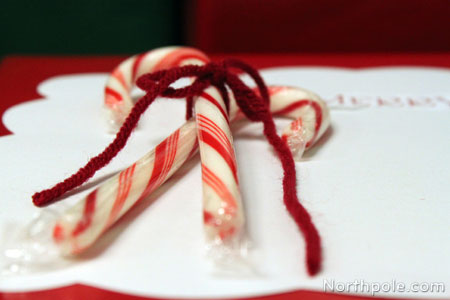 Who loves red? As we continue exploring different ideas for wrapping presents, I'll show you a few ideas for working with red and white materials. If I asked you to name something that is red and white and Christmassy, what would it be? For me, it's candy canes. In addition to the candy canes, there are a couple other ideas for wrapping with red. Happy wrapping!
Candy Canes
For this present, I wrapped the box in red wrapping paper, added a piece of white paper, and glued candy canes on top. For the white paper, I just cut scallops around the edges and glued the paper to the box. You can hand-write or print the "To:" and "From:" on the paper. Then I tied a couple candy canes with yarn and glued them to the box.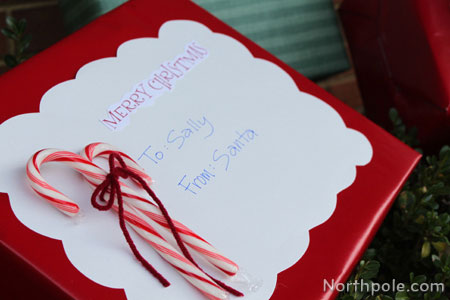 Tissue Bow
This "bow" is an enlarged version of my tissue paper flowers. The top of my box is about 8.5″ x 9″. I wanted a bow to be slightly smaller, so I cut strips of tissue paper 8″ x 12″. Accordion-fold the tissue paper and round the tips. Fluff the bow according to the instructions of these Fluffy Tissue Flowers. Use a pipe cleaner to tie the tissue paper together. Form a loop with the pipe cleaner and cut off the ends.

Put a piece of tape through the pipe cleaner loop and stick onto present.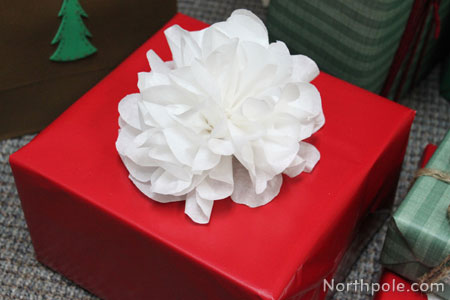 Yarn Pompoms
Wrap yarn around the package a few times and tie to finish. Make a couple yarn pompoms  but don't trim the ends so that they have an unpolished look. Use the longer piece of yarn on the pompom (the string that you used to tie the pompom together) to tie onto yarn on the package.