Skill Level:
Crafting Time:
Material(s):
Category:
Tag(s):
Share This Craft
Search Crafts
Baby Bart's Mittens & Earmuffs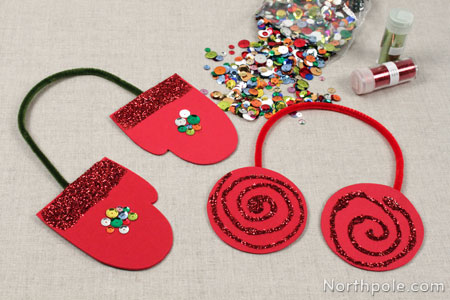 This craft is simple enough for young kids to complete, but it can easily be elevated for older kids—challenge them to make complex designs with glitter. The mittens and earmuffs in this project may remind you of the ones that Baby Bart was wearing in the story about his rescue. Click here to read the story and here to print the coloring pages.
Supplies & Tools:
Craft foam or felt
Scissors
Marker or pen
Pipe cleaners
Stapler
Optional: rubber cement, glitter, sequins
Directions:
Print the template. Cut out the circle and mitten.
Place patterns on foam (or felt) and trace 2 of each shape. Cut out circles and mittens from foam.
Decorate all pieces using markers, glitter, sequins, whatever you want!
Take one pipe cleaner and staple a circle on each end to create earmuffs.
Take one pipe cleaner and staple a mitten on each end.
Now you have Baby Bart's earmuffs and mittens. You can put them on the tree as ornaments, if you like!
Companion Craft for Adults:
Hey, parents! Want to make some super cute mittens for yourself? Check out this tutorial on how to make a pair of mittens from upcycled wool sweaters.