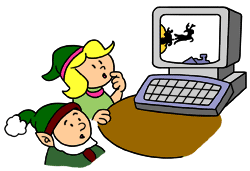 Northpole.com celebrates the holidays with dozens of activities for children and families. A child-safe, award-winning holiday site, northpole.com promotes a traditional look at Santa's Secret Village at the North Pole, but with high-tech, creative features to keep children and adults entertained—all for free.
The northpole.com site premiered in 1996 and has been delighting children ever since. Its creators wanted to provide a family-oriented, traditional Christmas site for children and their families to enjoy, and showcase it as a site steeped in both tradition and technology. As a result, visitors enjoy animation using Adobe Flash, JavaScript, Webmail, and conversation simulators using artificial intelligence—all on Web pages richly illustrated with hundreds of original, detailed, hand-drawn artwork.
The site opens with a panoramic view of Santa's Secret Village℠, the fanciful home of Santa, his elves, and reindeer. Visitors click on different 'buildings' to enter, leading to a variety of activities or stories. Buildings include Santa's Mailroom, Santa's Workshop, Gift Shop, Craft Cottage, Elf Clubhouse, Santa's Reindeer Barn, Santa's Den, Mrs. Claus' Kitchen, Northpole Weather Station, Elf Pal Academy, and Toy Shop.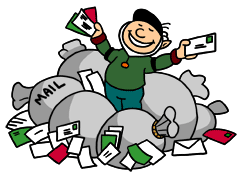 Letters to Santa arrive by the thousands each day during the holiday season and are processed in Santa's Mailroom. There, children have a quick, secure, and certain means to write Santa AND get a free, keepsake-quality reply letter within days. In Santa's Workshop, children can read short creative stories about elves and toys. In the Reindeer Barn, the stories are about Raymond the playful reindeer. All stories on northpole.com are original, and many offer a gentle and upbeat lesson for children. Personalized, original stories await children in Santa's Den and are created by the child (or parent) answering a few short questions, such as the child's first name, hometown, and a favorite activity. These answers are woven into the story to personalize it for the child, and pages can be printed out as a keepsake or gift.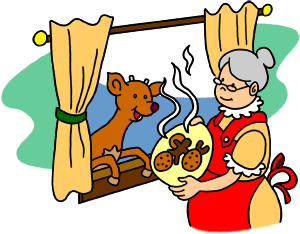 After discovering that teachers were using the site in classrooms to teach computer skills, reading, and writing, site creators added the Elf Pal Academy, offering mind-challenging games, puzzles, mazes, math riddles, an interactive coloring book, even Santa's favorite Rubik's cube. A favorite is the Good Deeds Calendar that children can print and record their good behavior for Santa.
Need a special recipe for the holidays? Mrs. Claus' Kitchen has thousands! Also, at northpole.com there's ElfChat℠, animated holiday postcards, and an 'elf-run' weather station that gives updated North Pole weather reports.
While December brings the largest numbers of visitors, the site receives millions of visits year-round. What began as a venture into Internet technology has grown into a truly happy holiday tradition for many families all over the world. Whether it's tradition wrapped in technology, or technology wrapped in tradition, a visit to northpole.com is a holiday gift.
Thank you for visiting northpole.com.