Skill Level:
Crafting Time:
Technique(s):
Category:
Tag(s):
Share This Craft
Search Crafts
Darling Dish Towels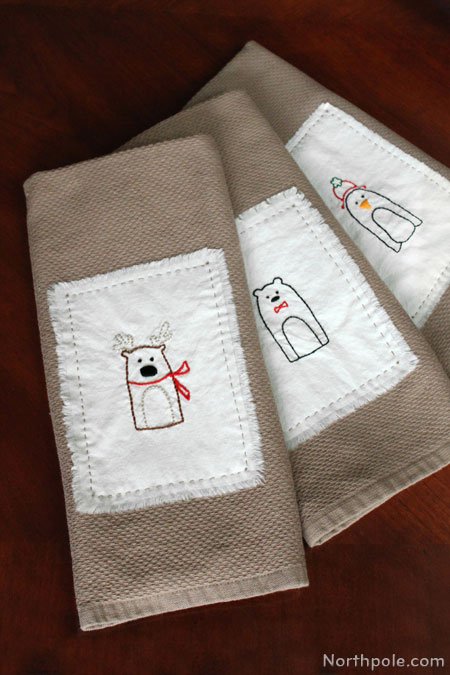 The adorable embroidered characters on these towels make us chuckle each time we see them. If these little guys could come to life, they would be pretty laid back, leisurely waiting for Christmas to arrive. Sure to spread smiles, these towels are a heartwarming, handmade gift.
Supplies & Tools: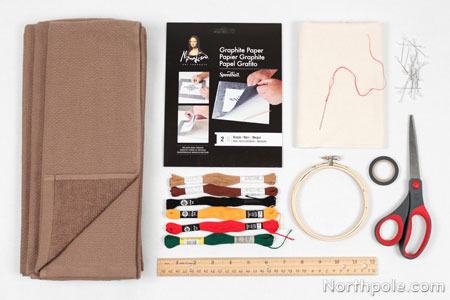 Kitchen towels, solid color
0.25 yard muslin, natural color
Graphite paper & pencil (can be found at Michael's or Amazon)
Embroidery floss: red, green, black, orange, brown, tan, off-white
Embroidery needle
4" embroidery hoop
Pins
Scissors
Ruler
Tape with low tack, such as artist, drafting, or washi tape
Iron
Directions:
Wash and dry the muslin fabric and towels.
Print the template and cut out each character, leaving a 1" border around them.
Measure and cut a piece of muslin that is 5.25" x 7". Instead of cutting with scissors, tear the fabric to give it frayed edges.
Transfer the pattern to the muslin piece:

Place the graphite paper face down on the fabric.
Center the template (face up) on the fabric/graphite paper. Use tape to hold in place.
Draw over the lines on the template with a pencil or pen.
Remove template and graphite paper; set aside.

Place muslin in an embroidery hoop. Since these muslin pieces are small, you don't have extra fabric to pull it taut. Here's how to work around it: place the inner hoop on table. Lay fabric on top. Place outer hoop on only halfway. Tighten the screw and then push the hoops together.
Embroider the designs with embroidery floss. Refer to the color guide on the template for stitch types and strand counts.
Remove muslin from embroidery hoop. Set hoop aside.
Gently wash and dry muslin to remove graphite pencil. Press with iron to remove any wrinkles.
Position the embroidered muslin on a towel and pin in place.
Use 2 strands of tan floss to sew a running stitch 0.25" from the edge of the muslin. When you reach each corner, sew a French knot.
Note: After you've sewn 2 sides, remove pins, flatten the muslin with your hand, and then repin. This will help reduce the muslin from puckering.
Repeat steps 3–9 for the other 2 designs.
Now your cuties are complete!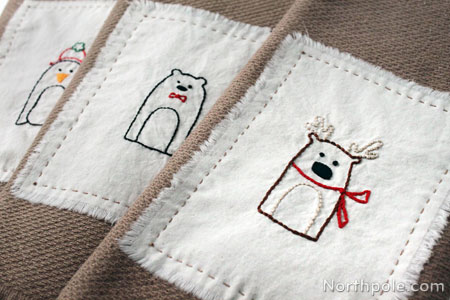 Elfy Hint:
Graphite paper is also available in white so you can transfer patterns to a dark colored fabric.