DIY Play Dough Ornaments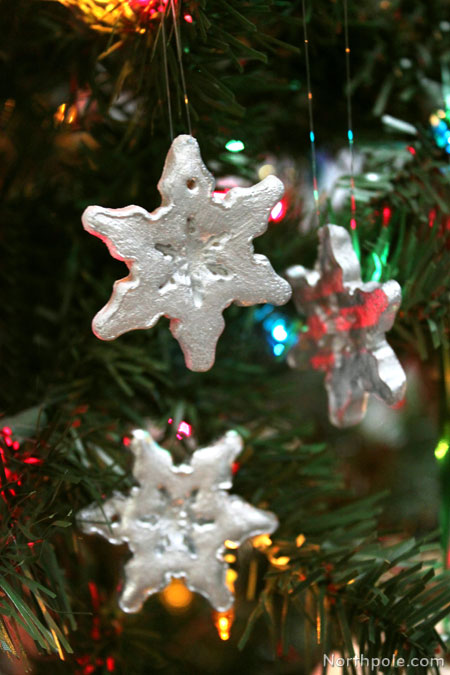 Before we jump into this craft, we want to say "Thanks!" to Kristi for submitting the recipe used in this article. We tested the recipe and can now say it's elf-approved. (Have a craft idea you want to share? Contact us here.)

These dough ornaments are easy to make and fun for the whole family. You can imprint anything you like in the dough: each family members' fingerprint and the year, handprint, paw print, or anything with texture (bumpy glass, lace, beads, pine needles, stamps, etc.).
Supplies & Tools: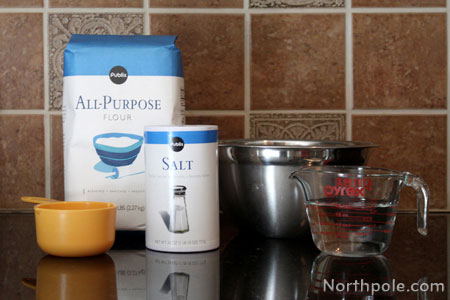 3 cups flour*, plus more for kneading
1 cup salt
1 cup water
Baking supplies: bowl, spoon, measuring cups, rolling pin
Plastic drinking straw
Items for imprinting: cookie cutters, bumpy glass, lace, beads, pine needles, stamps, toothpick, stamps, etc.
Ribbon or fishing line
Optional: paint
*Note: No need to waste your fancy King Arthur Flour—use generic instead!
Directions:
Mix flour, salt, and water together, and stir for 10 minutes.
If the dough is still very sticky, turn the dough on a floured surface and knead in more flour.
Shape the dough into 2" balls and then flatten the balls in the palm of your hand.
Note: You can also use a rolling pin to roll out the dough (about 0.25" thick) and then cut out shapes with cookie cutters.
Stamp the dough with with pine needles, beads, bumpy glass, or your family members' fingerprints.
Use a plastic drinking straw to make a hole for the ornament hanger.
Note: The straw makes a hole that is too big for some of the smaller shapes, so use a toothpick instead. Poke the toothpick into the dough and wiggle it around to make the hole a little bigger.
Bake at 250°F for about 2 hours (longer if needed).
Once completely cool, paint as desired.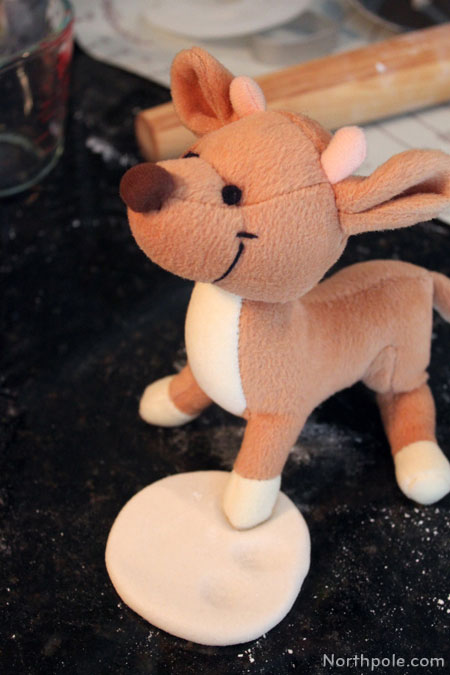 Raymond wanted to make a paw print, too!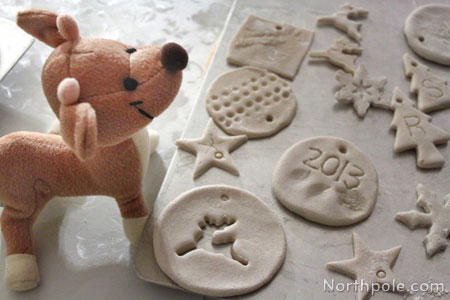 Raymond admiring the ornaments after they came out of the oven.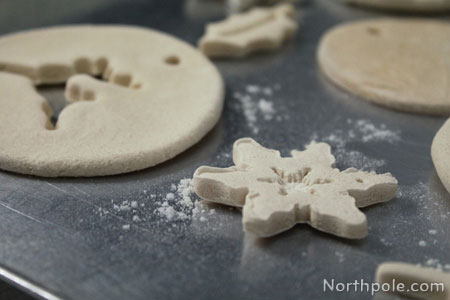 Use cookie cutters to make all kinds of fun shapes.
Paint the ornaments any way you like!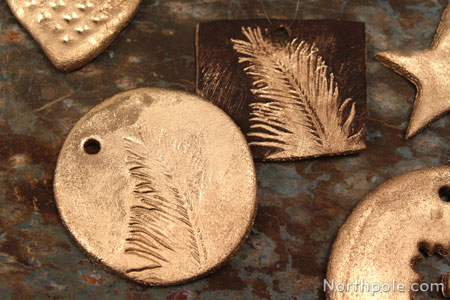 Use stamps, evergreens, or beaded necklaces to make impressions. Then paint with gold and silver spray paint. Brush a light coat of acrylic paint to make the design stand out.
We used fresh evergreens to make this one.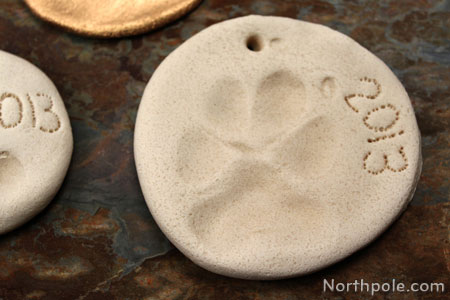 Don't forget about your pets!