Skill Level:
Crafting Time:
Technique(s):
Material(s):
Category:
Tag(s):
Share This Craft
Search Crafts
Easy DIY Pendant Necklaces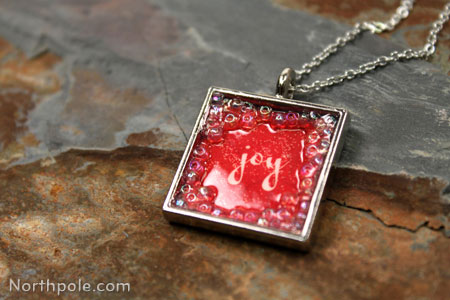 These pendants are so simple to make—just round up some of your favorite supplies: paper, glitter, beads, sequins, or whatever you like! You can also keep it really easy by making several pendants with glitter paper. These necklaces are cute without being too gaudy, making them perfectly suitable for handmade gifts.
Supplies & Tools: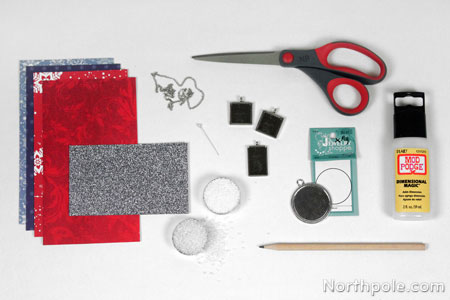 Pendants & chains
Dimensional Magic glue
Scissors
Pencil
Pin
Embellishments: decorative paper, beads, rhinestones, etc.
Directions:
Using the template from the pendant package as a guide, cut out desired paper.
Apply a layer of glue on the base of the pendant.
Lay the paper in the pendant, and press down gently.
Apply another layer of glue.
Optional: add beads or rhinestones and then add more glue to coat the beads.
Use a pin to pop any bubbles.
Allow to dry, per the glue's instructions, about 24 hours. We set our pendants on a piece of cardboard, so that the pendant would dry flat. Notice the pendant hanger is hanging off the side of the cardboard.
Now your pendant is done. Simply add and chain and it is ready to wear!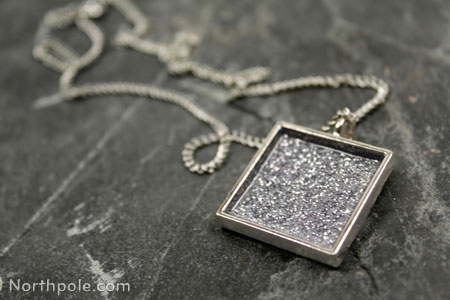 Ideas from the Elves:
Add clear beads to look like ice.
Add white beads to look like snow