Handprint Wrapping Paper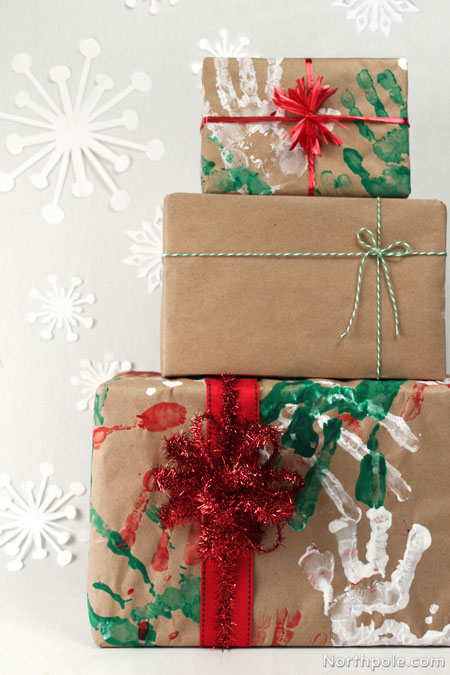 Round up the kids and make some handprint wrapping paper! This custom wrapping paper would be great for wrapping gifts for grandparents or other relatives. Our little helpers had so much fun making this paper that they asked to make more when we were finished.
Supplies & Tools: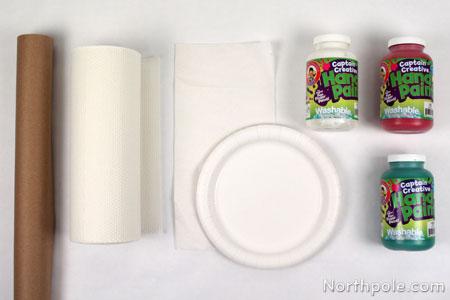 Kraft paper
Finger paints: red, white, green
Large foam or plastic plates (Don't use paper plates; they are weaker and may fall apart.)
Plastic table cover
Apron or old t-shirt for each child
Baby wipes and/or paper towels (to clean up any small messes!)
You can find kraft paper in the shipping section at an office supply store; you can even sometimes find it at the dollar store. Use a heavy weight paper if you can find it. If you do use regular paper, just keep in mind it will get pretty wrinkled.

It is best to work in an area that can be easily cleaned, such as a space with wooden or laminate floors. If you only have carpet, then lay an old sheet or a plastic table cover on the floor. Best be prepared in case the little munchkins get excited about squeezing the paint in between their hands—they might clap their colorful hands, sending drops paint across the room!
Directions:
Protect your work area (table and surrounding floor) as needed with plastic table covers and/or old sheets.
Lay a large piece of kraft paper across the table, using the bottles of paint to weigh down the corners.
Squeeze paint onto foam plates (one color per plate).
Have kids put on their aprons, roll up their sleeves, and then dip one hand in paint. Rub palms together to evenly distribute the paint.
Spread fingers apart and press hands onto paper. Be careful not to slide hand on the paper. Apply more paint to hands as needed and continue to stamp all over the paper.
When finished with one color, wash hands.
Repeat steps 4–6 for each additional color.
Set aside to dry.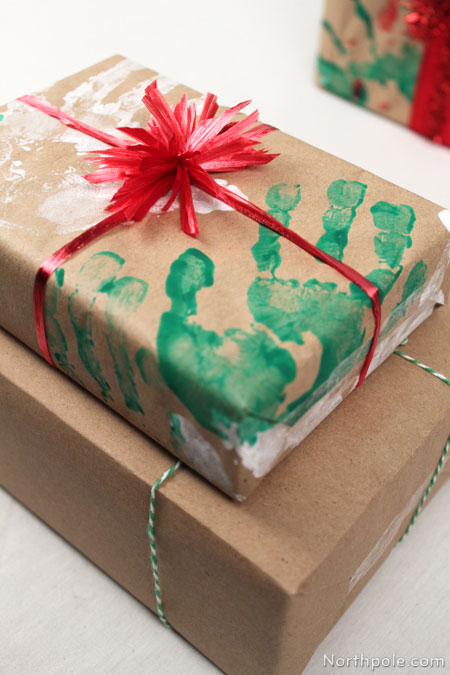 Idea from the Elves:
If you have multiple children, assign a color to each child. When the paint is dry they can write their name on their handprint