Skill Level:
Crafting Time:
Technique(s):
Material(s):
Category:
Share This Craft
Search Crafts
Holiday Favor Bags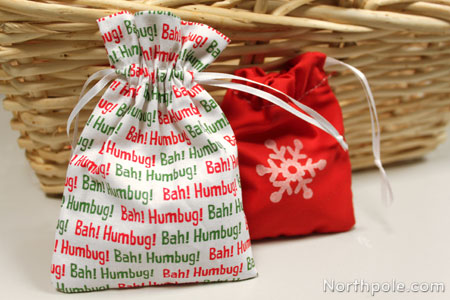 These versatile bags can be used for party favors, small gifts, or little goodies you plan on giving to your co-workers. Use a solid color fabric and you can personalize the bag, or use foam stamps to make a nice print. If you use a printed fabric, use caution when cutting and sewing the fabric, as you don't want a bag with an upside-down print!
Supplies & Tools: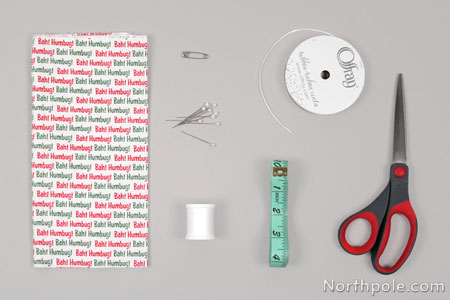 0.5 yard fabric
Thread to coordinate w/ fabric
Thin ribbon (1/8" wide)
Scissors
Straight pins
Measuring tape
Sewing machine
Small safety pin
Directions:
Print the template and cut out pattern on page 1. Set aside diagrams (template pages 2 & 3) for future reference.
Pin template to fabric and cut out along solid lines. Be sure to cut the small slits and the little hole in the middle. See .pdf file for diagrams.
Note: To cut the hole in the middle, fold the fabric and template in half and cut out circle.
Unfold fabric so that the wrong side is facing up.
Fold the flaps (which are above the incision) over and pin in place.
Using sewing machine, sew each flap in place. Trim excess thread.
Lay fabric on work surface­­­, wrong side up.
Fold top edge down 1.5 inches. Use pins to secure in place.
Sew two lines, one just above and one just below the hole. Remove pins and set aside. Cut excess thread.
Lay fabric on work surface, right side up. Fold in half, bringing the left side over to the right side.
Sew along the raw edges.
Turn right side out.
Cut 2 pieces of ribbon where each piece is 7" long.
Use a small safety pin (or a needle with a large eye) and thread it through the space created. Pass through the bag. Remove safety pin and set aside. Tie ends of ribbon in a knot.
Use safety pin to thread the second piece of ribbon through the hole (the small cut-out) and pass through the bag. Remove safety pin and set aside. Tie ribbon ends in a knot.
Pull ribbon ends to close the bag.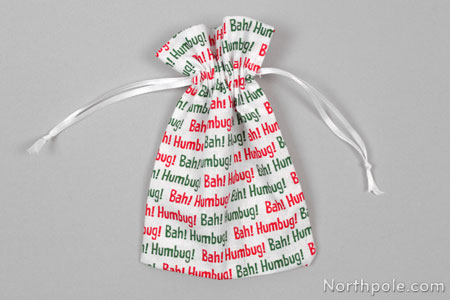 Idea from the Elves:
Open bag and lay flat on work surface. Place a piece of scrap paper inside the bag so that the paint does not bleed through.

Using foam brush, lightly apply a coat of paint on the foam stamp.
Carefully lay the stamp onto bag, press firmly.
Remove the stamp and set aside.
Let bag dry completely.
Repeat on the reverse side if desired.
Remove paper from inside the bag.