Skill Level:
Crafting Time:
Material(s):
Category:
Tag(s):
Share This Craft
Search Crafts
Simple Layered Paper Holiday Cards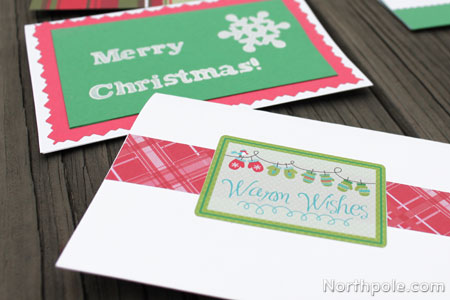 An inexpensive way to create handmade cards, you can have fun by layering different designs and types of paper. The textures, colors, and prints make the possibilities endless. There are so many different types of Christmas themed paper—bright and whimsical, wintery blue tones, bright reds and greens, earthy reds and greens, and of course glittery paper. (What's Christmas without a little—or a lot—of sparkle?!)
Basic Supplies:
Assorted cardstock
Assorted scrapbook paper
Ruler
Scissors
Pencil
Glue stick
Optional: tape runner
A Christmas Package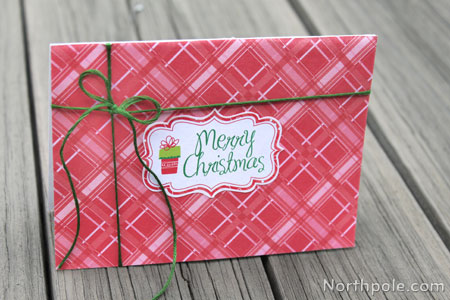 Daintily wrapped with embroidery floss, this card emulates a Christmas gift. Simply layer scrapbook paper however you like and add a ribbon.
Supplies & Tools:
Embroidery floss, any color
X-Acto
Directions:
Measure and cut a 6" x 8" piece of white cardstock.
Fold cardstock in half, forming a 6" x 4" card.
Measure and cut a 6" x 4" piece of scrapbook paper.
Use glue stick to adhere scrapbook paper to the outside of card.
Note: You could use a piece of decorative cardstock in step 1, and eliminate steps 3–4.
Take another sheet of scrapbook paper and cut out a fun design. Paste in the center of the card.
Cut a piece of embroidery floss that is about 30" long.
Tie the floss around the front card flap.

Lay floss across front of card.
Open card and bring floss to the back.
Cross floss and bring to front.
Use X-Acto to pierce a hole in the fold so that you can string the floss through.

Tie a knot around the horizontal string.
Tie the floss in a bow and trim ends, if needed.
Funky Scissors Card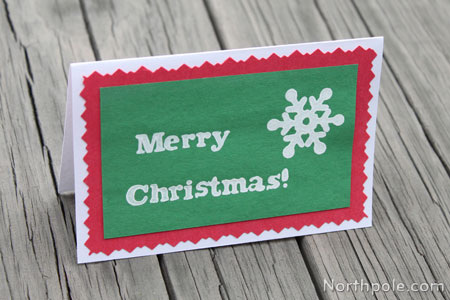 Use decorative scissors to cut fun and funky borders for your cards.
Supplies & Tools:
Decorative scissors
White paint
Foam stamps
Foam brush
Directions:
Measure and cut (with regular scissors) a 6" x 8" piece of cardstock.
Fold cardstock in half, forming a 6" x 4" card.
Measure and cut (with regular scissors) a 6" x 4" piece of red paper.
Now take the red piece and cut a border with the decorative scissors.
Measure and cut (with regular scissors) a 5" x 3" piece of green paper.
Apply paint to foam stamps with foam brush. Press onto green paper. Allow paint to dry.
Now layer the pieces to create the card. Glue the red piece in the center of the front of card. Glue green piece in the center of the red piece.
Your card is finished! Write whatever you like on the inside of the card.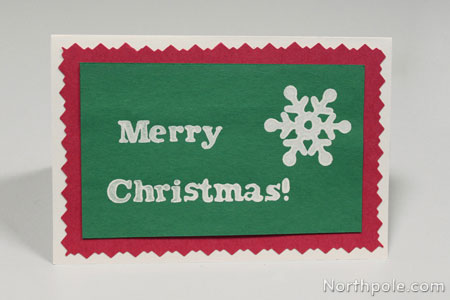 Mix and Match Paper Layers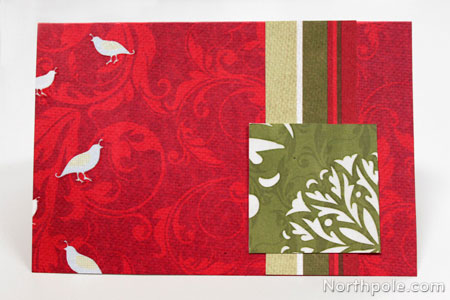 Use any variety of Christmas cardstock to create lovely handmade Christmas cards, building layers with different colors and prints. Using different patterns in the same color palette works quite well for this technique.
Supplies & Tools:
Directions:
Measure and cut a piece of cardstock to the desired size. If you want a 6" x 4" folded card, cut your paper 6" x 8" and fold in half.
Using additional cardstock or scrapbook paper, cut shapes as desired.
Use glue to stick shapes to card. (If making several cards at a time, you can also use a tape runner to work faster.)
More Ideas from the Elves:
Try tearing paper to expose the white paper beneath the print. Layer however you like and write a Christmas message with glue & glitter.
Cut designs or phrases from scrapbook paper to create different cards.
Place two strips of paper next to each other. This is so easy because you can quickly cut strips of paper and then just mix and match!
Criss-cross strips of paper and embellish with a paper snowflake and a gem.
Elfy Hint:
Each of these cards will fit in an A4 envelope, and you can find A4 envelopes like these at envelopes.com.