Gift Baskets: Gourmet Snacks
A gift basket brimming with tasty treats is the perfect present for your child's teacher, your boss, your neighbors, your pastor—really anyone on your checklist! Below we have listed some delicious suggestions for building your own gourmet snack gift basket. We elves have tasted many of these items and assure you that they are rather scrumptious! Also, these goodies are made with heart and soul by American artisans. So in addition to giving your loved one premium fare, you can feel great about yourself knowing that you are helping support families and local economies.
Wondering how to wrap up your fabulous gift basket? For some tips & tricks, read our article about putting all the pieces together.
The Grub:
Specialty cheeses: Dante, Sarvecchio® Parmesan, or Raspberry Bellavitano
Crackers: Try these Caramelized Onion Crackers or these Rosemary Crisps.
Artisan candy, such as the Lah-Dee-Dahs from Whimsical Candy
Sweet and savory nuts: Almond Blossom produces many tasty nuts and mixes, such as Thai Chili Lime Cashews, Cranberry Orange Walnuts, and Maple Chipotle Pecans.
Meat, such as summer sausage
Granola mix: Try Early Bird Granola.
Fruit preserves, such as these small batch preserves from Quince & Apple
Honey: Pick up local honey at a farmers market or check out Savannah Bee Company Honey.
Artisan chips, such as the dill pickle chips by Route 11
Tapenades or spreads: The Gracious Gourmet has some excellent flavors.
Gourmet caramels: Béquet Caramel makes award-winning caramels that are available in a variety of flavors including chipotle, butterscotch, green apple, and salted mocha.
Need a gift basket in a jiffy? Here are some ready-made baskets: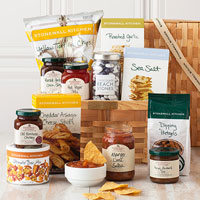 Ultimate Snack Gift Basket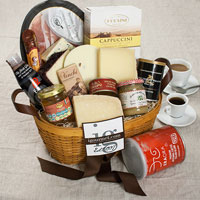 Italian Premier Gift Basket
On the hunt for even more gift basket ideas? Click here!