Christmas Luminary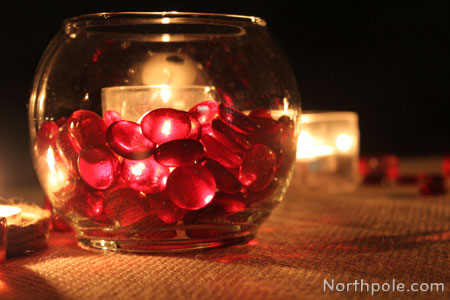 I love the way that candles glow and the way that the light bounces and reflects off of glass. Here's a simple and budget friendly table centerpiece. I found the vase and glass pebbles at the dollar store, and I pulled the tealights and their holders out of the closet. If you don't have tealight holders, you can easily reuse any glass jars, such as baby food jars. The only kicker is to save them ahead of time. I stockpile jars on the corner of my counter until they begin to dominate my counter space—at which point I box them up and tuck them away in the closet.
Supplies & Tools: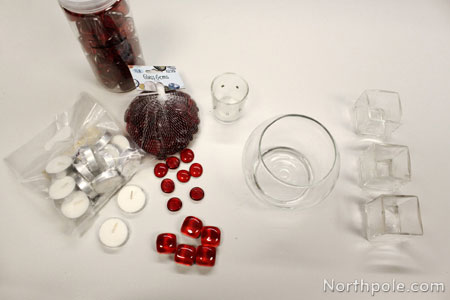 Small fishbowl vase
Glass votive holder
Tealight holders
Tealight candles
Glass pebbles
 Directions:
Place votive holder in the vase.

Gently add red pebbles in the vase and around the votive holder.

Drop tealight candles into the votive holder and tealight holders.

Make as many as you like.
Arrange on table and scatter some glass pebbles around the candles.

Ideas from the elves:
Use the lid of a baby food jar as a tealight holder. I decorated the lid with twine.

Want to make several of these for a big event or party? Order everything you need online from DollarTree.com and pick up in store. Easy peasy!