Playful Puppies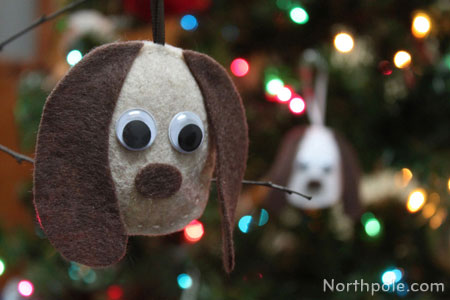 These little pups will definitely brighten any dog lover's day. These felt ornaments are a bit less involved than my other felt ornaments, such as the basset hound. I used glue to attach many of the pieces rather than sewing, which makes it a fun craft for kids! I used hot glue, but you can substitute felt glue if you want to make it more kid-friendly. I included two puppy patterns in the template for your crafting pleasure. Have fun making some!
Supplies & Tools:
Felt: white, tan, brown
Embroidery floss: white, tan
Wiggly eyes
Mini hot glue gun
Hot glue sticks
Embroidery needle
1/8″ wide ribbon
Poly-Fil®
Marker
Scissors
Directions:
Print the template and cut out pieces.
Use marker to trace template pieces on felt. Cut out 2 pieces of each shape except the nose.
Glue the nose and wiggly eyes onto one felt piece.

Cut a piece of ribbon that is about 10″ long. Fold the ribbon in half and tie the ends in a knot.
Glue the ribbon knot to the other felt piece about 0.25″ from the top edge.
Note: The glue is really hot, so be careful! Also, don't press down too hard, or the glue will bleed through and leave an indentation on the other side of the felt.

Stack the two pieces of felt together and begin sewing.
Once you've sewn about 3/4 around the dog's head, stuff with Poly-Fil®.

Continue sewing and hide the thread. (How do I do that? Check out my tips on hiding the thread here.)

Lay the ears on the dog's face and position them in place.

Gently peel back the ears, one at a time, apply a small amount of glue, and gently press down. (See the note in step 5.)

Now your puppy ornament is complete and ready to hang on the Christmas tree!