Tis the Season Fir Trees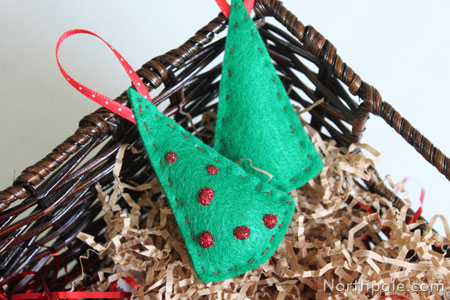 These little evergreens are cute enough to give as party favors or to decorate a gift. And, of course, you hang them on your tree! In today's craft I unexpectedly found a new use for a common object. While I started making this tree, I didn't have my usual Poly-fil® or fabric scraps. After scratching my head for a moment, I saw a plastic bag lying on the table. Ah ha! I cut a piece of the bag and used it for filling the tree!

Supplies & Tools: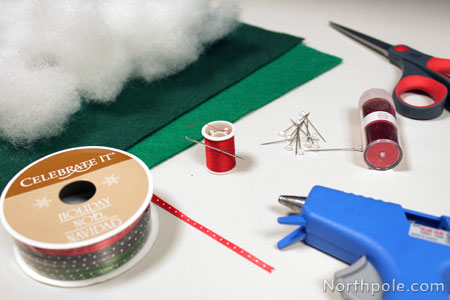 Straight pins
Green felt
Thread
Needle
Scissors
Thin ribbon
Poly-fil®
Mini hot glue gun
Mini hot glue sticks
Glitter
Directions:
Print out the template and cut out.
Pin template pieces to felt.
Cut out pieces. Remove pins and template; set aside.
On one piece, glue a loop of ribbon near the tip of the tree (about 0.25″ from the edges).
Stack pieces together.
Begin sewing around the tree. Use any color thread you like. I chose red thread because I like contrasting colors. You can do a straight stitch or a blanket stitch. (I sewed a straight stitch.)
Sew along two sides, then stuff the tree with Poly-fill, fabric scraps, or a small piece of a plastic grocery bag.
Once stuffed, continue sewing until you reach the first stitches.
To tie off the thread and hide the knot, poke needle through one layer of felt and through the middle of felt layers along edge.
Double knot the thread, keeping the knot flesh with the felt.
Poke the needle in between the layers of felt to hide the knot.
Pull needle through middle of tree and cut thread.
To add "ornaments," carefully apply a small dot of hot glue on the tree, immediately sprinkle with fine glitter. Repeat for as many as you like.