Skill Level:
Crafting Time:
Material(s):
Category:
Tag(s):
Share This Craft
Search Crafts
Cork Reindeer Ornament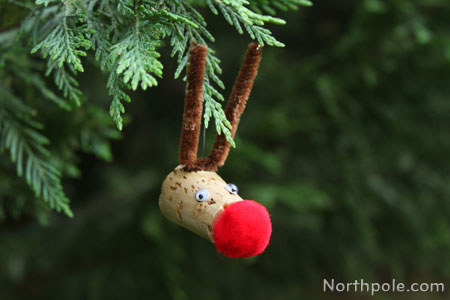 Make this cute little ornament to remind you of Santa's reindeer. One of our favorite reindeer is Raymond! He's an adorable, young reindeer who hopes he can help fly Santa's sleigh one day. Every now and then Raymond gets into a bit of mischief which causes his mother and Santa to worry, like the time they couldn't find him. Want to find out what happened? Click here to read the story, "Where's Raymond?"
Supplies & Tools: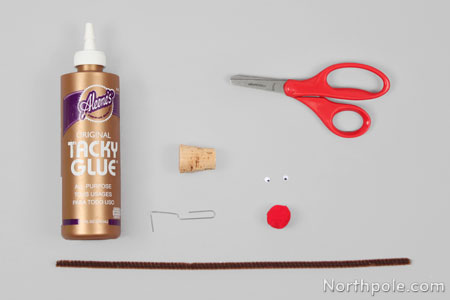 Cork stopper
Wiggly eyes, 4mm
Medium red pompom
Brown pipe cleaner
Tacky glue
Large paper clip, unfolded
Scissors
Directions:
Glue pompom onto the smaller end of the cork.
Glue wiggly eyes onto cork.
Cut the pipe cleaner in half and set one aside.
Fold the pipe cleaner in a "U" shape to create the antlers.
Glue antlers to top of cork.
Push one end of the paper clip into back of reindeer head.
Now you have a reindeer ornament. Hang him on your Christmas tree!