Skill Level:
Crafting Time:
Material(s):
Category:
Tag(s):
Share This Craft
Search Crafts
Festive Christmas Candies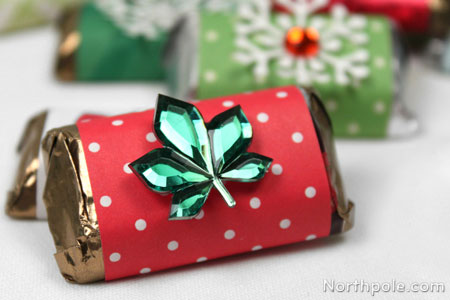 We would like to thank Nancy, a friend of the elves, for sharing this idea with us! This craft is a great way to use up any scraps of paper or pieces too small to wrap a gift. Simply cover chocolates in wrapping paper to make wintery Christmas candies, then arrange several of these candies in a Christmas tin or on a small plate for a candy wreath.
Supplies & Tools: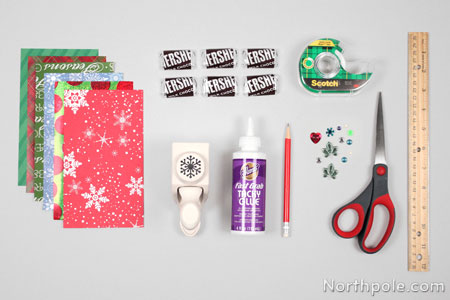 Wrapping paper and/or scrapbook paper
Ruler
Pencil
Scissors
Tape
Glue
Embellishments: gems, pearls, stickers, etc.
Snowflake paper punch
Chocolate candies, such as Hershey's Miniatures
Directions:
Measure and cut strips of paper so they are wide enough to cover the chocolate bars.Our are 1.5" x 2.875".
Wrap a paper strip around a chocolate bar and tape in place.
Set chocolate bar on work surface, right side up.
Add embellishments—snowflakes, little rhinestone gems, stickers, whatever you like!
Arrange candies in a dish or on plate. Use a plastic plate and give away as a gift.