Ugly Christmas in July Hat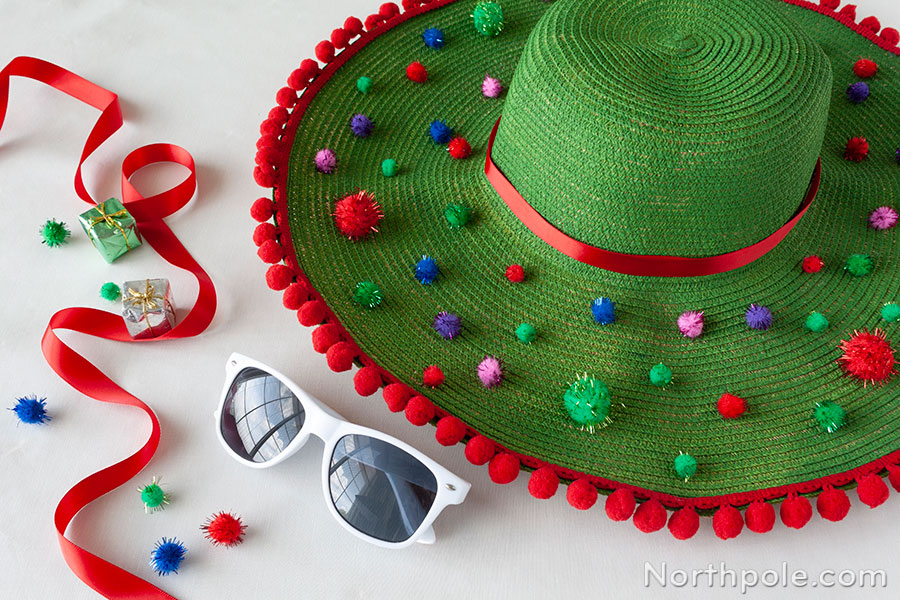 In winter, ugly Christmas sweaters abound at many a party and holiday gathering. But what does one wear when celebrating Christmas in summer? It's too hot for woolen sweaters, so wear an ugly Christmas in July hat instead! To make one, all you will need is a hat and some funky embellishments of your choice.

For even more fun, we recommend gathering your pals together for an afternoon of crafting. Or you could have a hat making station at your Christmas in July jubilee. These fabulously festive hats will shield you from the summer sun and be all the rage at your party! Read on for some decorating ideas.
Supplies & Tools: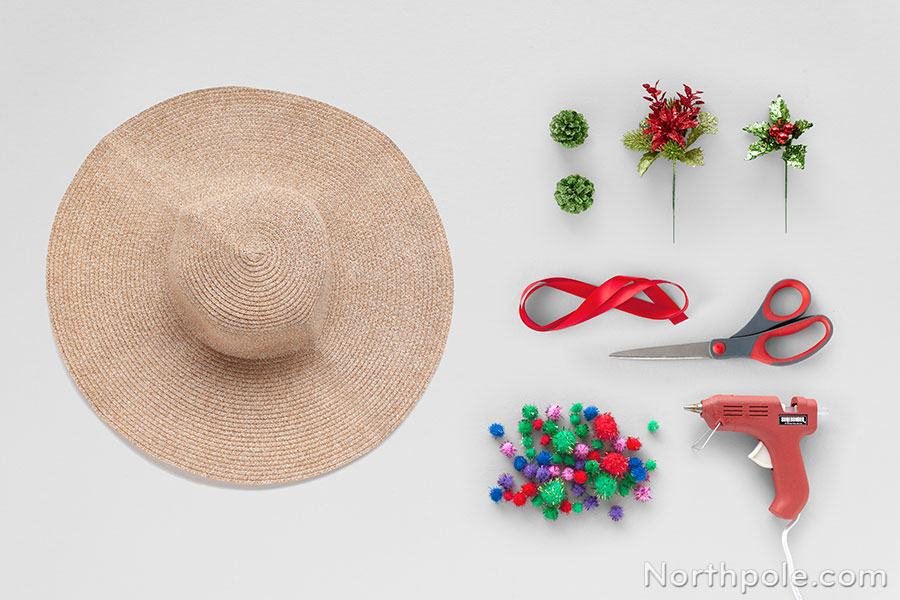 Straw hat
Embellishments: pompoms, pinecones, bells, ribbon, florals, or whatever else you want*
Adhesive, such as hot glue, Fabri-Tac™, or Liquid Stitch™
Scissors
Optional: paint, foam brush, paintbrush
*Many of the embellishments we used came out of our craft stash, so poke around in your closet and use or repurpose things you already have!
Directions:
If desired, paint the hat.

Pour some paint into a paper cup and use a foam brush to paint the hat.
To fill all the gaps, add a little bit of water to the paint cup. Add about 1 tsp water per tablespoon of paint. Now use a paintbrush to fill all the crevices with paint.
Allow to dry.

Glue on any embellishments. (See below for design ideas.) Allow to dry completely.
Wear your amazingly ugly and festive hat!
Plenty o' Pompoms Hat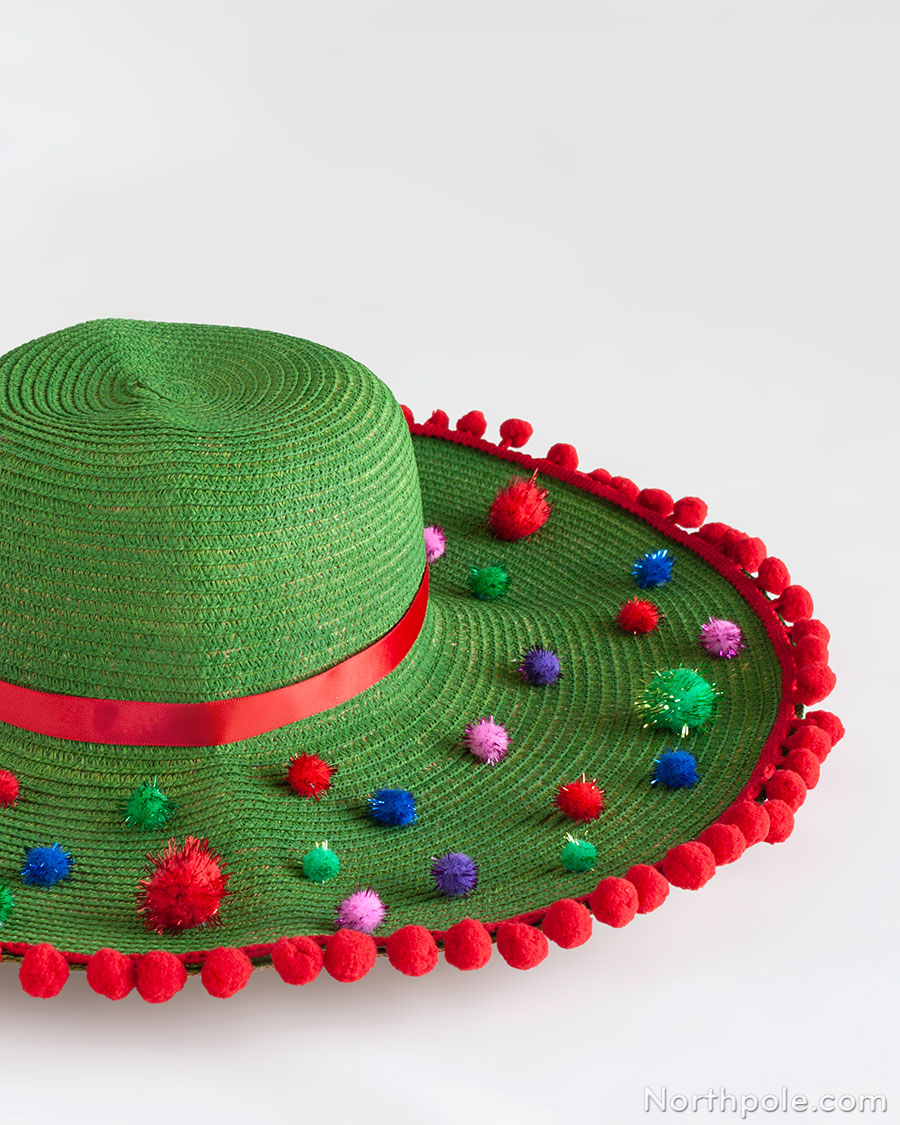 For this playful hat, we started by painting the hat green, then we added a pompom trim around the rim and a simple satin ribbon around the crown. To finish it off, we dotted the brim with tinsel pompoms. Before you begin decorating your hat, consider your color palette. Are you thinking of traditional holiday hues or festive fluorescents? We opted for pompoms in rich red, green, blue, and purple with a few pops of pink.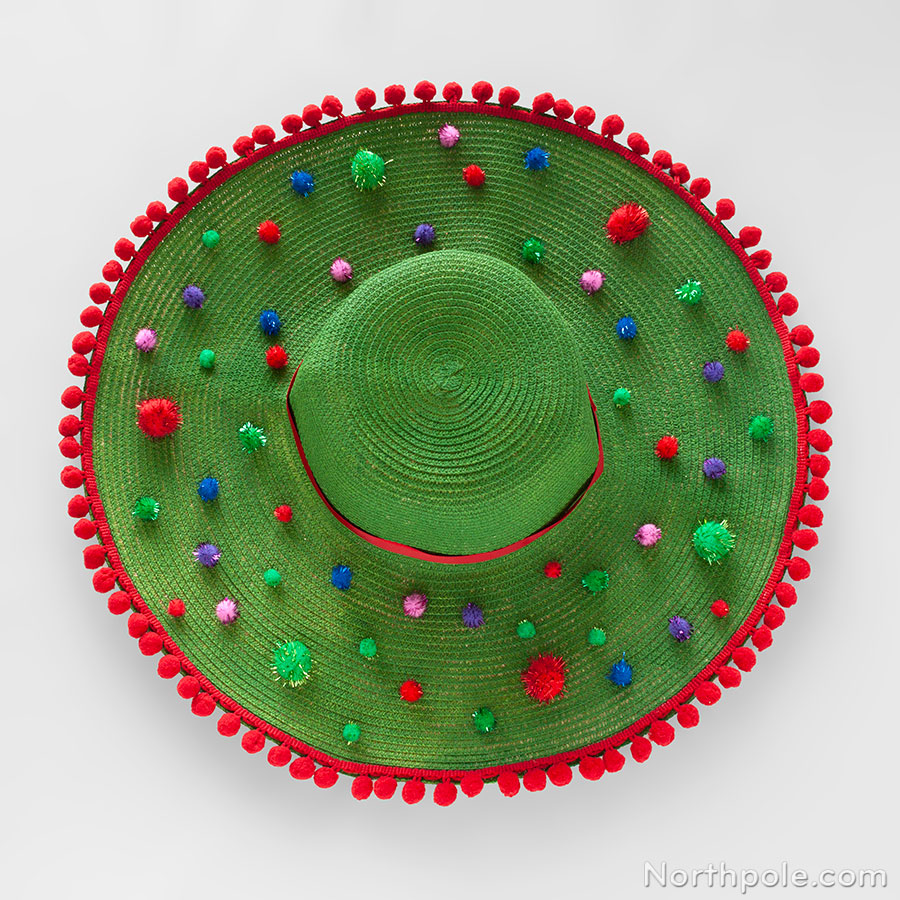 Glittery Greenery Hat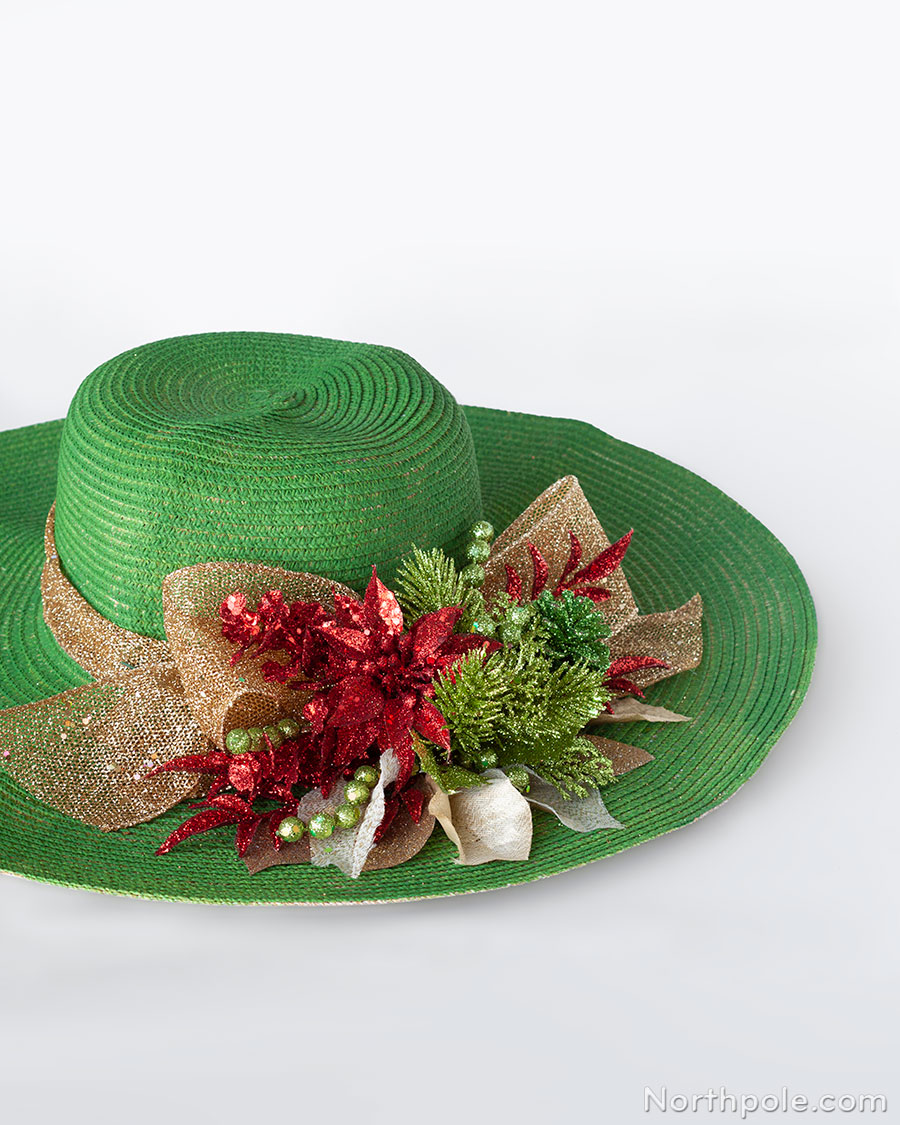 For a spectacular, sparkly hat, use ribbon, floral picks, and other embellishments that are covered in—you guessed it—glitter! To make this hat, start by wrapping ribbon around the crown, securing with hot glue as needed. Then tie a bow and trim the tails. Glue down decorations as desired. Here we used a pinecone, a poinsettia, and mixed types of foliage.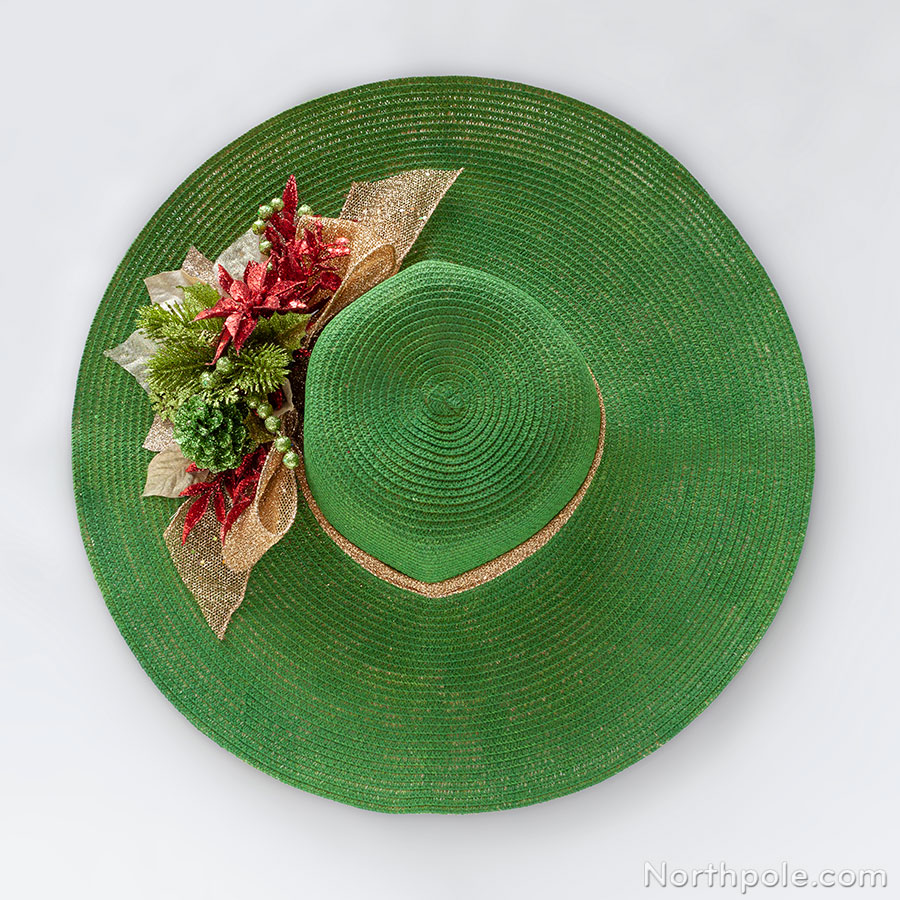 Poinsettia Pizzazz Hat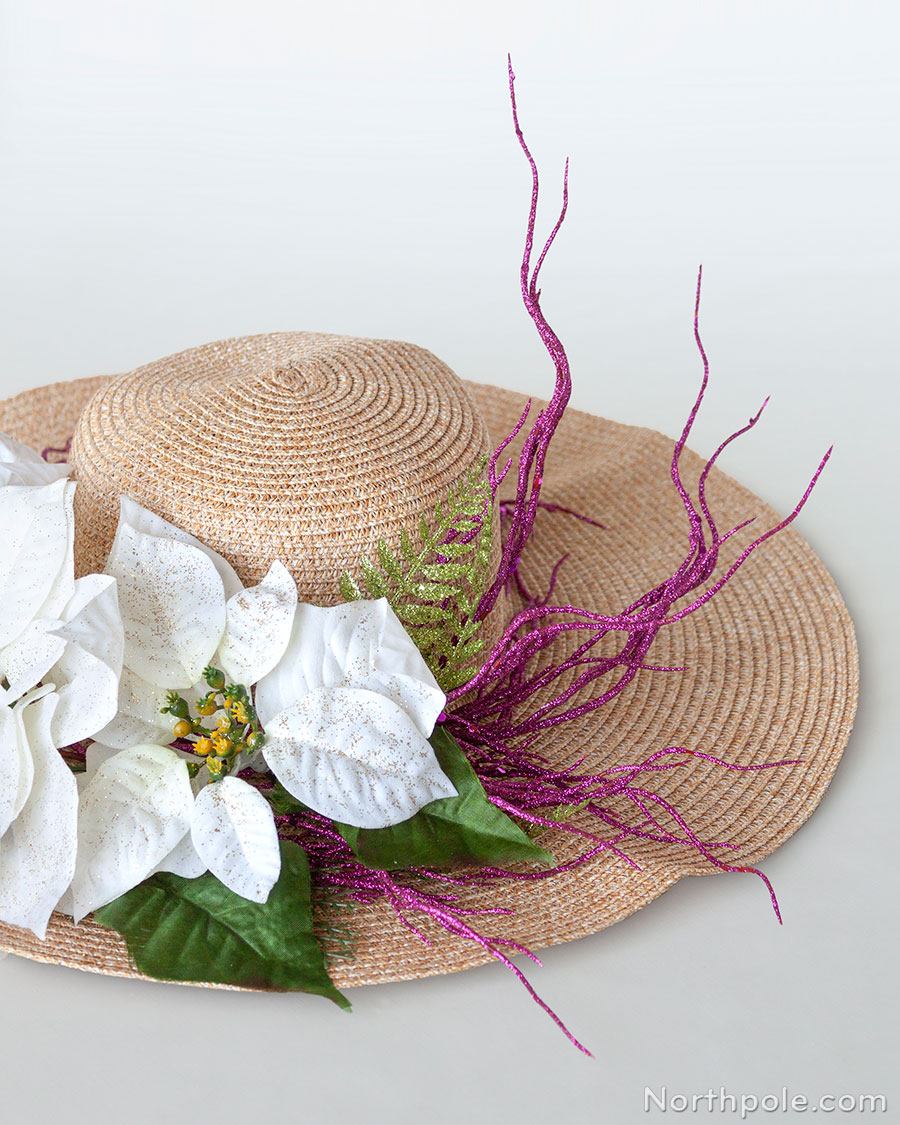 Part fancy and part gaudy, this hat is a real show stopper. First, we loosely wrapped sparkly pink branches around the crown with a vertical wisp of twigs on one side. Then we added a few glittery green sprigs. Three artificial white poinsettias complete the look with one large flower in the center and a slightly smaller flower on either side. We used florals and foliage from our craft stash, so poke around in your closet and use or repurpose things you already have!
Ravishing Red Hat
For an eye-catching hat with punchy red accents, use a variety of red ribbons and trims on a natural straw hat. We also added miniature gold ornaments and red tinsel pompoms to give the hat a sparkly touch. It is a Christmas in July hat, after all!