10 Ways to Washi Your Holidays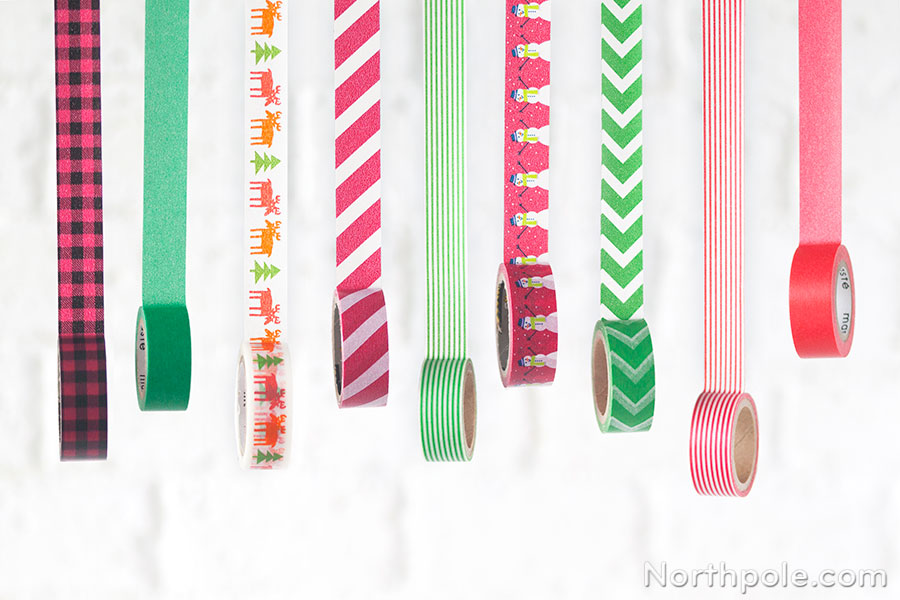 What Is Washi Tape?
Washi tape is a decorative masking tape that originated in Japan, made using washi (paper created with mulberry, Gampi, or other plant fibers). Washi tape has a low-tack adhesive, making it repositionable, yet sticky enough to stay put.
Where Can You Find Washi Tape?
Washi tape is available in various craft stores, office supply stores, superstores, and online. Regardless of where you buy your tape, our rule of thumb is to purchase a brand you trust. Over the years we've tested many tape brands and have sadly on occasion gotten washi tape with poor adhesive that peeled and did not stay in place. Because of this, we usually like to stick to a few brands: Scotch, MT, Masté, and Simply Gilded.
What Can You Do with Washi Tape?
Washi tape can be used for general crafting, scrapbooking, gift wrapping, home decor, and more! Keep reading for 10 festive ideas.
1. Make Handmade Cards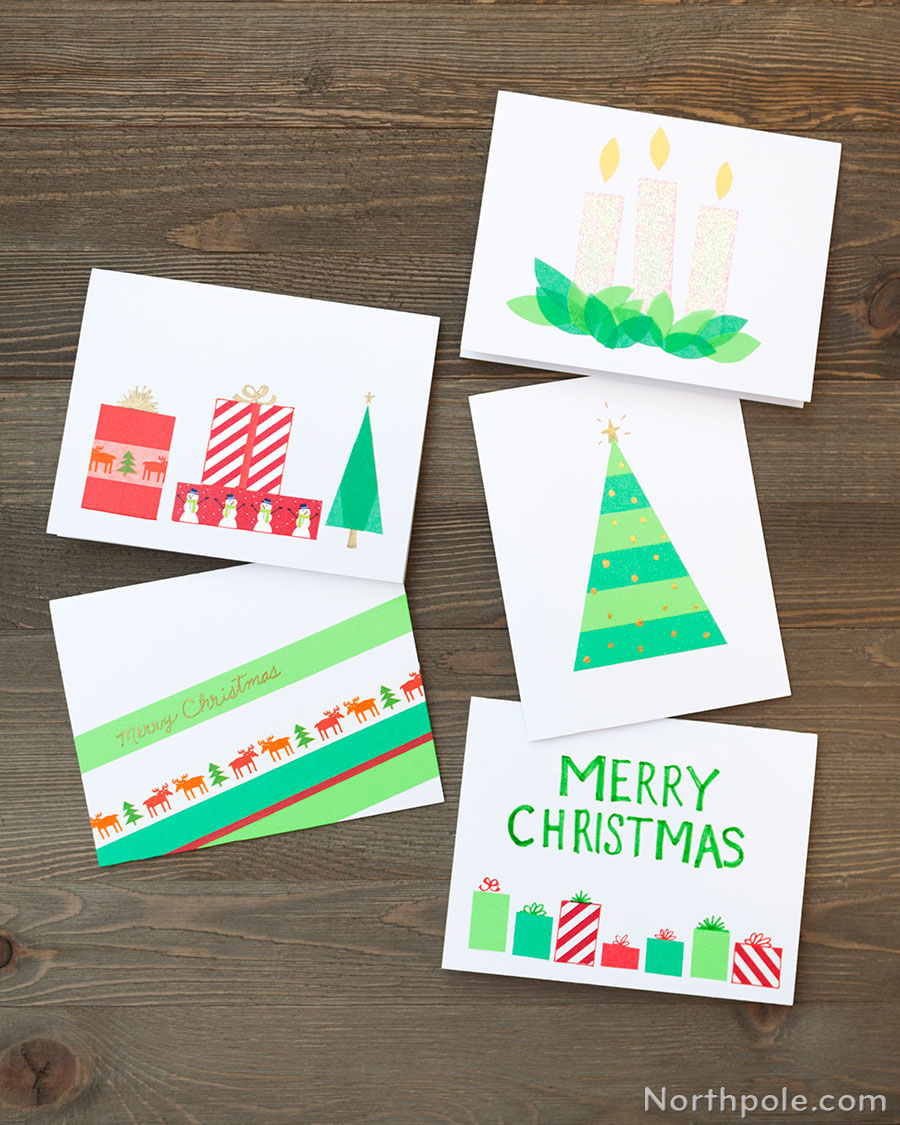 Cut out shapes or cut strips of washi tape to make various designs on blank cards. Then use a fine tipped marker or pen to add small details. We like using a gold paint marker for metallic accents, a Sakura Microperm pen for fine details (also writes well on top of washi tape!), and Stabilo Fineliners for adding colorful outlines around washi cutouts.

Note: Glitter tape—although it's technically not washi tape—is a wonderful, mess-free way to give cards a sparkly touch. In the image above, we used Scotch white glitter tape for the candles.
2. Easily Embellish Envelopes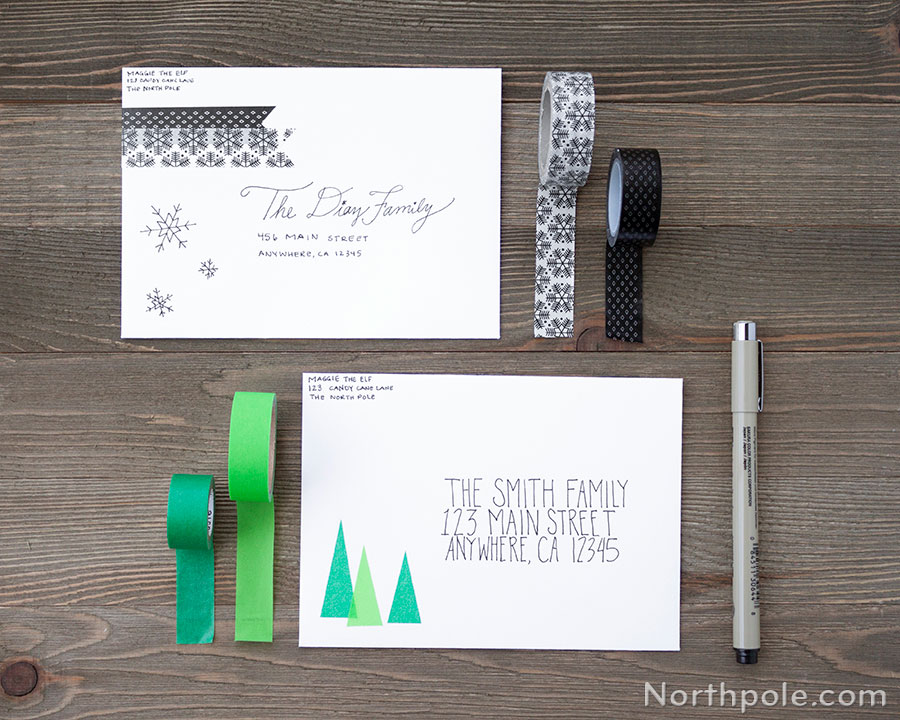 You've made a stellar Christmas card, so clearly you need an equally awesome envelope to go with it. Feel free to use whatever tape you have and get creative! Some easy ideas: add a strip over the lapel, strategically place pieces on the envelope, or give the envelope a border. (Due to postal restrictions, only add a border on cards you plan to deliver in person. See image below.)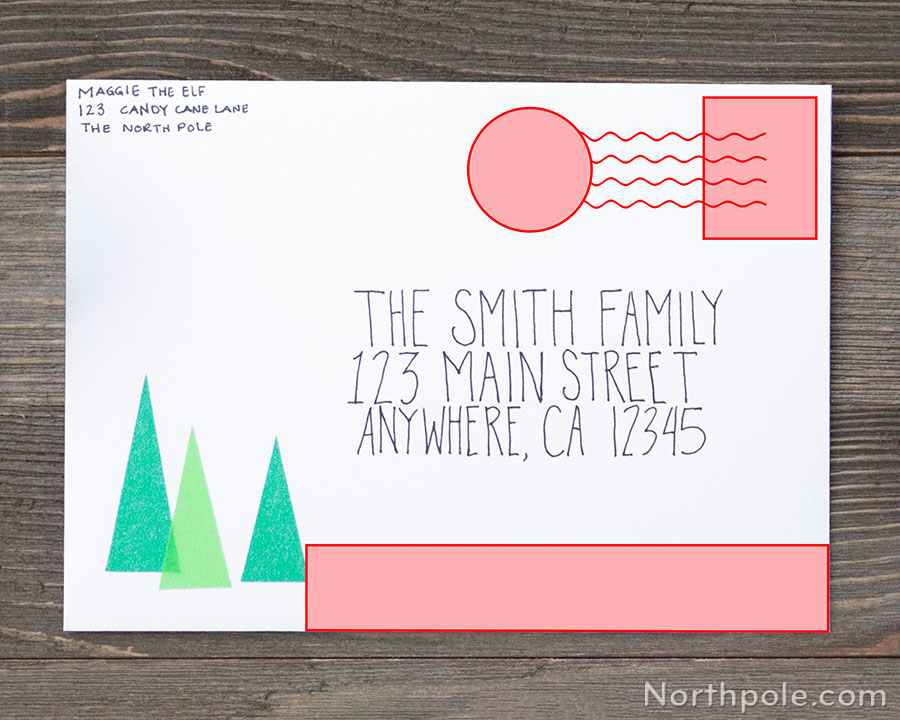 Note: Along with the space necessary for the stamp and postmark, make sure to leave the lower righthand corner of the envelope blank, as the postal service uses that area to stamp a barcode. The recommended amount of space to leave blank is 4 7/8" x 3/4".
3. Gussy Up Wrapped Gifts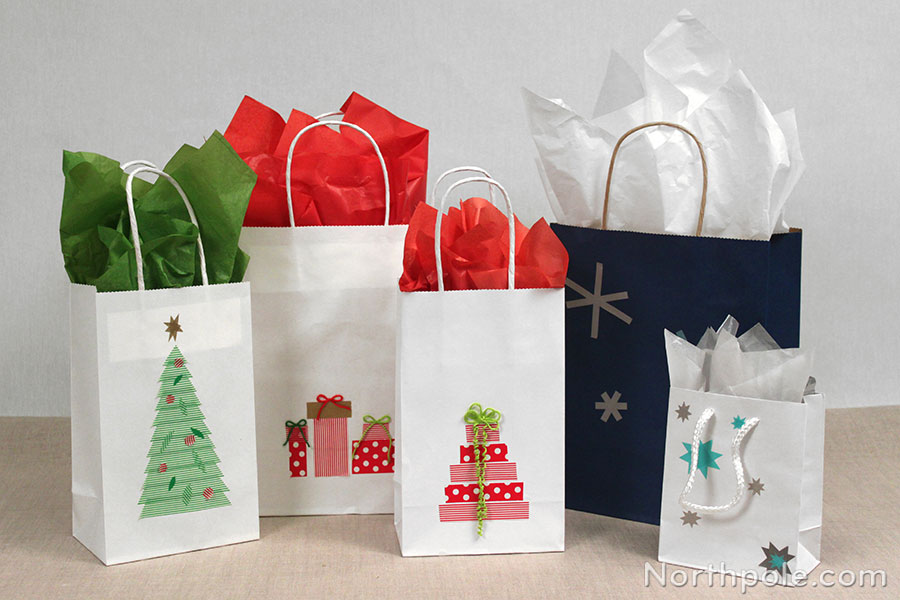 No matter if you are wrapping presents in a bag or a box, you can add festive flair with some washi tape. We're fans of keeping it easy with basic rectangles and stripes, but we also like to add interest by layering tape or cutting out shapes. (Non-stick scissors are really handy for cutting shapes from the tape.) Whether you use simple strips of washi to wrap up chocolate bars or combine techniques to embellish gift bags, your gifts will look wonderful!
4. Deck the Walls with Boughs of Washi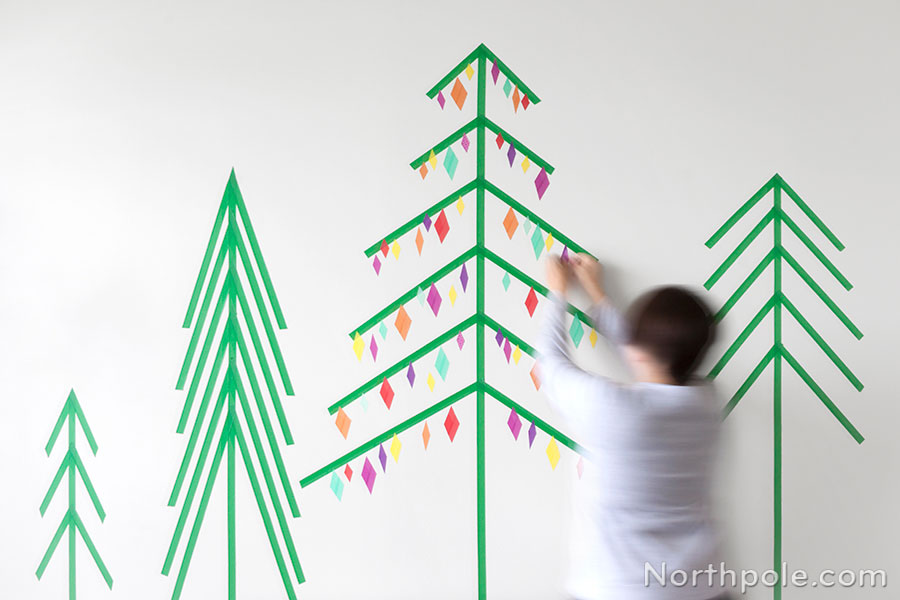 Want to decorate your apartment, dorm room, or office, but space constraints don't allow for a regular Christmas tree? Or are you worried that your toddler or pet may cause your tree to topple? Forgo the fir and create a festive forest on your wall with green washi tape! To add even more visual interest, vary the spacing and angle of the branches or add ornaments of colored tape.

Note: Don't leave the tape on the wall for too long because the tape can leave residue on the wall. Be sure to take down your trees after no more than 6–8 weeks.
5. Create Temporary Frames for Kids' Art Projects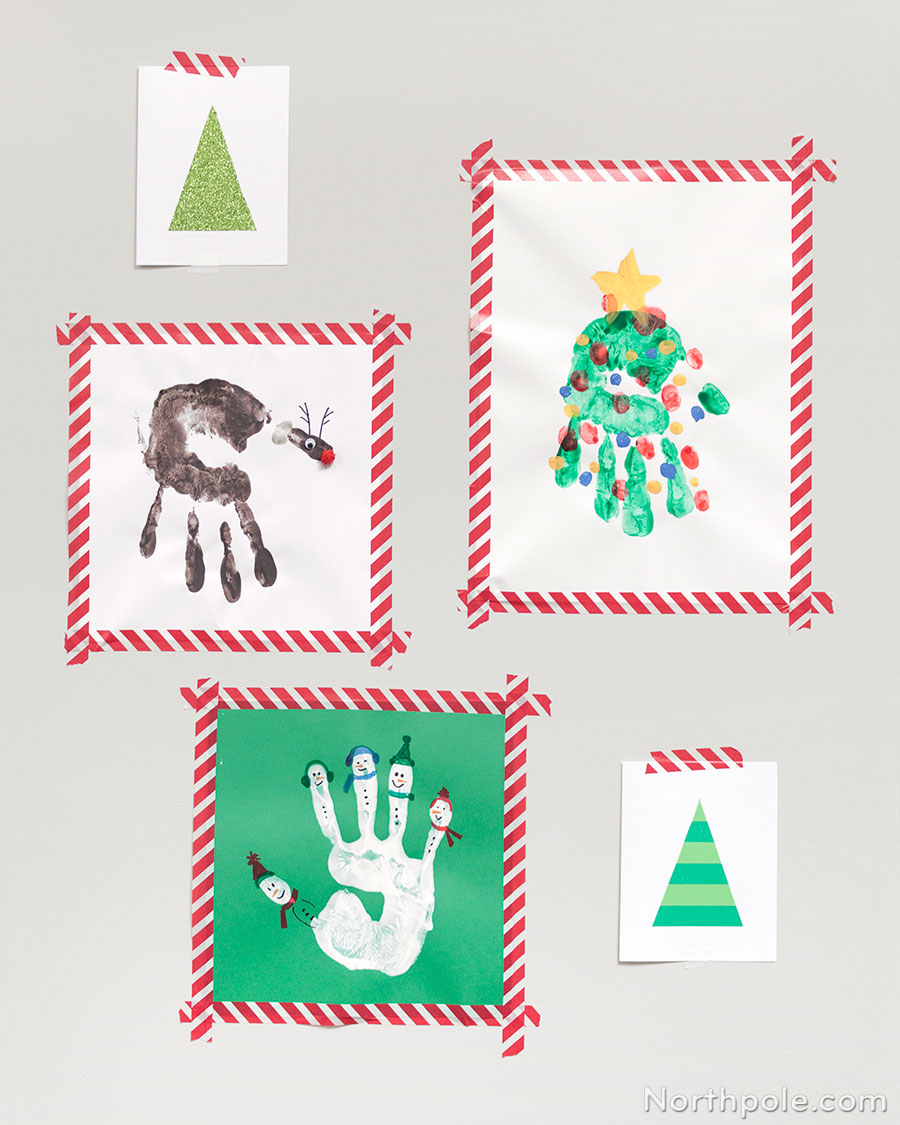 Incorporate your children's Christmas art projects into your holiday decor with a bit of washi tape! With quick washi frames, showcase your kiddos' paintings and drawings in a temporary gallery wall.

Note: The washi tape can leave residue on the wall if left adhered for too long, so make sure to leave your washi frames up for 6–8 weeks at most.
6. Decorate Your BuJo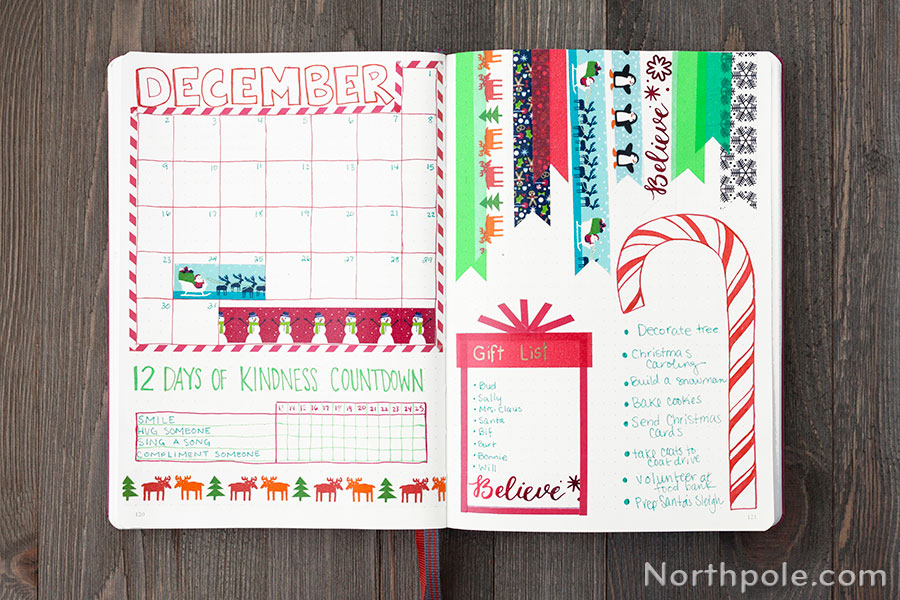 Pepper the pages of your bullet journal or other planner with Christmas cheer by adding washi tape in various widths and designs. As you create your monthly and weekly spreads, use washi tape to mark off vacation days, create boxes for lists and calendars (3mm washi tape is best!), or create a banner of all your holiday-themed tape. You could even adhere washi along the edge of a page so you can easily find important pages, such as a gift idea list.
7. Embellish Pencils + Create a Stationery Set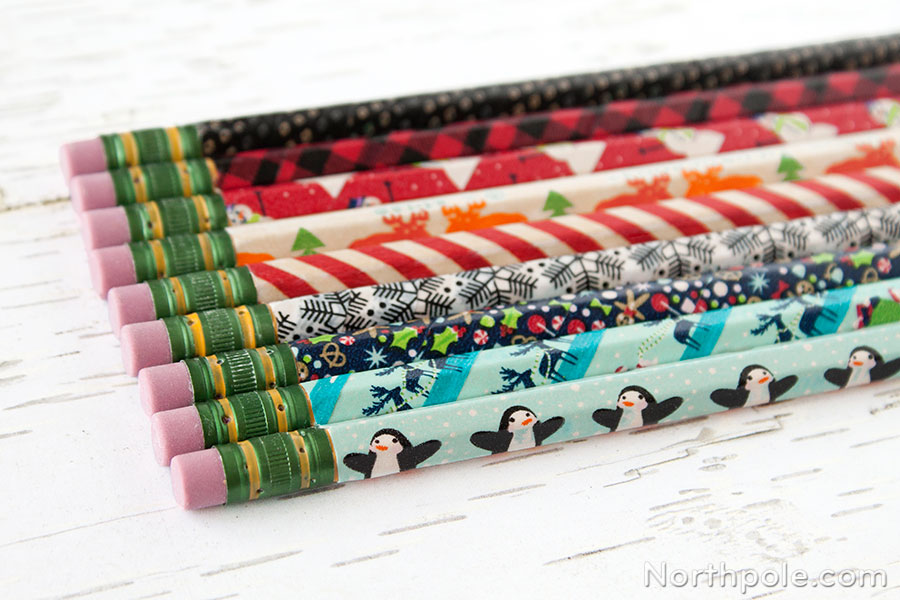 Transform plain pencils with festive washi tape. With so many options of Christmassy tape, you can easily mix and match designs to create a cute, coordinated set of pencils or an assorted pencil set.
Add washi tape to a plain notebook and pair it with a decorated pencil for a coordinating stationery set. This makes a great gift for teachers or coworkers!
8. Create Coziness with Candles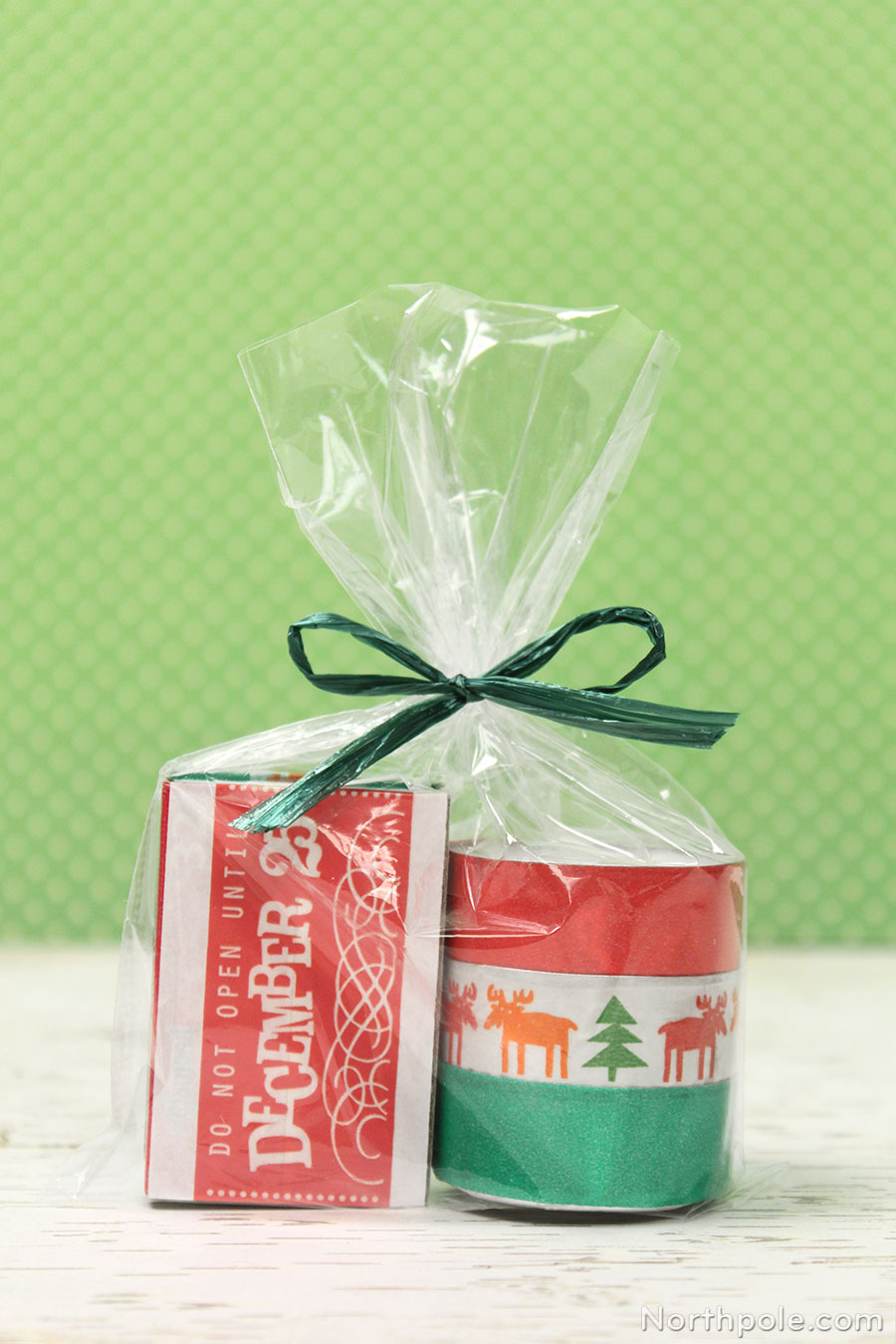 For easy and budget-friendly party favors, use washi tape to create coordinating candle and matchbox sets. Use classic Christmas colors for a traditional holiday party or select any color scheme to fit your party's theme. (Silver and blue tones for a winter wonderland bash, perhaps?)
9. Make Your Monitor Merry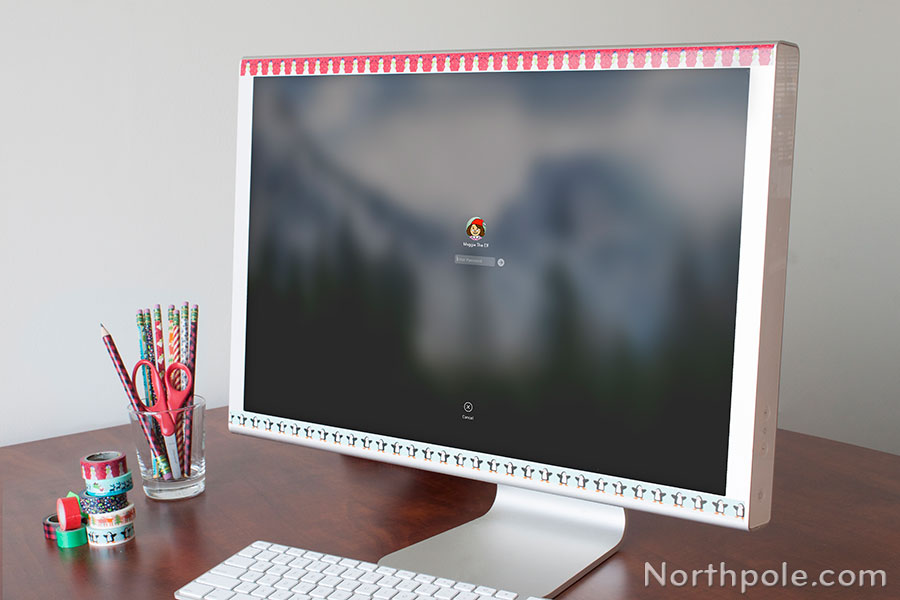 Adding washi tape to your workspace can get you feeling as jolly as an elf in Santa's Workshop. Here are a few ideas: create a border around your monitor or stick small pieces of washi on your keyboard, phone, or mouse. When you see these wee bits of Christmas cheer, you'll smile from ear-to-ear!
10. Customize Treats with Washi Tape Twist Ties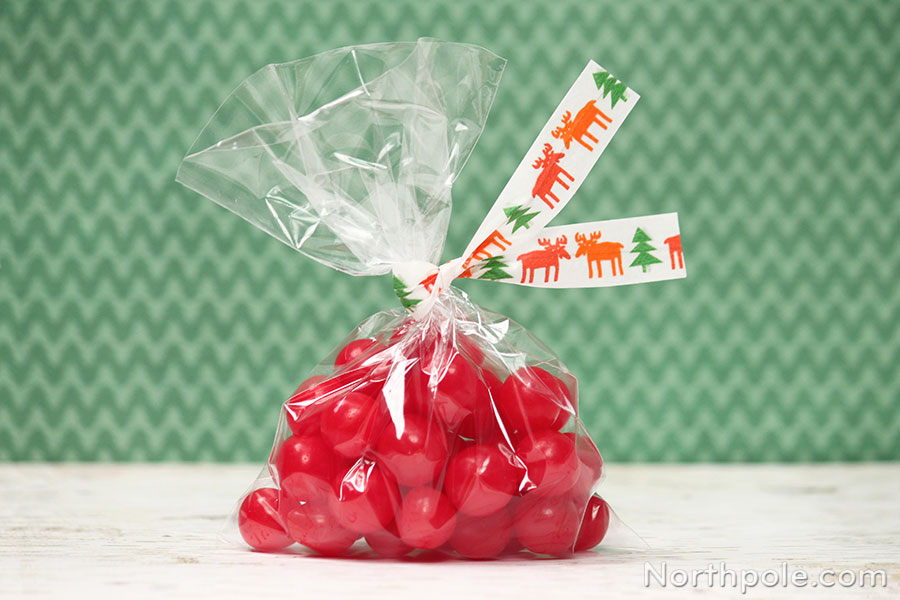 When packaging homemade goodies or sweet treats, custom twist ties are a great way to add a festive touch to plain plastic baggies. In just a few simple steps, you can make your own twist ties with your favorite washi tape.