Skill Level:
Crafting Time:
Category:
Share This Craft
Search Crafts
Chocolate Peppermint Marshmallow Pops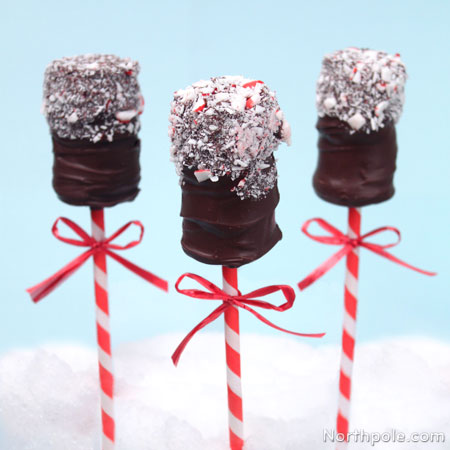 Whether you're throwing a party or making treats for your coworkers, these chocolate peppermint marshmallows pops will satisfy anyone's sweet tooth. These lovelies are coated with delicious semi-sweet chocolate and dipped in crushed peppermints, yielding a lip-smacking holiday treat.
Supplies & Tools: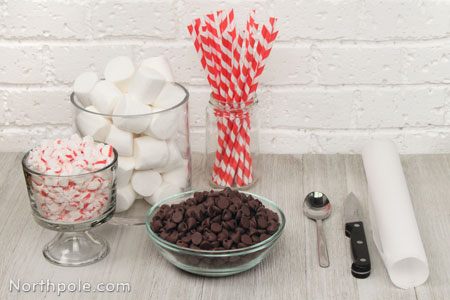 Large marshmallows (10 oz. bag)
Semi-sweet chocolate chips (12 oz. bag)
Peppermint candies, crushed (10 oz. bag)
Red & white striped paper straws (1–3 dozen)*
Microwavable bowl or double boiler
Parchment paper or wax paper
Knife
Spoon
Optional: coconut oil
Optional: cellophane bags, ribbon, washi tape twist ties
*The number of straws needed depends on how many marshmallows you put on each straw. A 10 ounce bag has about 35 marshmallows, so you can make about 35 single-marshmallow pops, 18 double-decker pops, or 9 triple-decker pops.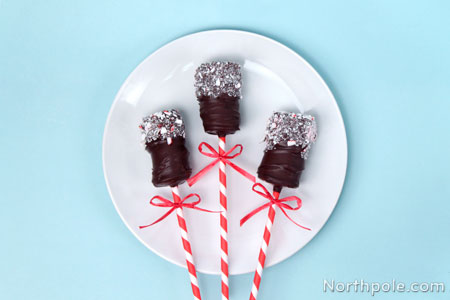 Directions:
With a knife, cut a hole in each marshmallow for the paper straw. Whether you're making single-, double-, or triple-mallow pops, you want the hole to go all the way through the marshmallow.
Insert paper straw into the hole, adding 1, 2, or 3 marshmallows. Repeat until you have your desired number of pops.
Melt the chocolate chips in a microwave or double boiler. Once chocolate is melted and has a smooth consistency, you're ready to start dipping your marshmallows!
Note: When melting chocolate in the microwave, you need to melt it incrementally so that the chocolate doesn't seize up and harden. First, microwave for 1 minute at medium-high power (70%) and stir. Then microwave for 20 seconds at low power (20–30%), stir, then microwave and stir until the chocolate has a smooth consistency. Your chocolate will get there—just don't rush it!
Coat marshmallows with chocolate, then dip in crushed peppermint. Set the finished pop on wax paper.
Continue to coat all your marshmallow pops with chocolate and crushed peppermint.
Once the chocolate has hardened, you can serve the pops on a platter or wrap them in cellophane bags with ribbon or washi tape twist ties. Yum!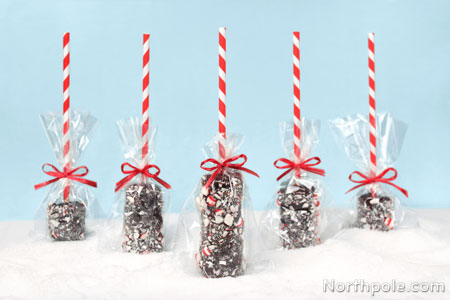 Elfy Hints:
Melted chocolate is soft, smooth, and thick—not thin like chocolate fondue. To get a nice even coat of chocolate on the pop, scoop a gob of chocolate onto the marshmallow with a spoon. While spinning the straw in one hand, hold the spoon in the other hand, using the back of the spoon to spread the chocolate.
If you find the chocolate is too thick for you to work with, you can thin it out with a little coconut oil (maybe no more than 1 tablespoon). Coconut oil will make the chocolate runnier when warm, and it will set at room temperature.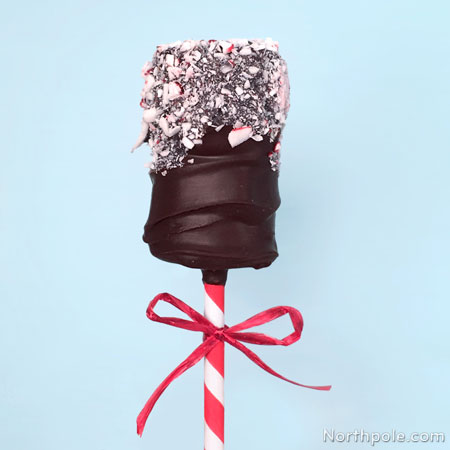 Ideas from the Elves:
Prefer spearmint over peppermint? Make these yummy pops using green mints and green & white striped straws instead!
Got some chocoholics coming to the party? Coat the pops with mini morsels as a replacement for the peppermint pieces.