Santa's Secret Village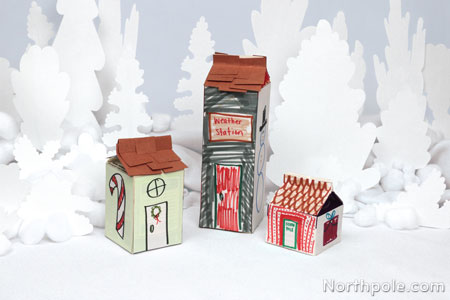 Similar to what the elves created in this story, your children will make their own Santa's Secret Village in this craft. Children will transform paper cartons into festive buildings as they decorate them with their own artistic touch. If your children need any suggestions, here are a few ideas to get their creative juices flowing: draw a thermometer or snowflakes on the Weather Station, gingerbread men on Mrs. Claus' Kitchen, a teddy bear or train on the Workshop, an envelope on the Mailroom, or a sleigh on the Reindeer Barn.
Supplies & Tools: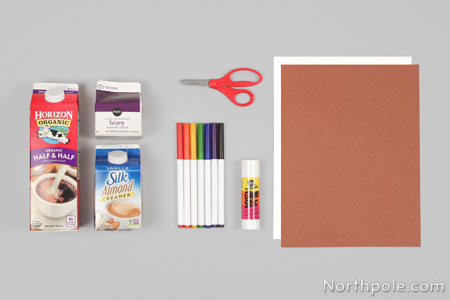 Paper milk/cream cartons, thoroughly rinsed out
White printer paper
Brown construction paper
Markers or crayons
Glue stick
Scissors
Optional: washi tape, popsicle sticks, cotton balls, glitter, stickers
Directions:
Print the template.
Draw and color inside the rectangles to create the sides of your building.
Cut out the rectangles.
Use glue stick to adhere a rectangle onto each side of the carton.
Cut brown construction paper into small rectangles—roughly 1 x 2 inches.
Glue the brown rectangles on the top of the carton to make shingles for the roof.
Optional: Decorate your building with glitter, stickers, cottons balls, or whatever else you like. See the Ideas from the Elves below for ideas on using washi tape and popsicle sticks.
Now your building is complete. Create a bunch of different buildings to make the entire village!
Ideas from the Elves:
Teachers: Save your students' milk cartons from the cafeteria for this craft.
Cover the carton with washi tape. Washi tape is available at office supply stores, superstores, craft stores, and online. It comes in lots of colors and patterns, plus it's a super easy way to decorate with ZERO mess!
Glue popsicle sticks around the carton and let dry. Then glue cotton balls on top of the carton for a snow-covered roof.