Skill Level:
Crafting Time:
Category:
Tag(s):
Share This Craft
Search Crafts
DIY Supplies at the Dollar Store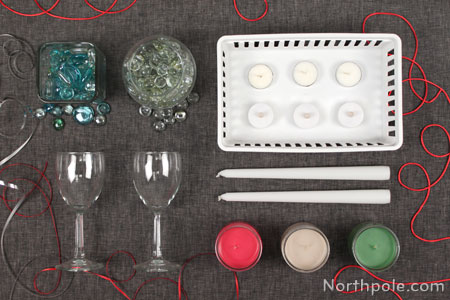 We've all been there… out shopping for craft or party supplies, and you get hit with sticker shock. "They want how much for that!?" We love getting a good deal as much as the next elf, but sometimes you just want to shop without scouring ads for coupons and the lowest price.

The dollar store is a great place to find inexpensive supplies for your crafty projects! While there are several dollar stores out there, our favorite is Dollar Tree because, unlike the others, everything is actually $1. They carry such a wide variety of things that we find useful for crafting and decorating. What's the best part? If you need items in bulk, such as for a Christmas party, you can order online and pick up at your local store (FREE shipping) or have it shipped to your door.

Here's a short list of some of the things we like to buy at the dollar store and how we use them. You all are so crafty, you probably have even more ideas. We'd love to hear from you, so shoot us a message, and let us know what DIY supplies you like to use from the dollar store!
Bins & Baskets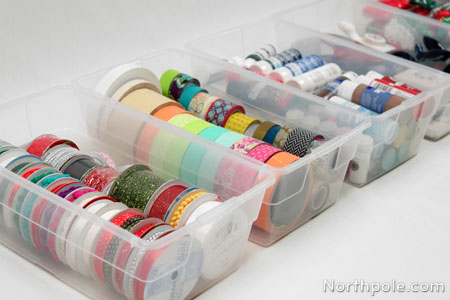 You can find a large variety of plastic baskets and bins, wicker baskets, metal tins, and more at the dollar store. If you need help organizing, clear plastic boxes can help you sort your Christmas ornaments and decorations. We like to use plastic shoe boxes to store our craft supplies.

Are you planning on making any gift baskets this year? Wicker baskets are good for fruit and gourmet baskets, colorful plastic bins (available in different shapes, sizes, and colors) are great for compiling spa/relaxation baskets, and metal tins are perfect for packaging nuts, cookies or chocolates. Don't forget to wrap it up nicely! Read this article for tips on assembling your gift baskets.
Candles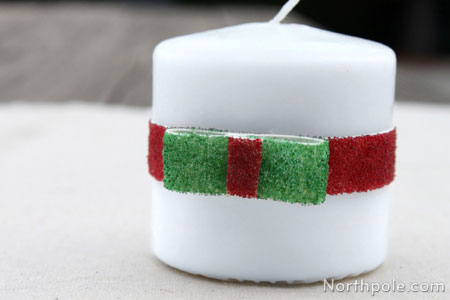 Dress up these inexpensive candles with a bit of ribbon or washi tape. For jar candles, once the candles are used up, you can reuse the candle holders to hold small items in the bathroom or your craft room.
Candle Holders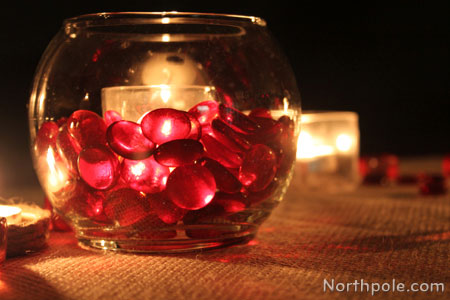 Use them as-is, use as a vessel for teacher gifts, or paint to match your décor. Place a small candleholder inside a larger one to make pretty luminaries for your home.
Flameless Candles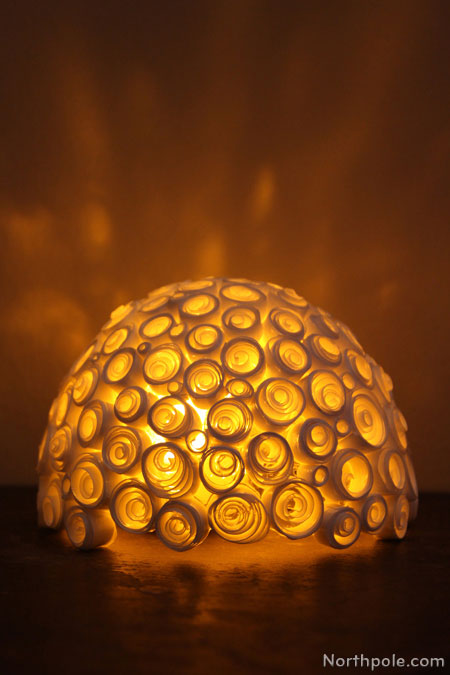 Flameless candles are a great way to add the coziness of candlelight in areas where you don't want to use real candles. If you have kids running around, you won't have to worry if they knock a flameless candle over. Are you planning a holiday party where the venue doesn't allow you to burn candles? No problem—use flameless ones instead! And, of course, you can use them inside luminaries, such as this Gorgeous Glowing Igloo Luminary.
Glass Gems & Marbles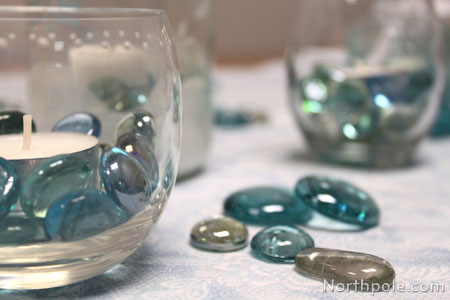 You can usually find blue, green, and clear gems at the Dollar Tree or Family Dollar. We even found some white gems at Family Dollar! You can use these little gems as vase filler, as table "confetti," or for making fridge magnets.
Glass Jars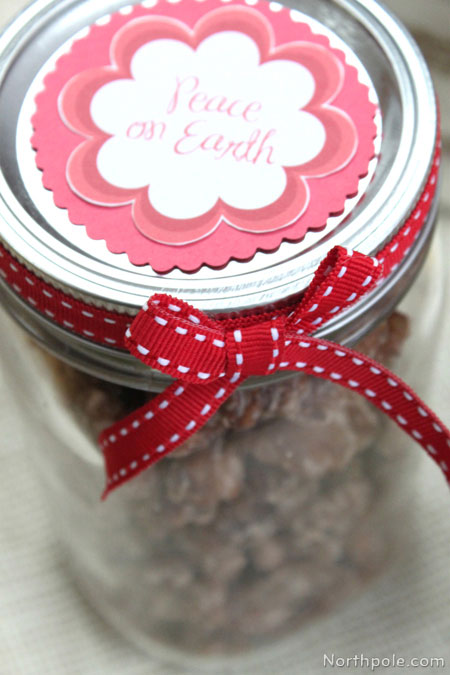 Fill jars with homemade goodies like sugared nuts. For a relaxing spa gift, fill with bath salts and tie ribbon around the lid. Click here for more gift-in-a-jar ideas.
Glassware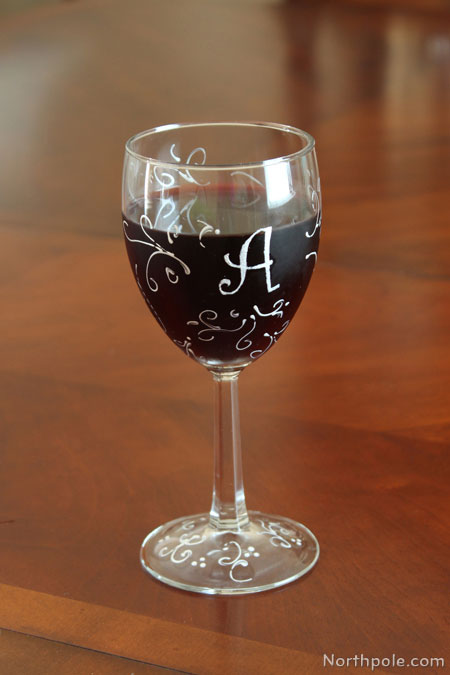 Add a monogram to cups, mugs, or wine glasses—all of which make special homemade gifts.
Jumbo Erasers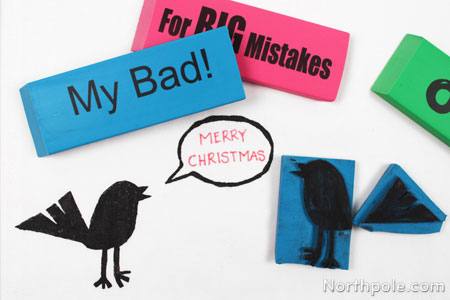 These erasers come printed with a few different sayings on them like "For Big Mistakes." While these could be a funny gag gift or to make an apology, we use these super-sized erasers to make hand-carved stamps.
Kitchen Towels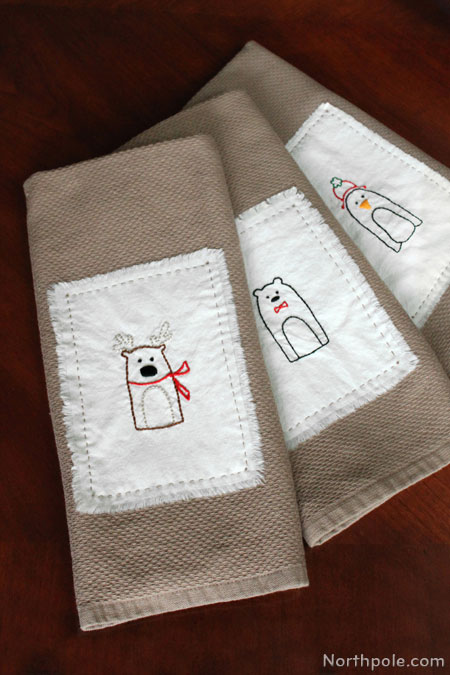 Personalize kitchen towels for a thoughtful homemade gift or keep them handy in your own kitchen. Click here to get the free pattern and learn how to make the adorable embroidered towels pictured above.
Plastic Table Covers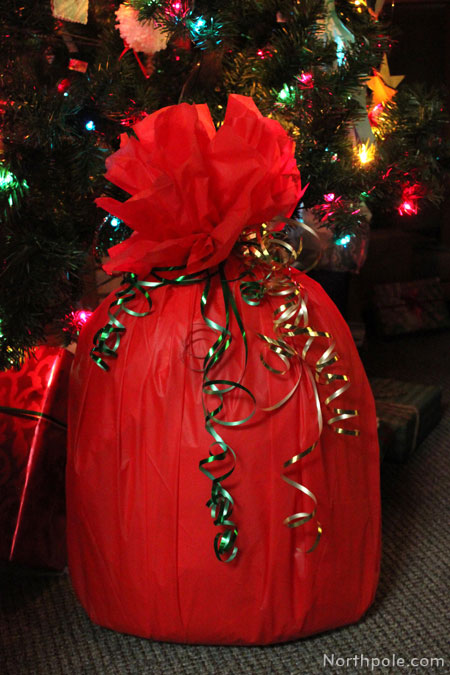 You can find a spectrum of colored plastic table covers at the dollar store. These are good for lots of things—not just covering a table! You can use these as a backdrop for a DIY photobooth or to wrap oversized gifts.
Elfy Hint:
When shopping in-store, it gets harder to find the popular stuff the closer it gets to Christmas, so shop early! If you are planning on getting lots of glassware, you can even order in bulk online at DollarTree.com and pick it up in the store. (Free shipping!) It's a huge time saver—no more store hopping trying to find all the items you need, and you don't have to wait for the cashier to wrap all the items at the register.