Fleece Navidad Junior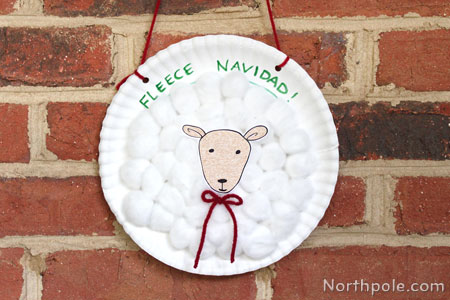 Spread Christmas cheer with a cute little sheep that says "Fleece Navidad!" Kids can hang this fluffy fellow on their bedroom door, and we're sure they'll enjoy the holiday greeting each time they see him.
Supplies & Tools: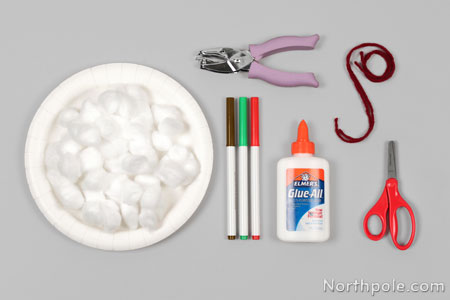 Paper plate
Cotton balls
Yarn
Glue
Scissors
One-hole punch or stapler
Markers or crayons
Directions:
Print the template and cut out the lamb's face.
Write "Fleece Navidad!" on the edge of the paper plate.
Glue cotton balls in the middle of the plate.
Color lamb's face and glue on top of cotton balls.
Cut a piece of yarn and make a bow. Glue the bow under the lamb's chin.
Cut another piece of yarn that is about 20" long.
Punch two holes near the top edge of the plate (as shown in picture) and tie each end of the yarn through a hole. This is the hanger.
Note: If you don't have a one-hole punch, you can staple the yarn to the plate instead.
Now you have fleecy and festive decoration for your door!
Elfy Hint:
Teachers: Have students write their name at the top of the plate instead of "Fleece Navidad!"
Companion Craft for Adults:
While your child is working on this craft, you can make your own "grown-up" Fleece Navidad door hanger using felt and some pretty ribbon.