Ho Ho Holly Stocking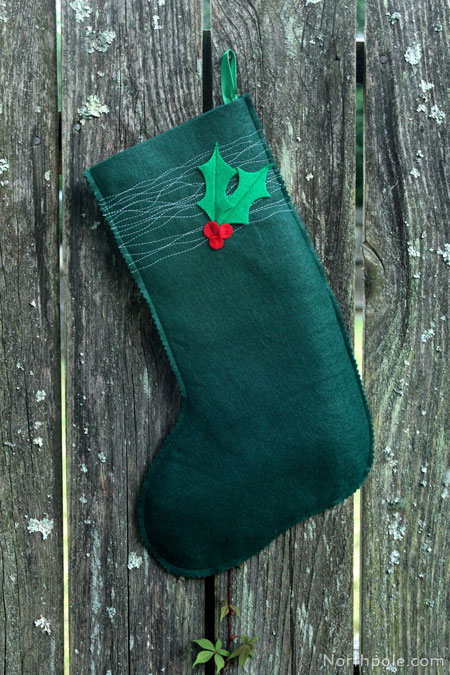 Instead of adding a traditional cuff to this stocking, we sewed several wavy lines with white thread using a technique called thread sketching. "What is thread sketching?" you ask? It is like drawing with your sewing machine or free form sewing. Some sewing machines have a free form stitching option, but if yours doesn't, there are usually instructions in your sewing machine's manual to adjust the presser foot tension. If you don't want to change the settings, you can sew a simple straight stitch, rotating the material to make the wavy lines.
Supplies & Tools: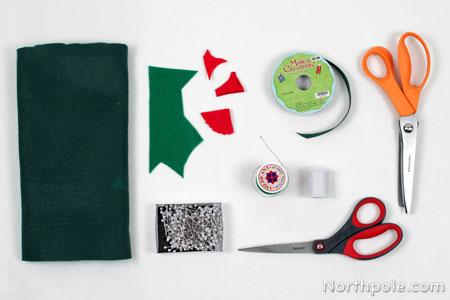 0.25 yard dark green felt*
Scraps of felt: red, green
Scissors
Pinking shears
6.5" piece of ribbon, 0.5" wide
Sewing machine
Thread: white, green
Pins
*If felt fabric is 72 inches wide, you only need 0.25 yard. If felt fabric is 36 inches wide, you will need 0.5 yard.
Directions:
Print the template. We printed the pattern from Adobe Reader and selected the following options:

File > Print.
A print window pops up.
Under Pages & Handling, select Poster.
Change Tile Scale to 200%.
Select checkbox for Cut Marks.
Now click the print button.

Piece the pages together using tape as needed and then cut out.
If needed, iron the felt on low heat to remove any wrinkles.
Pin the stocking pattern to dark green felt and cut out 2 pieces. Use pinking shears to make the zigzag edge.
Using the pattern as a guide, cut out 2 holly leaves from green felt and 3 berries from red felt. Set leaves and berries aside.
Take one stocking piece and sew several wavy lines with white thread near the top.
Sewing one piece at a time, sew the holly and berries to the stocking, changing the thread color as desired. Set aside.

Holly leaves: We used stitch length=2, width=0 (Sew a straight line).
Berries: We used stitch length=0, width=2  (Sew a few stitches in the same spot, not a line).

Take the ribbon, fold in half and pin in the upper right corner of the other stocking piece. Pin the ribbon about 3/8" from the side edge, with the ends overlapping the top edge 1.5".
Sew the ribbon in place. We sewed straight stitches on either side of the ribbon (to hold in in place), removed the pin, and then sewed a zigzag stitch down the middle.
Stack the stocking pieces together and pin in place. The thread sketching may have shrunk your stocking a bit. That's ok. Proceed to make the stocking. (We'll clean up the edges in step 13.)
Sew along the outer edge with green thread, about 0.25" from the edge. Be sure to backstitch at the beginning and the end to secure the thread.
Trim loose ends of thread.
Use pinking shears to touch up the edges of the stocking.
Hang by the ribbon and fill with goodies for a loved one!