Skill Level:
Crafting Time:
Material(s):
Category:
Tag(s):
Share This Craft
Search Crafts
Penguin Slip & Slide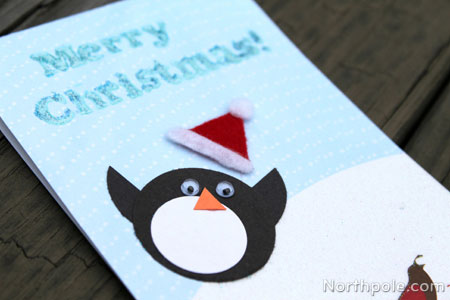 This silly penguin is so cute and chubby! He's round and sliding downhill so fast that he's about to lose his hat. Spread some winter cheer with this fun & whimsical card.
Supplies & Tools:
Decorative cardstock
Construction paper: black, white, orange
Mini wiggly eyes
Ruler
Pencil
Scissors
Scraps of felt: red, white
Large circle punch (1.5")
Medium circle punch (1")
Rubber cement
Foam stamp that says "Merry Christmas"
Blue paint
Foam brush
Glitter glue
Mini hot glue gun & glue sticks
 Directions:
Measure and cut a 4" x 12" piece of cardstock. (We chose this shape because we wanted to use the print of the cardstock as a wintery background for the penguin.)
Fold cardstock in half, forming a 4" x 6" card.
Using the large circle punch, cut two 1.5" circles out of black paper.
Using the medium circle punch, cut a 1" circle out of white paper.
Cut a tiny triangle out of orange paper for the penguin's nose.
Take one black circle and cut 2 wings. Discard excess paper.
Using rubber cement, glue white circle on the other black circle.
Glue wings to the back of the black circle.
Glue wiggly eyes and nose in place.
Cut a small triangle out of red felt.
Cut a tiny circle and an oval out of white felt (for the hat trim).
Use hot glue to glue the hat pieces together.
Use rubber cement to glue penguin to the card.
Use hot glue to glue the hat to the card.
Apply paint to foam stamp using a foam brush. Press stamp onto card.
After paint dries, apply glitter glue to foam stamp. Carefully position directly above the stamped paint, and press stamp onto card.
Note: We tried to create the words with glue and glitter, but the glitter kept flaking off. By stamping the design with paint first, followed with glitter glue, you will have a pretty design that will not smudge.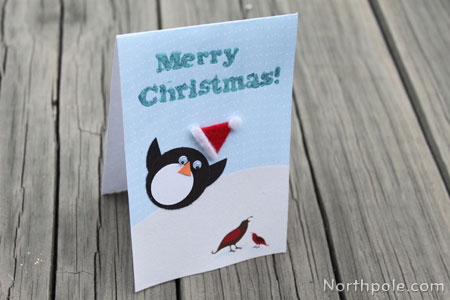 Elfy Hint:
This card will fit in an A4 envelope, and you can find A4 envelopes like these at envelopes.com.