Skill Level:
Crafting Time:
Technique(s):
Material(s):
Category:
Share This Craft
Search Crafts
Personalized Ribbon for Homemade Goodies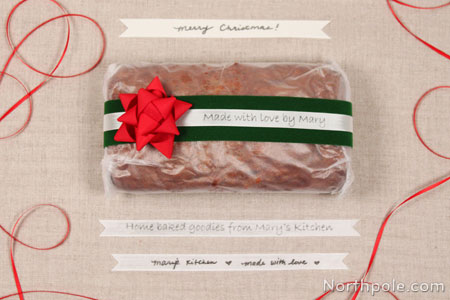 Have you ever wanted to make customized ribbon to wrap up your homemade goodies? Now you can with this blender pen image transfer tutorial. The two key components to this craft are the laser-printed text and the Chartpak blender marker. When you are making the transfer, the solvent in the blender marker lifts the toner from the paper, allowing it to be transferred to another surface. We transferred text to ribbon, but you can transfer to other surfaces as well, such as paper or wood. You are not limited to only transferring text—try high contrast black & white images as well.
Supplies & Tools: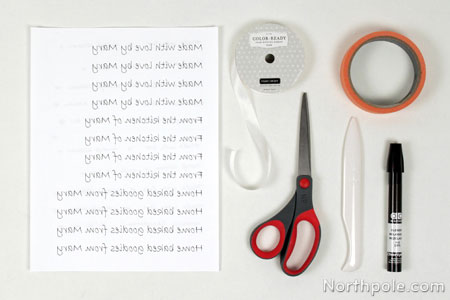 Light colored ribbon*: seam binding, grosgrain, or velvet ribbon   (Satin will not work.)
Chartpak blender pen
Text printed in reverse – LASER ONLY (Ink jet will not work.)
Bone folder or popsicle stick
Drafting tape
*We've had the most success using seam binding ribbon since it is tightly woven and lightweight. Grosgrain ribbon and velvet ribbon work well, too; although velvet ribbon can be a little tricky depending on how thick the velvet is. We highly recommend against using satin ribbon, as this transfer method will not work on satin. Regardless of the type of ribbon you use, be careful that the ribbon and the paper don't move while making the transfer or you will end up with blurry text.
Directions:
Download and open the template. Click text box to edit text and font as desired.
Note: Yes, the text is indeed reversed. The text needs to be printed in reverse since it will be inverted when you transfer it to ribbon.

Recommended font sizes for ribbon:
1" ribbon – 36pt
0.5" ribbon – 28pt
3/8" ribbon – 22pt
Note: You may need to adjust text size depending on the font you choose.

Print the template using a LASER printer. An ink jet printer will not work. You can print the Word document at a print shop like FedEx Office, Staples, or Office Depot. Or you can print it at home on your ink jet and then photocopy it wherever there is a laser copier. Many grocery stores have a copy machine near the customer service desk.
Note: Keep in mind that each line of text is only good for one transfer. So, if you are going out of your way to make laser copies, print extras!
Cut the paper into strips, leaving at least 0.5" on the ends and a little space on the top and bottom, as you need space to tape the strips down.
Tape the ribbon onto table. Then align the paper strip face down over the ribbon and tape it in place.
One word at a time, "color" over the text with blender marker and then burnish with the bone folder.
Peel the paper off and discard.
Note: Each paper strip is only usable once.
If you want to add additional text, take another strip of text and repeat steps 4–6.
Attach to your gift and now it's ready to give away.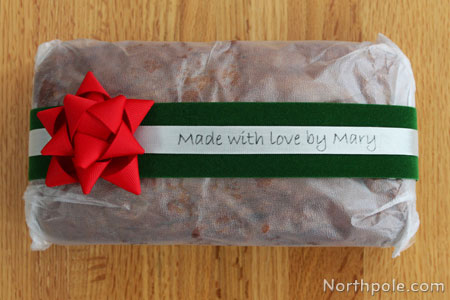 Ideas from the Elves:
Want to write a funny message for your uncle Ed? Personalize the text ribbon for the recipient.
If you like the look of handwriting of ribbon, but don't have a steady hand to write directly on the ribbon, try this: write on transparency paper with a Sharpie, make photocopies of the reversed text (place transparency face up on the photocopier), and then transfer the text to your ribbon.
Add a pop of color by putting the personalized ribbon on top of a wider, colorful ribbon.