Skill Level:
Crafting Time:
Technique(s):
Material(s):
Category:
Tag(s):
Share This Craft
Search Crafts
Washi Tape Tealights & Matchboxes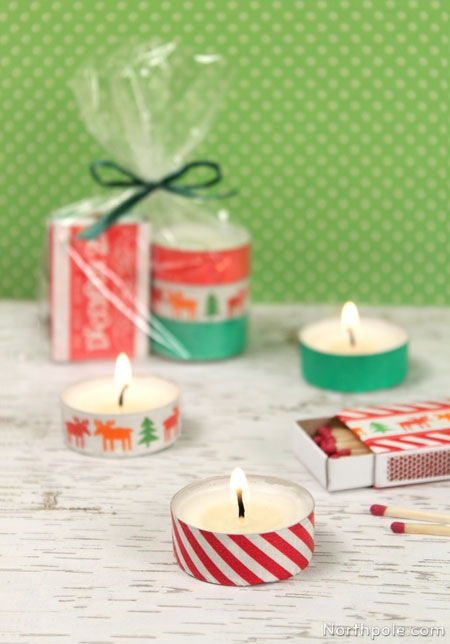 In this craft, you'll use washi tape to transform ordinary tealight candles into delightfully cheery party favors. Pair the candles with a coordinating matchbox and DIY twist tie to round out the look. Not only are these Christmas party favors really cute and extremely easy to make, they only cost pennies per gift!

We elves love crafting with washi tape because there are so many fun designs that are perfect for embellishing a variety of projects, such as handmade cards and gifts, just like these candles! We've tried several different brands, and one of our favorites is Scotch because the tape's adhesive is just right—it's repositionable, yet sticky enough to stay put. You can find Scotch washi tape in store or online at Office Depot, Staples, or Target (If you have trouble finding Scotch washi tape in your area, click here and then click the "Where to Buy" button.) Another one of our favorite brands is MT because of they have nearly every color/pattern you could wish for, and the tape's adhesive is spot-on. You can purchase MT tape online on their website or on Etsy. One benefit to ordering tape on Etsy is that you may be able to find patterns that are no longer available on MT's website (such as the cute moose tape we used).
Supplies & Tools:
36 tealight candles
12 small matchboxes (32 count)
12 cellophane bags, 4" x 6"
Washi tape, assorted colors and patterns*
Ribbon, twist ties, or washi tape twist ties
Scissors**
*When selecting your tape, we recommend using solid colors in addition to a patterned tape. First, select your pattern, then select solid colors that are in that pattern. That way, when your candles are grouped together, they will have a cohesive look.

**While any pair of scissors would work for this craft, we prefer to use non-stick scissors that won't get gummed up from the tape.
Directions:
Wrap washi tape around tealight candles.
Cover outer sleeve of matchboxes with washi tape. (Don't cover the striking surface.)
Note: To speed up this step, separate the sleeves from the boxes, then decorate each sleeve with washi tape.
Place a matchbox and three candles inside a cellophane bag and tie with ribbon, a twist tie, or a coordinating washi tape twist tie (directions here).
Now you've got some festive Christmas candle favors for your holiday party!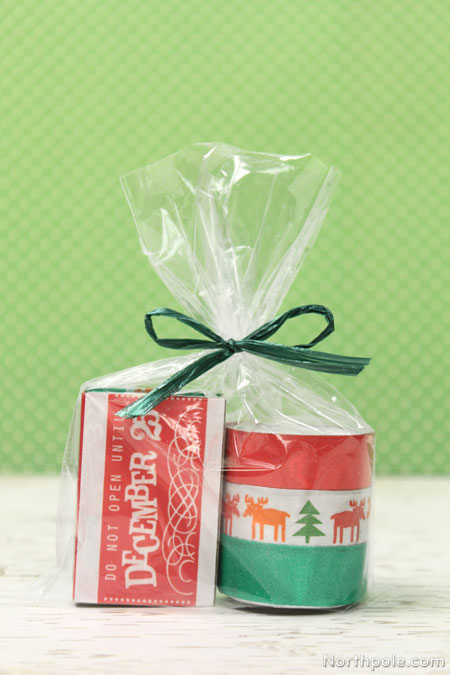 Elfy Hints:
Washi tape is translucent, so depending on the design of your tape, the matchbox packaging may still be visible even after covering it. If you want to avoid this, you can use plain white matchboxes, which you can find online.