Skill Level:
Crafting Time:
Material(s):
Category:
Tag(s):
Share This Craft
Search Crafts
Festive Favor Cones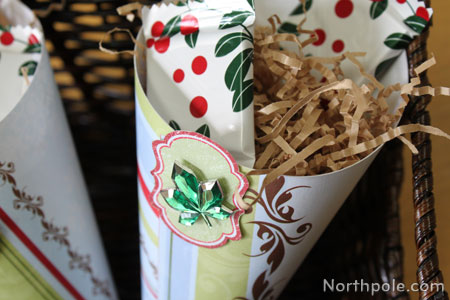 Use these fun cones as Christmas party favors for your guests. Each cone can hold a small gift, such as an ornament or edible goodies. Fill with chocolates, candy canes, popcorn, or jelly beans. These are also great for giving small baked goods to co-workers and friends. If using these to hold baked goods, place the treats in a food safe bag prior to putting into the paper cone.
Supplies & Tools:
Cardstock
Ruler
Pencil
Scissors
Hot glue
Hot glue gun
Ribbon or other embellishments, as desired
Directions:
Using ruler and pencil, measure a 6" square onto cardstock and cut out.
Roll the paper to make a cone shape.
Apply a thin line of glue along the edge and press the cone together, lining up the top edge of the paper.
Add embellishments as desired.
Ideas from the elves:
Cut a piece of ribbon or yarn and wrap around cone. Tie a bow, and use hot glue to hold in place.
Cut designs from scrapbook paper and glue on the front of cone.
Add sparkly gems.
Cut a thin strip of scrapbook paper and tape around the cone.
Add an appliqué, such as a poinsettia or other flower.
Make smaller cones by cutting 5" squares.
Make rounded cones by drawing an arc (using a compass).