Skill Level:
Crafting Time:
Technique(s):
Material(s):
Category:
Tag(s):
Share This Craft
Search Crafts
Wooly Paws: DIY Sweater Mittens
To help keep your paws warm and cozy on cold winter days, make these cute mittens from felted wool sweaters. If you don't have a felted sweater lying around the house, try looking in your local thrift store for an inexpensive 100% wool sweater to felt. This project combines 2 felting techniques: wet felting (in the washing machine) and dry felting (needle felting). To learn more about these techniques, click here to find learn how to felt sweaters and here for an introduction to needle felting.
Supplies & Tools: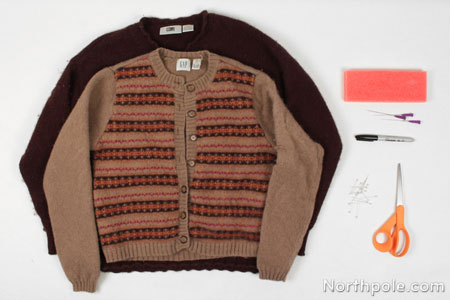 Two 100% wool sweaters in contrasting colors, felted
Marker
Sharp scissors
Felting needles
Piece of foam
Sewing machine
Iron
Pins
Directions:
If your sweater is not already felted, click here to find out how.
Place the sweater on a flat surface. Place your hand on the sweater with your palm about 2" from the bottom edge. If you want your mittens to have a longer cuff, place your hand 3" from the bottom edge. For some extra fun, use a sweater that has a different pattern on the front and back.
Note: Trace your hand near the side seams of the sweater so you don't have to sew along that edge. Plus, if your sweater is large enough, you might be able to get 2 pairs of mittens out of one sweater.
With your free hand, trace around your hand that is on the sweater, leaving a 0.5" space between the line and your hand.
Cut out the shape, cutting through both layers of the sweater.
Now use this shape as your guide to cut out the other mitten. Keep in mind which side will be the front/back of the mitten.
Print the template. Cut out 2 sets of paw shapes from your other sweater. Place the paw shapes onto 2 of the mitten shapes on the sides that will be covering your palms.
Working over the foam, use your felting needle to attach the paw shapes to the mitten. Poke the needle in an up and down motion in one area and then move to another area. You can point the needle at an angle if you need to correct or smooth out a line. Just be careful of your fingers!
Once your paw print is sufficiently joined to the mitten, turn the mitten over. See how the fibers are poking through?
Lightly mist the mitten pieces with water, then iron. Repeat for both sides. Notice that the wool fibers will flatten into the surface of the sweater.
Note: If your iron doesn't have a water mister, you could use a spray bottle or you can place a thin, damp towel on top of the mittens and then iron.
Now pin your mitten pieces together (right sides facing in) and sew about 0.25" from the edge. Be sure to back tack to secure the beginning and end stitches.
Remove pins and set aside. Trim loose ends of thread and any uneven edges.
Using a pair of sharp scissors, snip away darts around the curves of the mitten. This will prevent the seam from being bulky when you turn the mittens right side out. To make sure you don't cut the sewn line, don't allow the tip of the scissors to extend beyond the sewn line.
Turn mittens right side out. Now you have a pair of mittens to keep your paws warm!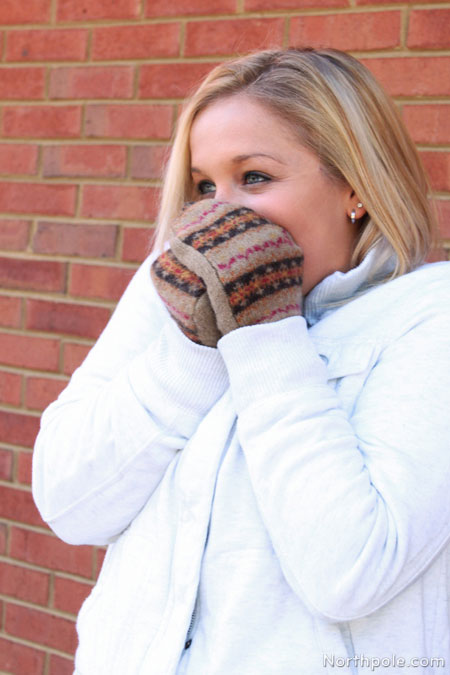 Elfy Hints:
If you want to create a colorful design on your mittens, but are having a hard time finding multi-colored sweaters, use wool roving (aka unspun wool fibers) to needle felt colorful accents.
To add letters to your mittens, cut the strips of the sweater along the ribs. You can curve the strip as needed and then needle felt it to the sweater. This is easier than trying to cut out letters.
Make another pair of mittens by cutting the sleeves. If the sleeve isn't wide enough to cut all the way around your hand, leave the sides intact and only cut the top (see image). When you needle felt the embellishments, make sure you slide a piece of foam inside the mitten. You don't want to felt the front and back together!
When needle felting appliqués, try using wool yarn to create more detailed designs.
If the sweater you want to use for the mittens has a hole, don't fret! Simply take a sweater scrap and cut it a little larger than the hole. Needle felt the patch around the hole.
Ideas from the Elves:
Get creative and add words to your mittens!
Have fun and get creative with what you needle felt onto your mittens—like some silly faces!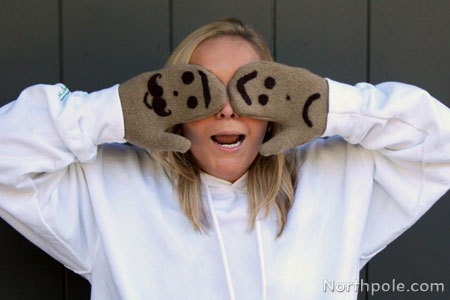 Companion Craft for Kids:
We made a kid version of this craft, so parents and children can make festive mittens together! It is tailored for mini-me's and is perfect for little crafters. Click here for the instructions.