Christmas Hearts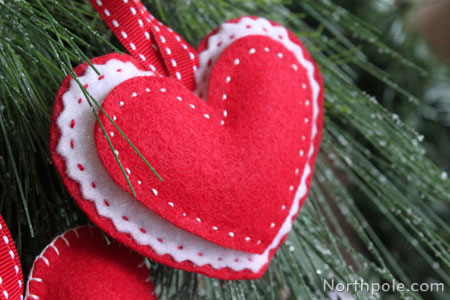 Felt hearts are a common decoration in Nordic countries, so today I'm making a few of these heart ornaments. Remember when I made those Swedish Woven Hearts? Well, these ones are puffy, felt hearts that you hang on your tree, give several as a gift, or use to decorate a Christmas package.
Supplies & Tools: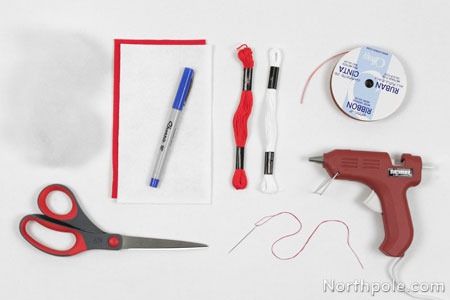 Felt: red, white
Embroidery floss: red, white
Poly-Fil®
Ribbon, 1/8″ wide
Needle
Hot glue gun
Hot glue sticks
Marker
Scissors
Optional: Pinking shears
Directions:
Print the template and cut out.
Trace template pieces onto felt and cut out.
Cut a piece of ribbon that is 6–7″ long.
Fold the ribbon in half, and glue the ends onto one heart.

Stack pieces together and begin sewing together.
After you've sewn about 3/4 around the heart, fill with Poly-Fil®.

Continuing sewing. See here for tips on hiding the thread.
Now your heart ornament is finished!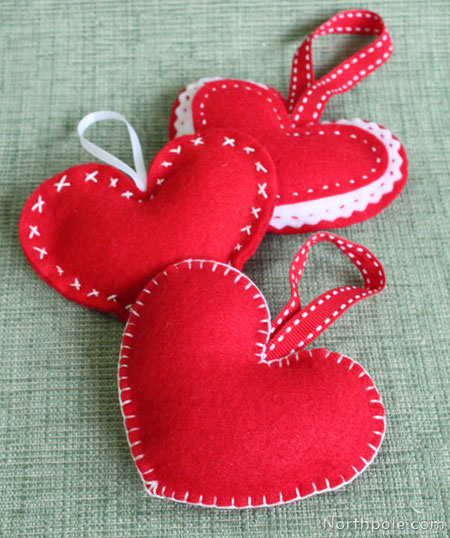 Ideas from the elves:
Cut different sized hearts and layer together. First, sew the small heart to the medium heart. Then sew the medium heart to the large heart. To get the wavy line, use pinking shears or a rotary cutter with a pinking blade.

Sew little x's around the heart. First sew the "/" of each "x" all the way around the heart. Then sew the "\" of each "x" around the heart. Now you have little x's!