Crafty Cardboard Labels
These cardboard labels are perfect for labeling food dishes at a potluck, luncheon, or any party. Sturdier than a typical paper tent, they can be used more than once, if desired. Pay attention to the grain of the corrugated cardboard and use it to your advantage to show off the pretty wave. Just be sure you are using a sharp X-Acto when you cut the cardboard, otherwise it'll tear and you won't have clean, crisp lines. These labels have a palm tree to match the paper palm tree wall decorations at our Christmas in July Party.

Supplies & Tools: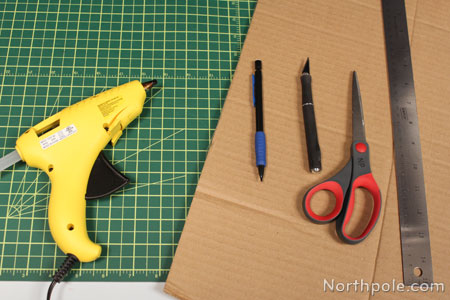 Cardboard
X-Acto
Cutting mat
Extra X-Acto blades
Metal ruler
Pencil
Hot glue gun
Hot glue sticks
Directions:
Print the template and cut out pieces.
Lightly trace pieces onto cardboard with pencil.
Lay cutting mat on flat surface.
Place cardboard on cutting mat.
Using metal ruler and X-Acto, cut out pieces.
Interlock pieces A and B.
Glue together.
Now stick labels to cardboard or handwrite the food names.