Sparkly Winter Branches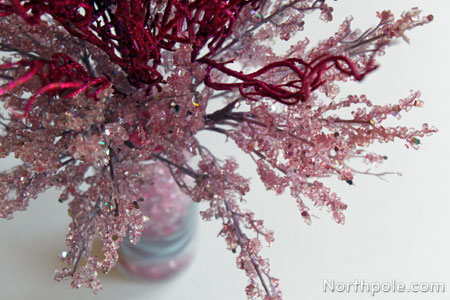 Christmas is a faaaabulous time of year! Brighten up any area with this wintery pink arrangement of branches and icicles. This quick & easy centerpiece could be on your table in no time. Pick whatever type/color of winter branches you like from the craft store. I got about 4 stems of a linear branch (hot pink), and 4 stems of a bushy branch (light pink). You may need more if you have a large vase. (My vase is 10.5″ tall with a 4″ opening.)
Supplies & Tools: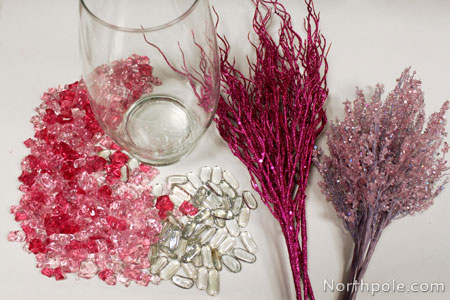 About 8 stems of branches
Tall vase
Clear glass pebbles
Mixed pink pebbles
Directions:
Add clear and pink pebbles to vase.

Slightly separate the breaks of the branches to make them appear fuller.

Add the shorter branches to vase, criss-crossing the stems.

Add longer branches to vase.

Add a ribbon or other decor as desired. For instructions on how to make a bow like the one below, click here.