Skill Level:
Crafting Time:
Material(s):
Category:
Tag(s):
Share This Craft
Search Crafts
Popsicle Stick Sled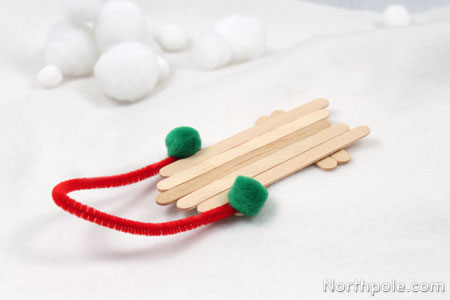 We all have something that we are good at, such as math or art or sports. Can you recall which elf excels at sledding? To find out, click here to read the story, "Sharing Something Special." Kids can make this little sled to pretend they are sledding with the elves at the North Pole.
Supplies & Tools: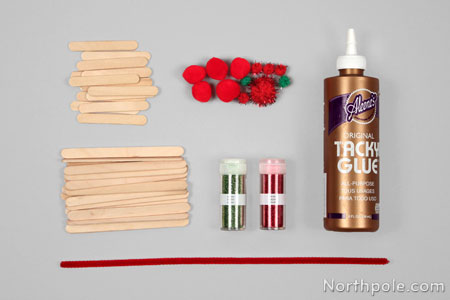 Popsicle sticks
Mini popsicle sticks
Tacky glue
Pipe cleaner or yarn, about 8" long
Decorations: glitter, pompoms, stickers
Directions:
Lay 5 popsicle sticks on table, side by side. You can lay your sticks in a basic rectangular shape, but we arranged ours so that our sled has a slight curve at the front and back.
Glue 4 mini popsicle sticks on top of the long popsicle sticks, crosswise: two at the top end and two at the bottom end of the sled.
When the glue is dry, flip the sled over.
Glue pipe cleaner (or yarn) to sled.
Note: You can use clothespins to hold the pipe cleaner in place while it is drying. Be careful—you don't want the clothespins glued to your sled!
Decorate with glitter, pompoms, stickers, whatever you like!
Now you have a little Christmas sled. Imagine you are sledding with Bud and Bonnie!