Wintery Candle Holders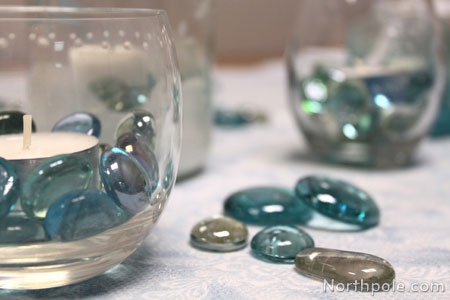 You can create many different gifts with just a few colors of paint and stencils. Turn jars into candle holders (oh yeah, bring on the thriftiness!) or you can buy candle holders. The dollar store always has several different types of glassware suitable for candles and other gifts. When shopping in-store, it gets harder to find the popular stuff the closer it gets to Christmas, so shop early! If you are planning on getting lots of glassware, you can even order in bulk online at DollarTree.com and pick it up in the store. (Free shipping!) It's a huge time saver—no more store hopping trying to find all the items you need, and you don't have to wait for the cashier to wrap all the items at the register.
Basic Supplies:
Glass paint
Stencils
Pouncers
Tape
Vellum
Frosty Wonderland
I bought some snazzy glass paint at the craft store. The colors I used are pearl white, pearl aqua, and glitter aqua.
I used a foam pouncer to apply the white paint first, and then added snowflakes.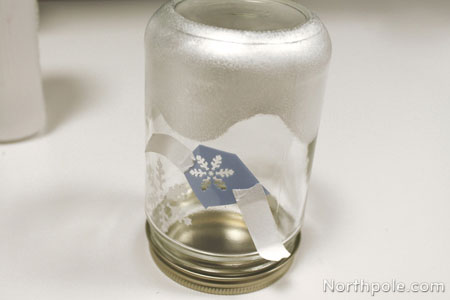 After the white paint dried, I added pearl aqua snowflakes. When it is completely dry, finish it off with a ribbon to cover the lip (if using a jar), drop a candle inside, add pebbles around the candle, and you're done.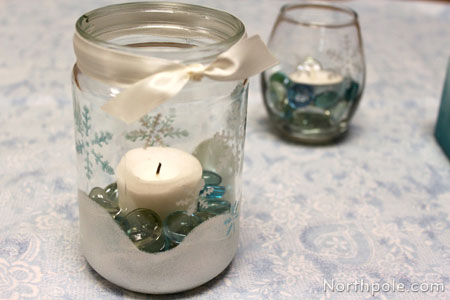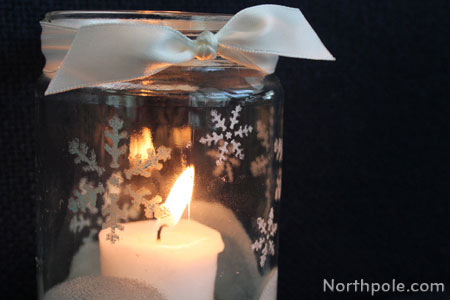 Simply Snowflakes
Use a stencil to add snowflakes to a votive holder.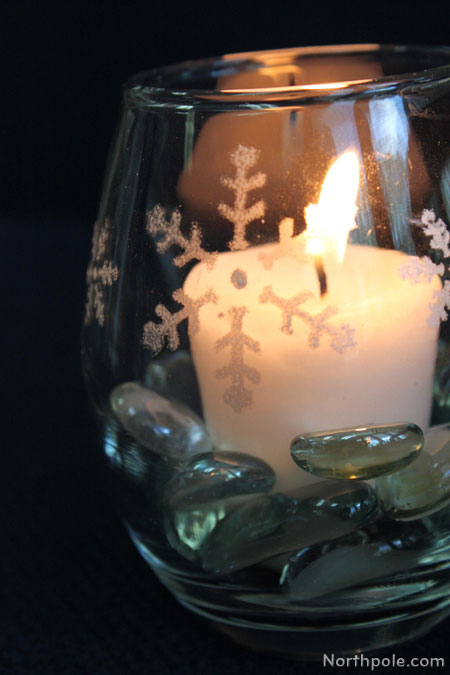 Classic Dots
Martha Stewart Glass Paints come with a fine tip applicator so it's easy to add small details. Add dots around the rim of a votive holder. Once paint is dry, place candle inside and fill with glass pebbles.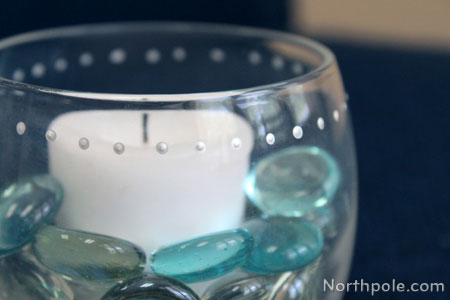 You can easily change the colored pebbles for any occasion.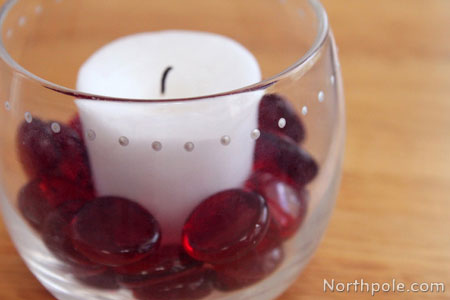 Ideas from the elves:
Fill with whole coffee beans for an aromatic gift!
So Sparkly
Apply several layers of glitter paint, creating a gradient. (Allow to dry between coats.) After glitter paint is dry, follow the manufacturer's instructions and stencil designs on top of the glitter. Be sure to wait for the glitter paint to dry! I was a little impatient and tried to stencil too soon. After I added a snowflake, some glitter paint peeled off as I was lifting the stencil.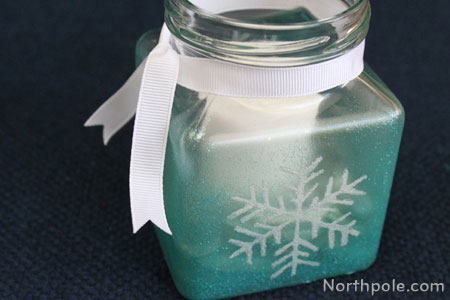 I added glass pebbles around the votive candle and tied a ribbon around the lip.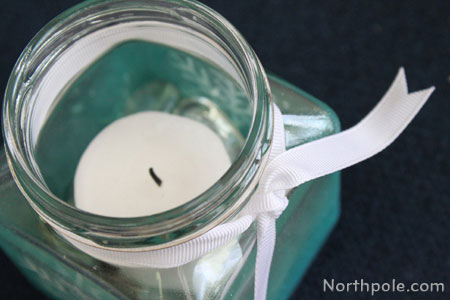 Elfy Hints:
When working with stencils, be sure to only apply paint in an up and down motion. Do not drag the pouncer (or brush) or paint will bleed under the stencil and your design will be smudged. If your design still looks blurred or smudged, you might have too much paint on the pouncer.
Check the drying instructions on your paint. This paint (Martha Stewart Glass Paints) required 21 days to air cure, or you can bake it to expedite the cure time. HOWEVER, glitter paint cannot be baked! To cure in the oven, place dried project in the oven and set temperature to 350° Fahrenheit. Allow oven to heat and after 30 minutes turn the oven off. Allow the project to cool in the oven. *Do not place project in a hot oven! The glass must gradually heat up and cool down in the oven.