Skill Level:
Crafting Time:
Technique(s):
Category:
Share This Craft
Search Crafts
Colorful Christmas Tree Beeswax Candles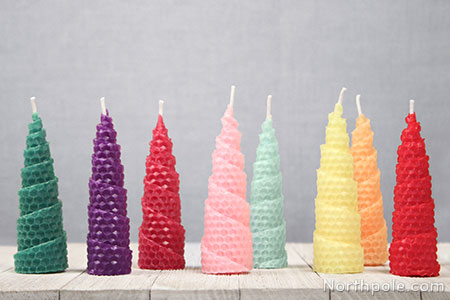 Made with summertime colors, these conifer-shaped candles are a vibrant version of their evergreen counterparts. Follow the directions below and use a variety of colors to make Christmas tree candles in every shade of the rainbow. These bright beeswax candles are the perfect activity for channeling the Christmas spirit on a summer day!
Supplies & Tools: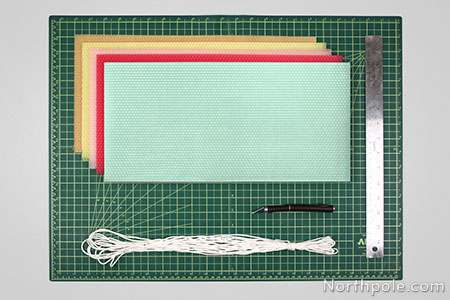 16.5" x 8" beeswax sheets: assorted colors*
Cotton wick*
Cutting mat
Metal ruler
X-Acto
Optional: washi tape
Optional: hair dryer or embossing heat tool
*You can get a beeswax candle kit that includes 10 beeswax sheets and wick here.
Directions:
Before you begin, note that a little waxy residue will get left behind on your work surface, so make sure to put down a placemat or other protective barrier. We worked on our cutting mat, then cleaned it once we finished making candles.
Take one 16.5" x 8" sheet of beeswax and cut in half lengthwise. Set one rectangle aside and save for another project (or more Christmas tree candles).
Cut the 16.5" x 4" rectangle in half diagonally. You'll use 1 triangle per Christmas tree. Set one triangle aside.
Cut a piece of wick that is 4.5" long. Wick has a top and a bottom, so make a note of which end is the top by marking it with a piece of washi tape (or simply tie a knot). You want to make sure the wick is oriented correctly before you make your candle.
Note: The wick included in your candle kit should specify which end is the top.
Lay the wick on the short edge of the beeswax. Now pinch the edge of the beeswax around the wick.
Roll the candle, making sure the bottom edge stays lined up. This part can be a little tricky, so work slowly.
Note: If the beeswax is brittle, soften it with a hair dryer or embossing heat tool. Once the beeswax warms up a bit, it will be easier to roll.
Repeat steps 3–5 to make additional candle(s).
Trim the wicks to 0.25" and your candles are done!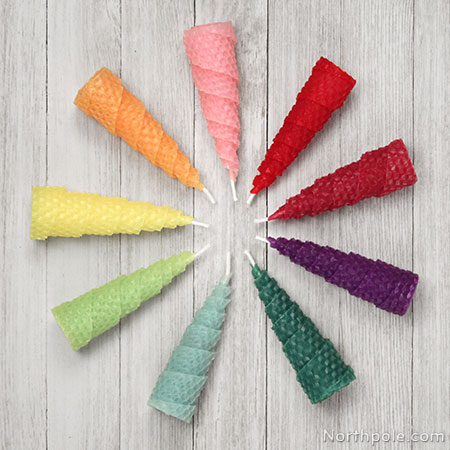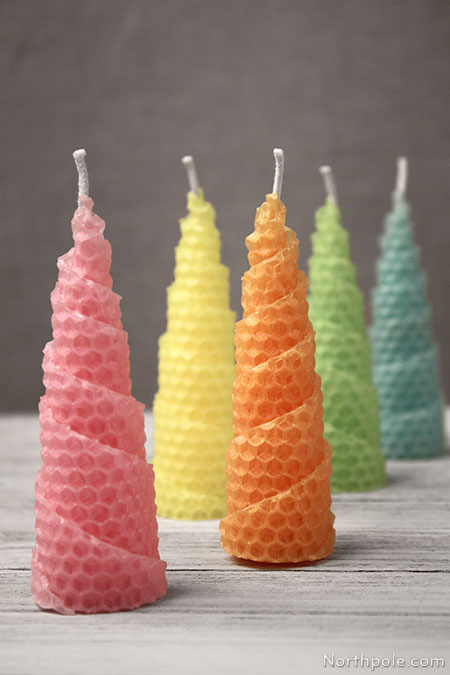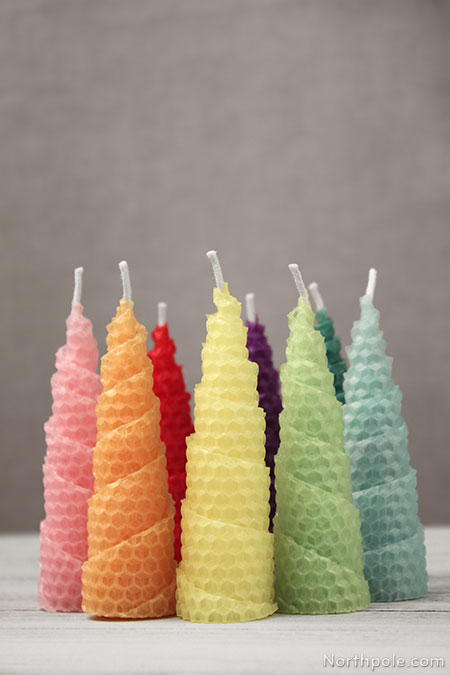 Companion Craft:
Now that you've made colorful Christmas trees, try these green tree candles. Since you already know how to make single-color trees, you can skip right to directions for two-color trees. Click here to get started!