Skill Level:
Crafting Time:
Technique(s):
Material(s):
Category:
Share This Craft
Search Crafts
Cozy Felt Coasters
These felt coasters are great to give as a gift, as they will last a long time and are washable! Have fun trying different designs with stamps, cutting decorative edges with a rotary cutter, and adding accents with embroidery floss. Make a holiday set with traditional Christmas colors or, if you are giving them as a gift, use colors that the recipient would love.
Supplies & Tools: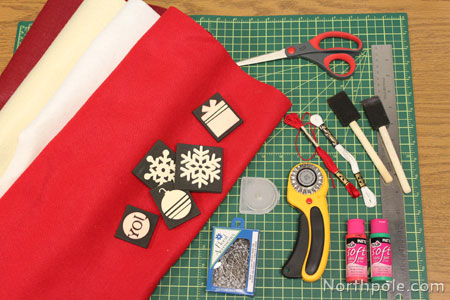 Red felt
White felt
Scissors
Rotary cutter with a pinking blade*
Cutting mat
Metal ruler
Straight pins
Embroidery floss (any color)
Embroidery needle
Fabric paint
Foam stamps
Foam brush
Paper plate
*You can use pinking shears instead of a rotary cutter.
 Directions:
Choose colors of felt that you wish to use. For this coaster, let's use white for the inner square and red for the outer square.
Lay cutting mat on flat surface.
Cut one 4" square from white felt. If using pinking blade on rotary cutter, be sure to use a straightedge. Set aside.
Cut one 4.5" square from red felt. (Pinking the edges is optional.) Set aside.
Pour a quarter-sized amount of paint onto paper plate.
Wet foam brush with paint and apply paint to foam stamp.
Press stamp down onto the center of white felt square.
Remove stamp and set aside.
Allow paint to dry. Meanwhile, wash the paint off of your stamp.
When paint is dry, stack felt pieces together, stamped side facing up.
Make sure the white square is in the center of the red square. Use straight pins to hold pieces together.
Using embroidery floss, hand-sew a running stitch around the inside border of white square.
Tie off ends of thread and conceal between the layers of felt. See more detailed instructions here.
Ideas from the Elves:
Make the coaster with 3 pieces of felt.
Add a border of ribbon, sew in place or use fabric glue such as Dritz Liquid Stitch.
Cut circles instead of squares.
Use contrasting colored thread.