Skill Level:
Crafting Time:
Category:
Share This Craft
Search Crafts
Easy Hot Cocoa Party Favors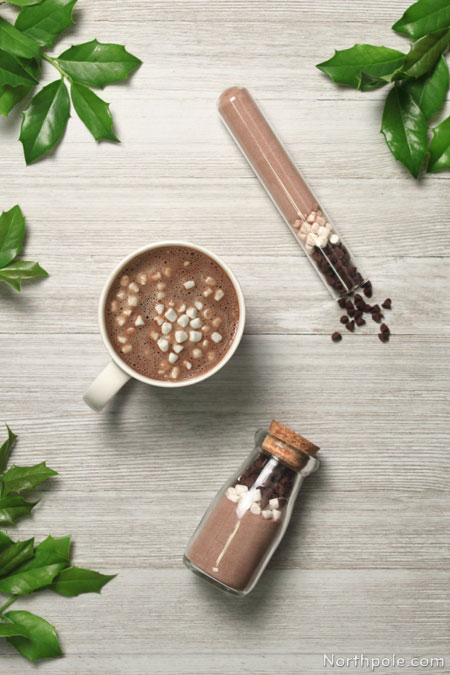 These hot cocoa favors are a perfect parting gift to give your party guests! They are a cinch to make, and you can prep them a week or two before your Christmas bash. Plus, you can use almost any small jar that you like. We're partial to cork-topped jars and test tubes, but mini screw-top jars are a better option if these favors are for a children's party.
Supplies & Tools: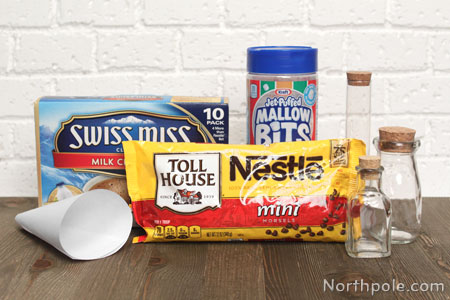 Hot cocoa*
Mini chocolate chips
Funnel***
*Making just a few favors? Use individual hot cocoa packets. Making a lot? Buy a canister of cocoa.

**Mallow Bits are not the same as mini marshmallows. Mallow Bits are tiny, dried marshmallows similar to the little bitty marshmallows that sometimes come in hot cocoa mixes.

***If your funnel doesn't fit in your jars, make a simple funnel using a piece of paper and tape.
Directions:
Wash and thoroughly dry your containers.
Add hot cocoa to each container, filling the jar about 3/4 full.

Milk bottle favor jar – 2 packets of hot cocoa (or 4 tablespoons)
Test tube – 1 packet of cocoa (or 2 tablespoons)
Glass favor jar – 1 packet of cocoa (or 2 tablespoons)

Add a layer Mallow Bits.
Then fill each container with chocolate chips.
Put the cork on each bottle, and you're done!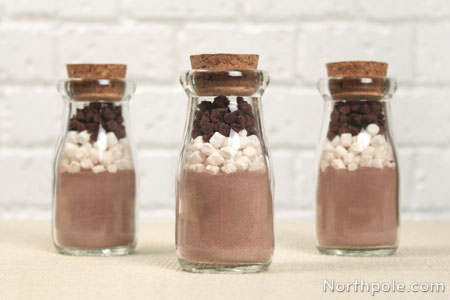 Ideas from the Elves:
To display these favors at your party, fill a Christmas tin with rice or Epsom salt, then nestle the favor jars in the "snow." While this display idea works for any jar type, it is especially suitable for test tubes, as they cannot stand on their own.