Skill Level:
Crafting Time:
Material(s):
Category:
Share This Craft
Search Crafts
Elegant Mistletoe Cutout Card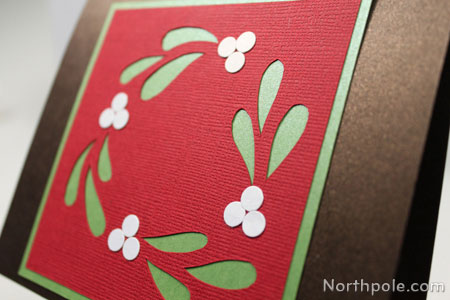 This elegant mistletoe card is made from a few simple layers of cardstock. Textured red paper complements the shimmery recessed leaves and raised white berries. The earthy brown card glistens with hints of gold, making it the perfect canvas for this wee mistletoe wreath.
Supplies & Tools: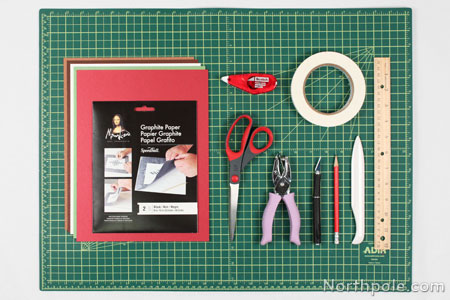 Cardstock: linen textured red, shimmery light green, shimmery brown, glittery white
X-Acto
Cutting mat
Tape runner
Scissors
Ruler
Pencil
Bone folder
Graphite paper
Artist tape
One hole punch
Directions:
Print the template and cut out the pieces.
Make a brown card that is 5.5" x 4.25". (One sheet of 8.5" x 11" cardstock will make 2 cards.) Set aside.
Note: We like to use a bone folder to score and burnish the fold in order to make it nice and crisp.
Trace piece #1 onto red cardstock and cut out the square.
Trace piece #2 onto green cardstock and cut out the square. Set aside.
Transfer the leaf design onto the red square using graphite paper.

Cut a piece of graphite paper the same size as template piece #1.
Place graphite paper on the red square (graphite side down). Place piece #1 on the graphite paper with the design facing up. Make sure all three layers are aligned. Use artist tape to hold the pieces in place.
Trace over the design with a pencil.
Remove tape, template piece #1, and graphite paper and set aside.

Place the red square on the cutting mat and cut out the mistletoe leaves using an X-Acto. Erase any stray graphite marks. Discard the leaves.
Use the tape runner to glue the red square in the center of the green square.
Use the one hole punch to cut out 12 white dots. Use tape runner to glue the dots to the card grouped in clusters of three.
Use the tape runner to glue the squares in the center of the card.
Cut a piece of white cardstock that is 5" x 3.75" and glue on the inside of the card. Write your holiday greeting, and your card is complete.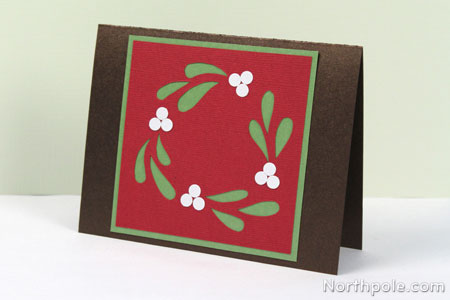 Elfy Hint:
This card is a standard card size (A2), and you can find A2 envelopes like these at envelopes.com.