Skill Level:
Crafting Time:
Material(s):
Category:
Tag(s):
Share This Craft
Search Crafts
Gnome in Your Home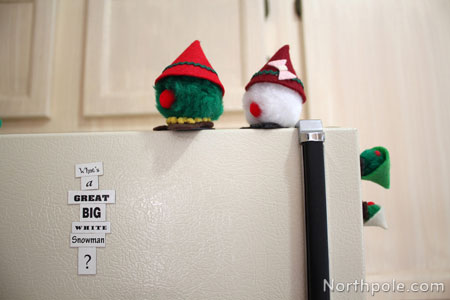 Meet the Christmas gnomes. Left to right: Papa G, Mama G, Kiddo G, and Baby G. Kiddo's hat is just a teensy bit too large, but it's Papa's old hat, and Kiddo can't wait to grow into it. Aren't they cute? They're round, fluffy, and just a wee bit bouncy!

Make one or more—these guys are a great gift idea! With magnets on their feet, they are simply adorable as jar toppers for gifts in a jar, such as sugared nuts or a cookie mix. The gnomes also might like to hop onto your refrigerator or filing cabinet. Who knows what other mischievous things these little guys might get into…
Supplies & Tools: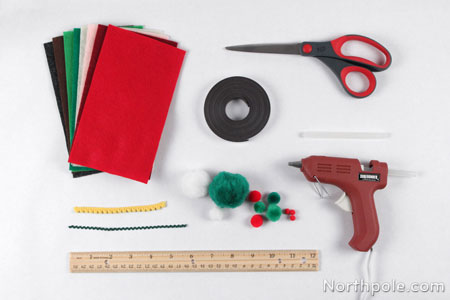 Pompoms, assorted sizes
Felt, assorted colors
Scissors
Hot glue gun & glue sticks
Baby rick rack
Adhesive-backed magnet strips
Optional: puffy trim
Directions:
Print the template and set aside.
Using the template as a guide, cut out a semicircle from the felt, and set aside.
Note: The size of the semicircle depends on the size of the pompom. We cut a 4" circle in half for mama and papa gnome (about a 2" pompom).
Cut out feet from felt, using the template as a guide. Set aside.
Select a large pompom for the gnome's body, and a small pompom for its nose.
Glue small pompon onto the large pompom. Burrowed a little hole (with your finger) into the large pompom so that the nose is inset.
Roll the felt semicircle into a cone shape and hot glue the edges together.
To decorate the hat, cut a piece of rick rack that is about 5.5" long.

Begin gluing at the seam (on the back of the hat), about 0.25" from the bottom edge.
Continue gluing as you wrap the rick rack around the hat.
As you finish gluing the rick rack, trim excess, if needed. 5.5" of ribbon was the perfect length for our hat!

Optional: Make a collar of puffy trim:

Cut a piece of puffy trim that is about 4" long.
Glue the ends together, forming a loop.
Glue the collar to the bottom of the large pompom. (Be careful to glue the collar seam on the back of the gnome.)

Glue the feet to the bottom of the large pompom (beneath the collar).
Cut a piece of magnet for each foot and stick them underneath the feet.
Glue the hat on top of the pompom.
Now your gnome is complete!
Ideas from the Elves:
Cut a small bow from felt for mama gnome's hat.
Turn the gnomes into ornaments by gluing a string to the felt semicircle BEFORE rolling it into a hat.
Make a yarn pompom in lieu of a store-bought pompom.