Skill Level:
Crafting Time:
Material(s):
Category:
Tag(s):
Share This Craft
Search Crafts
Paper Leaf Garland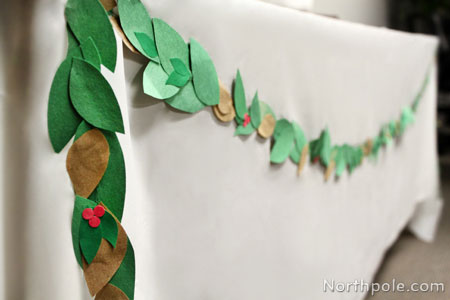 This leaf garland is very easy to make and can be hung wherever you like! We used regular green construction paper for most of the leaves, but also used kraft paper and darker green paper as accent colors. Try making it out of different colored or textured paper to match your holiday decor.
Supplies & Tools:
Green construction paper
Kraft paper
Red construction paper
Thread or baker's twine
Scissors
Hot glue gun & glue sticks
One-hole punch
Tacky glue
Directions:
Cut thread or twine to desired length of garland.
Cut out leaf shapes from construction paper. First, cut a wavy line along one edge of paper. Then cut leaf shapes out of the lumps of the waves. Continue cutting leaves, following the wavy lines. The leaves do not need to be perfect, in fact they look better when they are all slightly different.
To begin gluing leaves, place a leaf under the thread, about 10 inches from the end of the thread.
Add a small amount of hot glue and immediately press another leaf on top. We recommend placing the second leaf slightly askew to make it look more natural.
Repeat steps 2–4 until garland reaches desired length.
Using the one-hole punch, cut holes in the red paper, reserving the circles.
Use tacky glue to attach circles to the garland. Group in twos or threes to look like berry clusters.
Now hang wherever you like. We hung ours on a table with Snowmen S'mores (click here to make your own). Like the palm tree wall decorations? Click here for instructions.