Skill Level:
Crafting Time:
Material(s):
Category:
Tag(s):
Share This Craft
Search Crafts
Simple Poinsettia Appliqué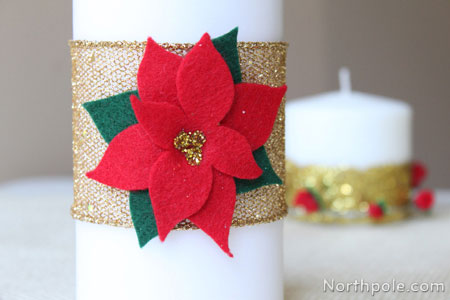 This festive little Christmas flower is a great addition to anything that needs pizzazz. We used it to spruce up a candle here, but this poinsettia can easily go on a headband, a barrette, a brooch, a gift… even hang it on your Christmas tree!
Supplies & Tools: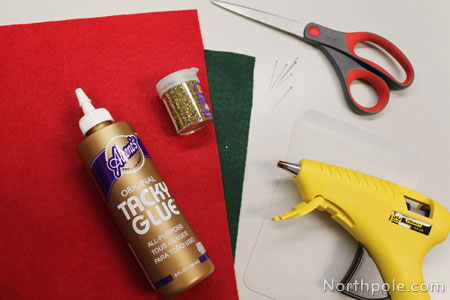 Red felt
Dark green felt
Hot glue gun & glue sticks
Tacky glue
Gold glitter
Newspaper
Straight pins
Directions:
Print the template and cut out pattern pieces.
Using straight pins, pin template pieces #1 and #2 to the red felt.
Cut out the poinsettia pieces and remove the pins.
Pin template piece #3 to the green felt and cut out. Remove pins.
Set aside pins and pattern pieces.
Position piece #2 on top of #3. Slightly lift #2 and apply a dot of hot glue on #3.
Press #2 down to glue in place. Be careful not to burn your finger as the glue is very hot.
Place #1 on top of #2. Slightly lift #1 to apply glue to #2. Press #1 down to glue in place.
Place flower on top of newspaper.
Using Tacky glue put 3 small drops of glue in the center of the flower.
Sprinkle with gold glitter.
Shake off excess glitter and return to container.
Let dry.