Skill Level:
Crafting Time:
Material(s):
Category:
Share This Craft
Search Crafts
Tinsel Tree Card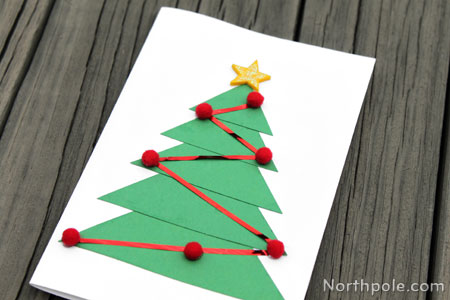 This sweet Christmas card is constructed from ordinary materials and is easy to make. Simple green triangles are layered to form the tree, and just a few pompoms, a star, and a single strand of tinsel adorn this evergreen.
Supplies & Tools: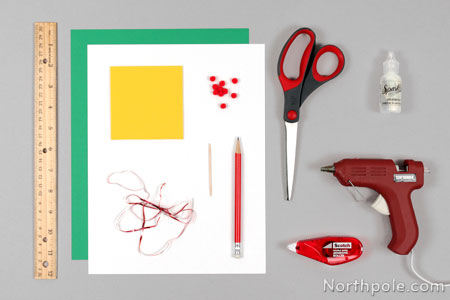 1 sheet white cardstock
1 sheet green construction paper
Red tinsel
Mini red pompoms
Yellow craft foam
Glue runner
Hot glue gun & glue sticks
Toothpick
Scissors
Ruler
Pencil
Optional: glitter glue
Directions:
Print the template and stack on top of green construction paper. Cutting through both sheets of paper, cut out triangles. Discard the template and set the green triangles aside.
Measure and cut an 8" x 6" piece of white cardstock.
Fold cardstock in half, forming a 4" x 6" card.
Take green triangles and paste onto front of card using the glue runner. First glue the largest one at the bottom, and continue gluing each smaller triangle on top.
Add the red tinsel: Take a toothpick and get a little bit of glue from the hot glue gun and immediately glue one end of tinsel near the top of the tree. Continue gluing in a zigzag pattern down the tree. Cut excess tinsel.
Add pompoms: Use hot glue to add a pompom at each "corner" of the tinsel.
Cut out a small star from yellow craft foam and glue to the top of the tree.
If desired, add a little bit of glitter glue to the star to make it sparkle. Allow to dry.
Now your card is complete!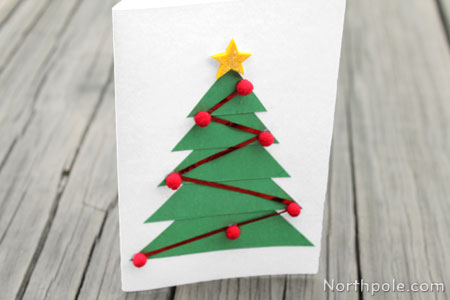 Elfy Hint:
Typically, a 4" x 6" card would fit in an A4 envelope, but because of the pompoms, you may want to put this card into a larger envelope like this A6 envelope at envelopes.com.