This is where all of Santa's letters from boys and girls get delivered in time for Christmas. This sure is a busy time for me in the Mailroom, every time I turn around there's another bag for me to sort!

Santa really loves to get letters from boys and girls. They tell him if they have been naughty or nice and what they want for Christmas. I know Santa would like to get a letter from you. All you have to do is click on the inkwell on the desk and I'll help you write your letter to Santa.
Once you have sent a letter to Santa, come back and check your mailbox by clicking "Santa Letter Pick-Up". Santa answers every letter that is sent to him, but he has so much mail it usually takes him about three days to write back to you.
Have you sent a letter to Santa on this site previously? You can view it.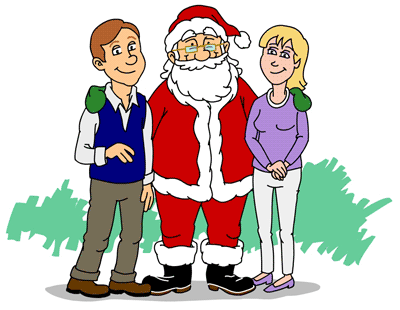 Santa needs your help to create a more personalized experience for your child this Christmas! Click here for more information.

You can also send one of Santa's animated postcards to your friends. Just click on "Send Postcards" and I'll step you through.
If someone sent you a postcard and you are here to see it,
click on "Postcard Pick-Up" and I'll help you.

Sign up so that your children receive a birthday card from Santa!
Click this way to sign up.
PARENTS: Santa keeps all of the information supplied for email and postcards private.
You can read about it in our Privacy Policy.