Skill Level:
Crafting Time:
Material(s):
Category:
Tag(s):
Share This Craft
Search Crafts
Festive Favor Cones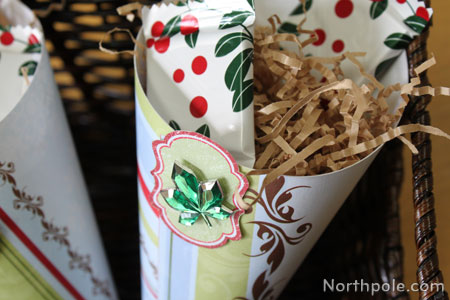 Use these fun cones as Christmas party favors for your guests. Each cone can hold a small gift, such as an ornament or edible goodies. Fill with chocolates, candy canes, popcorn, or jelly beans. These are also great for giving small baked goods to co-workers and friends. If using these to hold baked goods, place the treats in a food safe bag prior to putting into the paper cone.
Supplies & Tools:
Cardstock
Ruler
Pencil
Scissors
Mini hot glue gun & glue sticks
Yarn, ribbon or other embellishments, as desired
Directions:
Using ruler and pencil, measure a 6" square onto cardstock and cut out.
Roll the paper to make a cone shape.
Apply a thin line of glue along the edge and press the cone together, lining up the top edge of the paper.
Add embellishments as desired.
Now that your cone is complete, you can fill it with goodies!
Ideas from the Elves:
Cut a piece of ribbon or yarn and wrap around cone. Tie a bow, and use hot glue to hold in place.
Cut designs from scrapbook paper and glue onto the cone. You can also cut scrapbook paper into thin strips and glue the strips onto the cone as you would ribbon.
Add an appliqué, such as a poinsettia or other flower.
Make smaller cones by cutting 5" squares.
To make a cone with a flat top, draw an arc using a compass on your square of paper. Trim off the corner and proceed to roll and glue the cone as directed above