Skill Level:
Crafting Time:
Material(s):
Category:
Tag(s):
Share This Craft
Search Crafts
Santa's Sack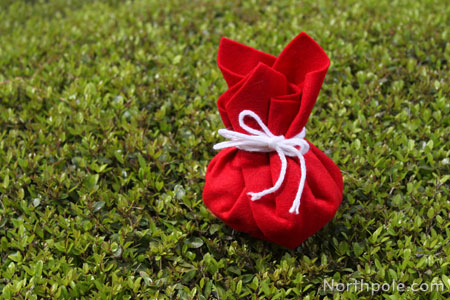 Everyone knows that Santa carries all the toys that he delivers on Christmas Eve in his big red sack. Do you remember the time that Santa couldn't find his bag? Click here to read the story and learn where the elves found Santa's sack. In this easy craft, youngsters can whip up a sack like Santa's and imagine they are helping the big guy deliver presents.
Supplies & Tools: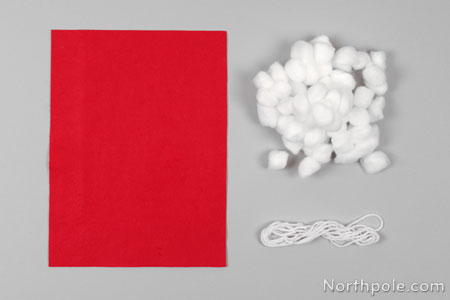 Red felt: 12" x 9" rectangle
String or yarn
Cotton balls or Poly-Fil®
Directions:
Place cotton balls (or Poly-Fil) in center of felt.
Pull up all sides of felt. Tie together with string (or yarn).
Now you have a little Santa sack!
Idea from the Elves:
Instead of cotton, try filling the sack with a small toy or two.
Companion Craft for Adults:
For a grown-up version of this craft, check out this little favor bag. It's perfect for giving small gifts or favors at a holiday party.