Skill Level:
Crafting Time:
Technique(s):
Material(s):
Category:
Tag(s):
Share This Craft
Search Crafts
Poke a Dot Luminaries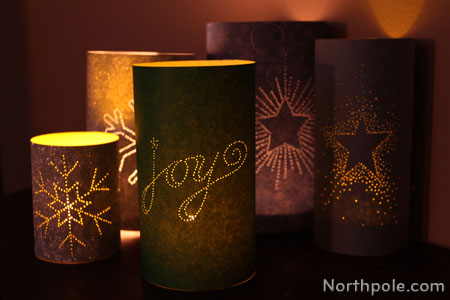 Add some warmth and coziness to your home with these easy paper luminaries. By poking lots of holes into paper you can create any design you like! Use whatever paper you prefer, but note that paper that is colored on one side and white on the back works best. (White reflects the candlelight, creating a brighter glow.)
Supplies & Tools: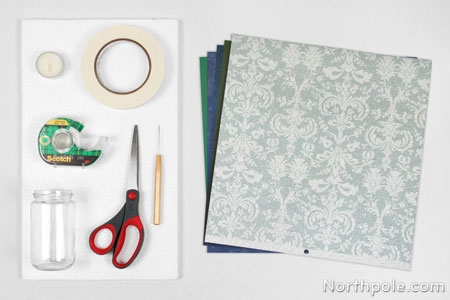 Scrapbook paper
Scissors
Tape
Artist tape
Awl*
Scrap piece of foam at least the size of the paper
Glass jar (one for each luminary)
Votive or tealight candles
*If you don't have an awl, tape a pin to a chopstick.
Directions:
Print the template and cut out the design you want to use.
Cut paper to fit around a jar (or about 6" x 12").
Using artist tape, tape the template in the center of the paper. Hold the paper up the light (or window) to help center it.
Place the paper on top of the foam.
Use the awl to poke holes to create the design.
Once finished poking, carefully remove all the tape and set template aside.
Wrap the paper around the jar and tape the ends.
Note: Use double-sided tape to hide the construction.
Place a candle inside the jar and now your luminary is complete!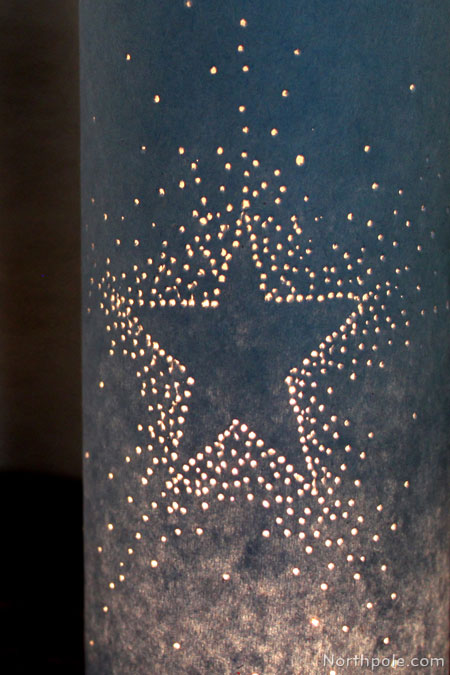 Elfy Hints:
If you don't have a large piece of foam, you could use cardboard instead. Just keep in mind that it is more difficult to punch holes with cardboard as your backing.
You could try using another soft/porous material such as the carpet, a blanket or fabric wrapped around a piece of cardboard, or even an ironing board. Be careful not wrinkle your paper!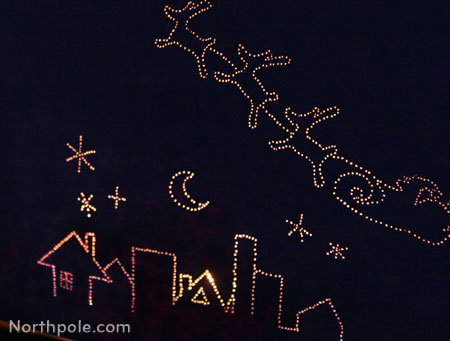 Idea from the Elves:
Skip the jar and use a flameless candle.